Archived News
Diversity officer discusses differences, exploration and the lost art of respectful debate
Wednesday, October 12, 2016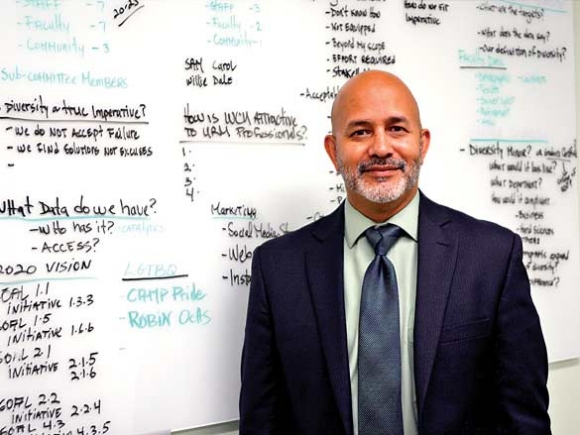 When Ricardo Nazario-Colon first stepped onto Western Carolina University's campus to interview for the new chief diversity officer position, one thing stuck out to him above all else.
"Western, by the basic standard of higher education, is doing a good job," Nazario-Colon said of diversity issues. "But they want to do better, and everybody that I met with really was asking, 'What can we do? We're not satisfied with some of the things that we are doing. We need to do better.' And that — that was half the battle in my mind."
After a yearlong search process, Nazario-Colon was offered the job, and he's been working since June to get his new office up and running.
"We're going to look at things systemically, policy-wise. We're going to look at things from a human concern, from a student concern, trying to see what our students need to be successful," he said.
Nazario-Colon has "four imperatives" he'll be pushing in that regard during his time at WCU: navigating community, the LGBTQ experience, the veteran experience and the total college experience.
"All of these things focus on creating a campus that is friendly, safe and enriching for every member of our community," he said. "It is going to take time."
Ensuring the future of free speech
Central to those goals will be an aim that might sound simplistic if it weren't often so difficult — teaching students how to have respectful, intelligent discussions with their peers about contentious issues. That's more than just a wishful aspiration, Nazario-Colon said — the future of free speech itself is at stake.
"We have to think about, are we at a point in history where we're rethinking, reimagining what free speech is going to be?" he said. "Can free speech survive in this current generation? Are we seeing signs that perhaps free speech will go away, and that's a generational thing, it's a sensitivity thing, it's a new way of being. We're going to work through that."
Social media bears a significant portion of the responsibility for this new environment, Nazario-Colon said. As well as creating opportunities to connect with people, social media can also create echo chambers — communities of people who think like you and vote like you and reinforce your existing views. If you don't like the opinions somebody's posting, you can just unfollow them, and — boom! — that disagreeable perspective is gone. You don't even have to have a conversation about it.
"I think that nowadays, if you are controversial and folks don't like it, they really don't want to be around you rather than challenge you," Nazario-Colon said. "One of the things that we're missing more and more in society is the opportunity to be able to debate and have differences of opinion."
"I think that sometimes when we don't have the words to articulate what we feel, what we want to get across, we resort to using words of convenience that express hatred and negative emotions," he added. "Perhaps we need people to read more than 140 characters."
In order to increase students' comfort with discussing contentious ideas in a constructive way, "we're not going to shy away from controversy," Nazario-Colon said. He's supporting the university inviting "controversial speakers," and has also started programs such as the Brown Bag Lunch Series, which invites students to bring their lunch and participate in discussions on "unique topics that are helpful in the realm of diversity."
Nazario-Colon said he also supports student-generated conversations and demonstrations, such as the Black Lives Matter and College Republicans chalkings that filled campus with colorful messages last spring.
"Personally I think that we have to allow room for those things to happen," he said.
That assertion came with a caution, however. In Nazario-Colon's view, each person has a limit as to how much they can listen to, how much they can read, before they become angry or afraid.
"As a university, what do we have in place to support individuals who reached their limit, who no longer can go by and read another chalking on the ground that impacts them in a particular way?" he asked.
That brings up the concept of "safe spaces," an idea which has occupied national headlines this year especially after John Ellison, dean of students for the University of Chicago, sent a letter to students stating that the school did not support "so-called trigger warnings" or "condone the creation of intellectual safe spaces where individuals can retreat from ideas and perspectives at odds with their own." Proponents of safe spaces say they're necessary respites for students whose core identities are consistently attacked, while opponents say they serve only to mollycoddle young adults from the real world rather than teaching them how to live in it.
Nazario-Colon said he doesn't foresee the designation of permanent, physical safe spaces on WCU's campus but also sees value in the general idea, which he says is often misunderstood.
"Safe spaces are not blankets with big pillows and pacifiers," he said. "Safe spaces are places to debrief."
So, for instance, after a controversial speaker the university might provide a forum for students to unpack their thoughts and feelings about what they heard. That's perhaps not so different from what everyday people need from everyday life, he said.
"In life we have safe spaces all the time," he said. "We call it our friends. We call it our spouses."
Driven by curiosity
Nazario-Colon, whose heritage is Puerto Rican and hometown is the South Bronx of New York City, has certainly had plenty of unsafe spaces in his life. The Puerto Rican graduation rate at his high school was one of the worst in NYC, and to the people back home it was a big deal that he'd managed not only to graduate high school but to earn a master's degree and launch a career.
"I never really thought about me being special," he said, "but the fact that I've been able to carve out a professional career says a lot to people in my community, and I never really thought that until a high school student gave me a note and said, 'I am so proud of you. None of the people that I grew up with have ever done what you've done.'"
After graduating high school, Nazario-Colon served in the U.S. Marine Corps from 1984 to 1992, in 1992 earning his bachelor's degree in Latin American studies and Spanish literature from the University of Kentucky — that's where his interest in diversity work began. As a student there, Nazario-Colon worked in the university's cultural center, where he had access to a range of books and ideas and concepts that were new to him.
"There are other ways of looking at it, and it's OK to question what you learned," he said of his takeaway from the experience. "That has to be an essential part of the educational process."
For that reason, he believes that universities should focus not only on churning out well-trained workers but on developing "human beings who are more enriched by what they've learned about the world."
"If you go to college and you look very similar to who you were at 17 or 18 when you first arrived here, I believe we've failed as an institution," he said. "We've missed the mark on enriching your life."
After the University of Kentucky, Nazario-Colon went to Pace University, where in 1996 he earned a master's degree in secondary education with an emphasis in Spanish. Since then, he's held a variety of diversity-related positions, most recently as the director of student activities, inclusion and leadership at Morehead State University in Kentucky. He's currently working on his doctorate in education at the University of Kentucky.
A curious person by nature — "I walk into random buildings just to see what's in there. I just want to know" — Nazario-Colon is excited that it's now his job to help WCU students navigate the big, wide world that they're just beginning to explore.
"We have a world to introduce them to, and I take that responsibility very seriously," he said. "It starts here on campus by creating communities, creating opportunities for them to get out of their comfort zones and for them to learn something other than what they're used to."