Archived Outdoors
Dreaming of Toyko: Following competition in Rio, NOC paddler sets sights on 2020 Olympic medal
Wednesday, September 21, 2016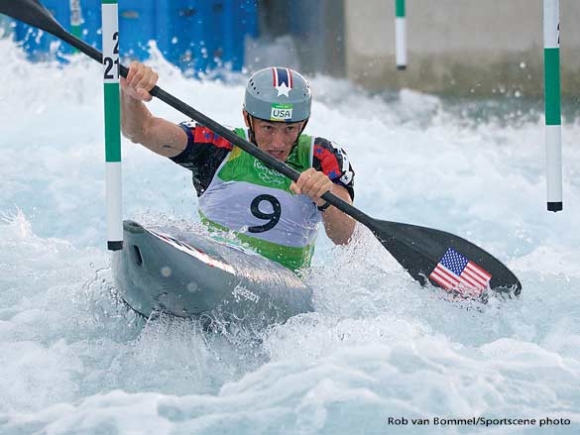 Much of America spent Aug. 5-21 with eyes glued to a television, cheering on athletes from all corners of the country as they represented the red, white and blue in the 2016 Summer Olympic Games.
SEE ALSO: A conversation with Michal
For the community of paddlers whose nucleus is the Nantahala Outdoor Center, one Olympic dream demanded especially rapt attention — that of 23-year-old kayaker Michal Smolen, a whitewater slalom favorite who cut his teeth on the waters of the Nantahala River. William Irving, president of NOC, well remembers his first experiences watching Michal paddle. At the time, Irving was the high performance director for USA Canoe/Kayak and Smolen's father Rafal was the newly hired national team coach.
"He had a very young son at the time who was on the junior national team who showed a lot of promise and progress," Irving recalled.
That young son was Michal, and over the years Irving saw him paddle against some of the best in the business.
"He was competing with our top Olympians and being very competitive," Irving said. "He immediately came on our radar as one of our up-and-coming top athletes."
Smolen probably would have made it to the Olympics in 2012, Irving said, if his citizenship status hadn't gotten in the way. Born in Poland, Smolen wasn't officially a U.S. citizen at the time the London Olympics came around — the paperwork arrived six months after the games. But the games at Rio de Janeiro, Brazil, were on the horizon, and Irving, then in his new position with NOC, took notice.
"We stepped up as a sponsor of his to provide for him the opportunities to attend all the camps he really needed to go to, to progress and get back up to a medal-winning type of athlete," Irving said.
Going into the games, things were looking good. Smolen had trained hard, and all the reports listed him as a top medal contender. Irving traveled down to Rio to support Smolen and Team USA as a whole, spending about 10 days total in Brazil — the team was there 25 days, some of the first to arrive at the Olympic site.
"It's not like you can go to a gym and train in their sports," Irving said. "You have to be on the actual whitewater you'll be competing on."
The whitewater itself — and pretty much everything else — was beautiful, Irving said. The water was chlorinated, shining to a crystal-clear blue. Every day was sunny. The venue was gorgeous. And interest was high from the Brazilians, for whom whitewater slalom isn't a well-known sport.
"It was great to see the enthusiasm and excitement from the Brazilians down there," Irving said, "just from their being able to host the games and being able to catch a new sport for them that they are now really hooked on."
Unfortunately, things went less smoothly when the races began, starting when Smolen broke the boat he'd arrived with. Olympic paddlers use custom-made boats with weights and densities tailored to their individual preferences and styles, and it took Smolen a while to get used to his replacement vessel.
"He was never really comfortable in the boat until the last two or three training sessions," Irving said.
Then, in one of the heats his seat came unbolted — that's a problem, because kayakers use their lower bodies to move the boat left and right.
"Despite having his seat loose, he did really well in the heats," Irving said. "We were really pleased with what his position was leading into the semifinals. He was very smooth, very clean, very focused."
In the semifinals, though, something changed. The pressure was high and the course difficult. The upstream gates, the most challenging part of a slalom course, were placed close together, making it hard to accumulate much momentum.
"He took it too cautiously, and he just did not have that same pop where the upstream gates were — that's really where most athletes win the races. It's how quickly they can get their boat turned around and up through the gate," Irving said. "Michal was not quite as fast with his upstream gate, which is normally where he is the fastest."
Smolen needed to be in the top 10 to make it to the finals, and he came in 12th. If it hadn't been for four seconds' worth of penalties — he'd been clean in the heats — he would have been in eighth place.
"I was devastated," Smolen said. "I couldn't believe that my dream of an Olympic medal was over then and there."
But, Irving said, sometimes that's the way it goes. The preparation lasts all day, every day, for four years, but the race itself is over in 90 seconds. Small things can tip the scale in big ways. The lightest of touches on a gate can result in a penalty that destroys hope of a medal. Gate arrangements change from race to race, and the slightest miscalculation can drop a paddler who places first in the heats to tenth in the semi-finals.
"That's the way it goes," Irving said. "It's not always predictable. You can't always predict where you're going to hit."
What you can do, though, is prepare for all you're worth. And for the next four years, Smolen will be moving forward based on his favorite quote, uttered by legendary football coach Vince Lombardi — "Winning isn't everything, but making the effort to win is."
In the month since Rio, he's competed in two World Cups in Europe and in two weeks will paddle in the Extreme Kayak World Championships in Austria. Then, it's off to New Zealand for winter training.
He plans to have an Olympic medal to his name sooner rather than later.
"He is so young and has so much in front of him that this is going to be chalked up to a great learning experience," Irving said. "We expect that he has many more world championship medals in him, and we expect that he'll be a leading contender for the medals in Tokyo."