Archived Outdoors
Dreaming of Toyko: A conversation with Michal
Wednesday, September 21, 2016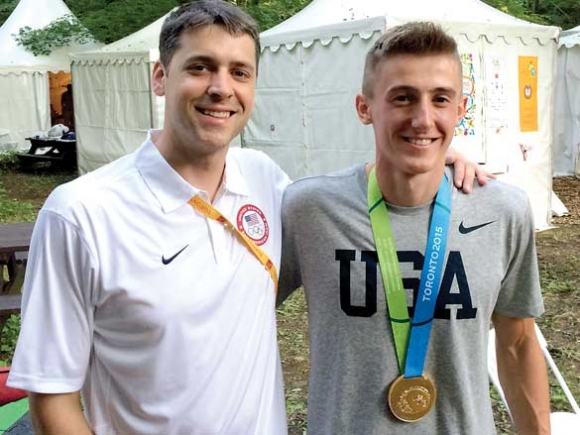 Since the Olympics in Rio de Janeiro, Michal Smolen has been hopping continents to finish out the post-Rio racing season, but The Smoky Mountain News caught up with him for an email conversation about paddling, Olympic dreams and the value of American citizenship.
SMN: Where did your love for kayaking begin?
Smolen: At the NOC when I was around 10. I moved to Sylva at that age and my father was the coach for the Nantahala Racing Club. I was excited to try kayaking but after my first experience I was a bit frightened. I took up swimming instead and got really competitive right away. I liked swimming, but at some point I got tired of it and I wanted to try kayaking again at the age of 13. This time it stuck and I felt much more comfortable in the water. At that point I also knew that I wanted to be really good at the sport, so I started taking my training seriously.
SMN: How did paddling on the Nantahala River prepare you for the career you now have?
Smolen: It really was the perfect place for me to get invested in the sport. I was one of many kids at the Nantahala Racing Club and I enjoyed training in such a cool atmosphere. We were all very competitive and I made long-lasting friendships while doing what I loved.
SMN: Though you'd hoped to compete in the 2012 Olympics, the process of obtaining American citizenship moved too slowly to allow you to represent the United States in London. How did it feel to walk onto the 2016 Olympic Team as an American citizen?
Smolen: It was an emotional moment for me and my father as we walked together. We've been through so much — he has been my coach from the start — and to share the experience was something truly special. When he was a competitive kayaker he was close to making the Olympic Team in Poland twice but missed out, so it's really a big accomplishment to be the first in my family to go.
SMN: What was on your mind as you went into your final performance in Rio?
Smolen: The day before the final was probably one of the hardest days in my career. Everything was winding down to the 90 seconds that I've been preparing for for years. The anxiety was rough, and I did everything I could to stay calm and focused. I think my preparation was good, but I just had the worst luck the day of my semi-final.
SMN: How do you feel about the outcome?
Smolen: When I finished the semi-final and realized that my race was over I was devastated. I couldn't believe that my dream of an Olympic medal was over then and there. Over the last few weeks I've had time to take a step back and reflect on the whole experience. I think it really was just bad luck, as my performance would have been good enough for the finals without my penalties. I've also come to realize that the Olympic competition is just one competition and I can't put all of my energy and focus into something that's so many years away. I need to make sure that I also use every experience along the way to become a better competitor so that when the Olympics come I'm feeling more prepared.
SMN: You've kept busy since Rio. What have you been up to?
Smolen: Yes, too busy! After the closing ceremonies I was home for four days and then I was off to Europe for the last two World Cups of the season. I decided to stay in Europe after these races to visit my family and have a bit of a vacation. I've also decided to do some fun races this fall as I've missed the opportunity to do so in previous years because of my training. I'll be competing at the Extreme Kayak World Championships in three weeks and I'll be going to New Zealand for my winter training.
SMN: Are you planning to try for another Olympic adventure in 2020?
Smolen: Yes, and perhaps another one after that. Now that I have experienced competing at the Olympics I know what to expect next time. My ultimate career goal is to be on the podium at the Games, so I'll work very hard in the next four years to make that dream come true!