Macon
State candidates speak to Macon residents
Wednesday, September 21, 2016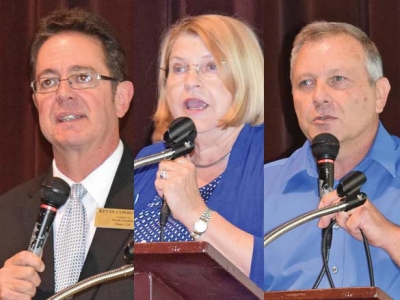 Every election cycle, the Macon County League of Women Voters aims to educate its community about local and state candidates and the issues impacting the region by hosting political forums.
The League — a nonpartisan citizen engagement organization — kicked off its candidate forum series last week with an opportunity to meet the state candidates vying for a chance to represent Macon County.
Republican Kevin Corbin and Democrat Randy Hogsed are running for N.C. House District 120 — a seat left vacant with the retirement of Rep. Roger West, R-Marble.
Democrat Jane Hipps of Waynesville is challenging Republican incumbent Sen. Jim Davis for the District 50 Senate seat.
Davis was the only invited candidate who declined the League's invitation to the forum citing his busy schedule. In a written statement, Davis said he decided early on in his campaign for a third term to limit his forum engagements to the ones being held at Southwestern Community College on Oct. 11 and Western Carolina University's forum on Oct. 22.
The three candidates attending the forum were asked to introduce themselves and were given three minutes each to answer four questions submitted by the community.
Candidate introductions
Corbin, owner of Corbin Insurance in Franklin, is well known in Macon County. He served five terms on the school board and has served as a county commissioner for six years. With his commissioner term coming to an end this year, Corbin said he decided to run for Rep. West's seat with West's endorsement.
Though Corbin, 54, considers himself a fiscal conservative, he prides himself on being able to reach across party lines to do what's best for Macon County. For example, when he was first elected to the school board, he said the schools were in desperate need of being upgrades and renovations. Corbin worked with the county commissioners to create a 15-year plan to bring school facilities up to standard and that plan has been completed.
"It's not about certain issues — it's about how do we work with people," he said. "I took some heat from the right side of my party, but it was the right thing we do."
Hogsed, 53, is less familiar to the Macon County community because he was born and raised in Andrews. He served in the U.S. Army for four years before returning to Andrews where he now owns a real estate business. While he wouldn't consider himself a politician, Hogsed said he decided to run for office in hopes of reversing some of the Republican-led policy decisions being made in Raleigh.
"The most important issue is climate change — the climate I intend to change is at the state capital," he said.
This is Hipps' second attempt to unseat Davis. In 2014, Davis defeated Hipps with 54 percent of the vote in the district. While Hipps received the majority vote in Haywood, Swain and Jackson counties, Davis took the majority in Cherokee, Clay, Graham and Macon counties.
"I'm running to protect our mountain values — we work hard, play hard and we take care of one another," Hipps said at the forum. "Jim Davis hasn't taken care of our mountain people — he's voted for tax breaks for special interests."
Hipps said Davis — along with other Republicans in the Legislature — passed measures that added additional tax onto services like car repairs and haircuts.
As a former educator, she said restoring public education funding was one of her main goals.
Voter ID law
Candidates were asked their opinions about the controversial voter ID laws passed in 2013 that required all voters to show ID at the polls. The laws also cut back on early voting days and put an end to same-day registration and early registration for high-school students. The U. S. Court of Appeals for the Fourth Circuit recently struck down the law, stating that there was evidence that "because of race, the legislature enacted one of the largest restrictions of the franchise in modern North Carolina history."
Hogsed agreed with the federal judges' ruling that the Voter ID laws were racially discriminatory and intentionally targeting African American voters. He also pointed to the state's congressional districts that were recently declared unconstitutional due to gerrymandering and the state's infamous bathroom bill HB2.
"There's no place in our state legislature for racist legislation," he said.
Hipps said the Voter ID laws made it harder for elderly, disabled and college students to vote.
"To me, that's voter suppression," she said. "I'm glad they repealed that suppression and I'm glad everyone has the right to vote."
Corbin had a slightly different take on the legislation. He said it might be difficult for some people to get a proper photo ID, but that didn't mean the law was suppressive. He said something should be done to help those people acquire their ID instead of overturning the law.
"I believe the most people should be included in the process as possible," Corbin said. "I do believe in voter ID — you have to have ID to cash a check or do almost anything."
Economic development
Creating jobs is always a major issue for candidates running for state office, especially those representing rural areas in Western North Carolina.
Hipps said the Republican-led legislature has made several decisions in the last few years that have negatively impacted the region's ability to create jobs and build new infrastructure. By choosing not to expand Medicaid and accept federal money to do so, Hipps said Western North Carolina lost the opportunity to create more than 23,000 good-paying jobs in the healthcare industry while providing care to 500,000 people.
According to Hipps, the legislature's cuts to public education have resulted in a reduction of teaching and teaching assistant positions in the North Carolina — not to mention teachers leaving for better paying teaching jobs in other states.
In 2013, the state cut off millions of dollars of funding to the North Carolina Rural Economic Development Center after the Office of the State Auditor released a report showing a lack of oversight within the nonprofit. Hipps said a scaled back rural center meant less grant funding available to WNC for improving water and sewer infrastructure and roads and bridges.
Hipps also said improving broadband internet service in the region was crucial to attracting more businesses and jobs. She said she was excited about the North Carolina Next Generation Network, which is a partnership of municipalities, leading research universities and chambers of commerce that encourage private sector providers to bring high-speed connectivity to the region.
"If we want to level the playing field with Charlotte and Raleigh, we've got to have broadband access here," she said.
Corbin agreed that the lack of broadband and cell service is one of the most important issues facing the region right now. Macon County commissioners have recently charged the planning board with identifying underserved areas in the county and looking at ways to get broadband and cell service to those areas. Corbin said the next step was for commissioners to have a meeting with all the local telecommunications providers to see what can be done. He said he would take the same kind of approach to looking for solutions if he is elected to the House of Representatives.
"I don't know the answers yet, but I think the single biggest issue in Western North Carolina is broadband access — businesses need it, people need it," Corbin said.
For the past two years, Corbin has served on the Rural Infrastructure Authority, a 15-member committee under the Department of Commerce that provides grants for rural water and sewer, business expansion and other infrastructure projects.
On the authority, Corbin said he went to bat for Macon County businesses Brasstown Beef and Tektone to receive grants to help them expand and create new jobs.
Hogsed said he has a plan to put together "Team 120" — a committee of 120 people in the district from different walks of life — to work on improving the economy.
"We need to identify infrastructure projects to put our region back in good economic footing where we can compete for jobs," he said. "Then we develop a plan to move those projects forward — let's finally get something done."
While Western North Carolina can boast a great quality of life, Hogsed said it's not enough to attract jobs unless public education, healthcare and infrastructure can compete with major cities.
Public education
Public education has been a hotly debated issue in the last several years as Republicans argue they've increased education spending year over year for teacher raises and Democrats argue that the money is being funneled away from traditional public schools to charter schools and private school vouchers.
As someone who has served on the local school board and seen the per-pupil state allocation for education decrease over the years, Corbin said public education is near and dear to his heart.
"North Carolina has made a lot of improvements but more needs to be done," he said.
If elected, Corbin said he would introduce a bill during his first month in office to increase funding for K-12 schools. Macon County is home to two K-12 schools in Highlands and Nantahala. The schools are more expensive to operate, but the legislature doesn't understand why those small schools can't be closed down and consolidated in Franklin.
Corbin said he had plans to take the speaker of the House on a drive through Macon County so he can better understand the logistical problems of transporting those students from Highlands or Nantahala to Franklin. He said Davis has already agreed to introduce a similar bill in the Senate and if Hipps is elected he'll ask her to do the same.
"I'm fiscally conservative but there's certain things we need to do as a society and education is one of those things," Corbin said.
Corbin would also like to see the General Assembly live up to its promise of providing local counties with 40 percent of the education lottery revenue. Under Democrat control, the legislature was only providing 17 percent of the funding to counties for infrastructure and now under Republican control, Corbin said it has increased to 23 percent.
Hogsed said he didn't understand how legislators could say they're for public education when they are budgeting millions of dollars to charter schools that don't have the same oversight as traditional public schools.
"We have to provide our students with the ability to bloom, to grow and produce right here where they're planted," he said.
Hipps also said public education funding is not heading in the right direction. While new teachers are being paid more than their predecessors, she said other teachers are not being paid fairly. Hipps said teachers are also dealing with fewer textbooks, fewer assistance from teacher assistants and larger class sizes.
"We're diverting money to charter schools without accountability — we don't know what those children are getting," she said. "People are saying this is going to be the biggest civil rights divide that we've had in a long time."
Second Amendment rights
Hogsed said he supports the rights provided to citizens under the Second Amendment, though he isn't sure many people have read or understand what the amendment says about the right to bear arms. And while he may have the know-how to operate an assault weapon because of his military training, he said it didn't mean everyone should be able to use one. He added that keeping guns out of the hands of people with mental illnesses was the real issue that needed to be addressed.
"I'm not a proponent of violence, but I am a proponent of people being able to protect themselves," he said.
Corbin, who has a concealed carry permit, said he is a huge supporter of Second Amendment rights. However, he said he would like to see more training required before people are able to get a concealed carry permit.
"It's not strong enough. People need to understand more about the responsibility of having a gun and storing those guns," he said.
Hipps said she owns guns and strongly believes in people's rights to carry a weapon as long as they undergo background checks and secure their guns to keep them out of children's reach. She is not in favor of allowing guns in bars or on playgrounds.
"We need background checks to make sure people don't have mental illness, or on a no fly list because we don't want guns in the hands of terrorists," she said.
Read 4048 times
Last modified on Wednesday, 05/10/2016