Archived News
Tourism economic impact growing in WNC counties
Wednesday, September 07, 2016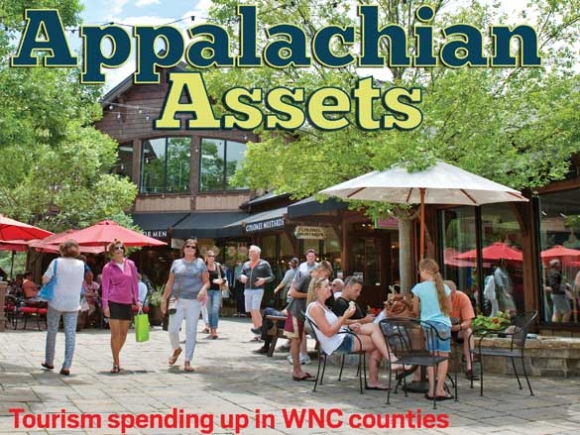 Allen Alsbrooks serves on the Maggie Valley Zoning Board, and used to serve on the town's planning board; he's also been the owner of the Hearth and Home Inn on Soco Road in Maggie Valley since 2007, so it's safe to say he's got his finger pretty close to the pulse of Haywood County's tourism-based economy.
SEE ALSO:
• Jackson plans for angling increase
• Hikers happy with Franklin's hospitality
"It's the best year I've ever had," Alsbrooks said.
Alsbrooks' anecdote seems to line up with an economic impact study recently issued by the Economic Development Partnership of North Carolina that shows tax receipts attributable to visitor spending rose more than 6 percent statewide from 2014 to 2015.
"People are traveling more because they have more money to spend," he said, adding that his worst weekend since Memorial Day still saw an occupancy rate of about 70 percent.
Locally, Haywood County fared about well as Alsbrooks seems to be. The study reported that payroll generated by the tourism industry within the county saw an 8 percent increase, to almost $36 million.
Although Alsbrooks said his payroll hadn't exactly gone up, he was making more money for himself, despite not spending any more on advertising than in previous years. He thinks it may have to do with Maggie Valley's busy social calendar.
"This is the first year, if I remember correctly, that we've had something scheduled at the Maggie Valley Fairgrounds every weekend during the season," he said. "There may be a stray weekend where there's nothing going on, but I don't think so."
Danny Blitch owns Skis & Tees on Soco Road in Maggie Valley. Skis & Tees is embedded in the middle of a strip of tourist-oriented businesses called Market Square, where shoppers can find everything from ice cream to brass knuckles to vacation cabins for sale.
"That sounds about right," Blitch said of the study, which also boasted of a 4 percent increase in hiring related to the tourism industry in Haywood County.
"I did hire another kid," he said. "We've had a busy summer."
Across the county, the study estimates that more than 1,700 people are directly employed in the travel or and tourism industry, making it an important economic driver in the region by way of the $168 million wandering tourists left behind in Haywood County in 2015.
That $168 million is a 3.7 percent increase over 2014, which seems to fit exactly with what Deanna Schleifer thinks about her downtown Waynesville business's recent performance. Schleifer has owned Christmas is Everyday on Main Street for 16 years, and said she thinks that her business is up about 5 percent this year.
"It's a small percentage," Schleifer said, "but any percentage is better than going down."
She said she couldn't speculate as to why her numbers were up, saying that she, like Alsbrooks, hadn't done any more advertising than usual, and didn't think that downtown festivals were drawing any more people to her business than usual.
Schleifer did say that she thought gas prices might have something to do with it.
"Prices have remained down for gas, and I think that helps," she said.
Longtime downtown business owner and artist Teresa Pennington said she too had a very good year in 2015, and that 2016 looks equally good, if not better.
"For me, 2015 was my thirtieth anniversary [as the owner of her downtown art gallery]. That was one reason we did so well, because we did special things, but we didn't really advertise any more than normal," she said.
Pennington thinks the reason for her success lies in the resilient, business-friendly attitude of downtown Waynesville and Haywood County.
"I think the economy is great," she said. "There are still a few people who complain about the economy but we never did really have a downturn."
And Pennington's right — visitor spending in Haywood County has grown 72 percent since 2001, saving the average county resident almost $260 in taxes this year, up from about $178 over that same period.
Indeed, North Carolina is the sixth-most visited state in the union; this past May, Gov. Pat McCrory said that in 2015, guests in the state spent nearly $22 billion — a new record.
Executive Director of Visit North Carolina Wit Tuttell said in a press release that of the eight economic development regions in North Carolina, none had spending growth of less than 2 percent.
Accordingly, Haywood County isn't the only area in Western North Carolina to reap the benefits of increased tourism spending.
Jackson County's tourists spent $176 million in 2015, an increase of almost 3 percent over the previous year, saving residents a whopping $432 in taxes annually.
Local occupancy tax collections data also seems to jive with the anecdotal and analytical evidence contributing to the tourism sector's upbeat mood.
The State of North Carolina requires those who rent homes or vacation properties to register them with the county's finance office and collect a 4 percent occupancy tax from renters.
Theoretically, every room rented contains from one to several people who will eat, drink, shop, fish, camp, hunt, canoe or otherwise participate in any number of tourist-related activities available in the county. Additionally, failure to register properties or to file and pay the tax can be considered a felony offense, thus the revenue collected from the tax is considered a fairly reliable method of gauging visitor activity.
Of the state's 100 counties, 81 have a countywide occupancy tax while 96 other municipalities have also levied an occupancy tax, sometimes in addition to the countywide mandate.
Jackson County's numbers for April, May and June of 2016 were up more than 23 percent over the same period in 2015, and Haywood County's were up 14 percent.
"It just seems to get better every year," Pennington said.
In the state of North Carolina:
• Each day, more than $60 million is spent by tourists.
• Each week, more than $34 million makes its way into state and local tax coffers.
• Each month, more than 210,000 employees report to their tourism-related jobs.
• Each year, residents save about $475 in state and local taxes thanks to tourism-related spending.
Source: Economic Development Partnership of North Carolina