Living Well
Commit to be fit: Franklin Health & Fitness helps community stay healthy
Wednesday, August 17, 2016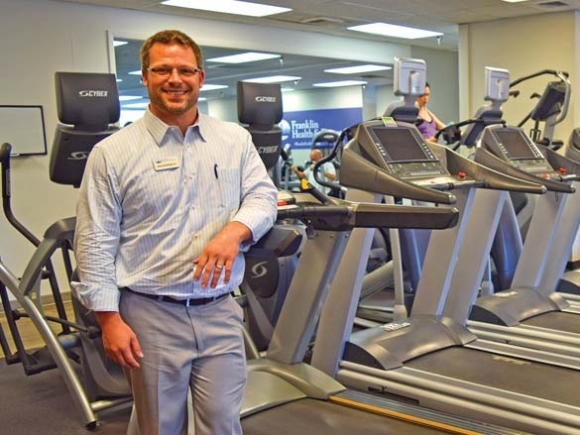 Franklin Health & Fitness has invested a lot in its community, and in return, the community has been able to invest in its health.
The fitness club offers a full-range of workout equipment, classes and programs to give its members every opportunity to maintain a healthy lifestyle — with the added bonus of having a network of support and encouragement along the way.
"It's easy to get lazy and stop exercising but one thing we do well is we have programs that help to keep people motivated," said Rodney Morris, owner of Franklin Health & Fitness.
While other gyms may only focus on one specialty, Franklin Health & Fitness offers it all. With 70 available classes each week, the health club has Crossfit, dance, yoga, Zumba, boot camp, Tai Chi, STEP, water aerobics and much more. Personal trainers, massage therapists and registered dieticians are also on staff to provide support services. All those classes are available with a monthly membership.
The wide variety of options available at Franklin Health & Fitness seems to be working — the business now has about 2,200 members.
"Membership has grown steadily along with the population of Macon County," Morris said. "And people more than ever are becoming health conscience."
Morris' parents opened the fitness center in 1988 with the help of several local investors. He grew up in the family-run business but ventured out on his own after graduating Western Carolina University with a degree in entrepreneurship. After being gone for six years, Morris returned home to Franklin in 2008 and began managing the fitness center for his parents. He then purchased it in 2012.
Morris has been focused on offering the best programs, services and facilities to keep members coming back. He has completed two major renovations and expansions of the building since taking over in 2012, including new locker rooms, a kids zone, free weights room and entry way that includes a smoothie and healthy snack bar.
The equipment in the gym is new and state-of-the-art technology from cardio equipment like elliptical machines and treadmills, and a host of strength training machines. The club is also home to a 25-yard heated indoor saltwater pool, a whirlpool and a sauna.
For busy parents who still want to find time to take care of their health, the health club offers free child-care services in its new daycare room.
One new initiative that has proved effective for members is the 20/30 fast track weight-loss program. More than 300 people have participated in the program than allows people to lose 20 pounds in 30 days and keep it off.
"People have seen incredible results," Morris said.
Members interested in participating in the program can attend a free seminar at 5:30 p.m. Mondays to learn more about the program before they decide whether they want to sign up for it.
Tiffany Tippett has been directing the 20/30 weight loss program since the health club began using it 10 months ago. She has seen members have quick results from the program. Through a low calorie eating plan and balancing seven key hormones, the 20/30 fast track can help anyone get weight off in a safe and fast way.
"Trust the system — if you follow the plan, it works," Tippett said. "Overall, the system is about balancing hormones and reducing stress more than anything."
Once the first month is over, the program continues through coaching and maintaining a healthy lifestyle and eating habits.
Many members have shared their weight-loss testimonies on the health club's website and Facebook. Macon County Commissioner Kevin Corbin said he was able to lose 21 pounds in 21 days thanks to the program and is now down 40 pounds total. He said he particularly appreciated that the 20/30 program isn't a fad diet — it's an eating plan and a lifestyle change. Corbin, owner of Corbin Insurance in Franklin, signed his entire staff up for the program and they've all had great success in dropping pounds and feeling better.
"The program has been fairly easy I'll have to say if you're motivated to increase your health benefits and to lose weight, which I was motivated both ways," Corbin said in his testimonial video. "With that weight loss, it's given me more energy … I just wish this would have come along a few years ago."
Many gyms rope people into paying for a long-term membership fee, but Franklin Health & Fitness does month-to-month membership fees and recently introduced a weekly payment option.
"We want people to be here but we're not trying to lock people into long-term memberships," Morris said.
Members continue to come to Franklin Health & Fitness because they get support and encouragement from the staff. The fitness center employs 50 people, including 12 full-time staff members. Members also support each other and make quick friendships while getting in shape.
"Sometimes it can be hard to find social opportunities in a small town, but a lot of members develop relationships here with others," said Matt Bateman, director of marketing and membership. "It's just another added benefit here."
Morris said it's much easier for people to keep coming back when they have friends to encourage them and also hold them accountable. Staying healthy is a team effort at times. Even during the Thanksgiving and Christmas season when people are tempted to overeat, Franklin Health & Fitness holds special games and contests to keep people engaged and motivated. Morris' advice for those just starting out is to make exercise fun.
"The first step is to come in and start developing that habit," he said. "We're here to help them every step of the way."
To show members how much their support means to the business, Franklin Health & Fitness is holding a member appreciation day from 9 a.m. to 6:30 p.m. Wednesday, Aug. 24, with live music, prizes, food and drinks and even a dunking booth. For $5, members and their guests can have three tries at dunking Morris in ice-cold water.
Franklin Health & Fitness
• 1214 E. Main St., Franklin, NC
• 828.332.4436.
• franklinhealthandfitness.com or www.facebook.com/franklinhealthandfitness
• Monday-Thursday: 5:30 a.m.-10 p.m.; Friday: 5:30 a.m.-9 p.m.; Saturday: 7 a.m.-5 p.m.; Sunday: 10 a.m.-6 p.m.