Living Well
Grant focuses on building love of outdoors for Cherokee youth
Wednesday, August 17, 2016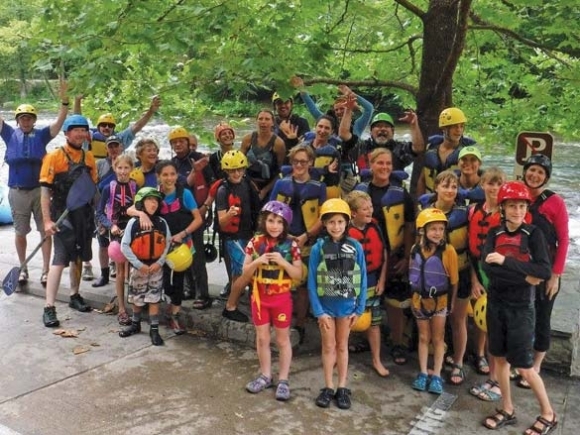 The Nantahala Racing Club is all about ensuring future generations have a love and appreciation for whitewater recreation, and a new grant will allow the nonprofit to fulfill that mission for youth living on the Qualla Boundary.
NRC recently received a $16,000 grant from the Cherokee Preservation Foundation that will be used to develop a youth leadership program for children and teens in Cherokee while also giving them an opportunity to adopt a healthy and active outdoor lifestyle.
Sam Gaughan, NRC executive director, said the club was working closely with Cherokee Choices — a diabetes prevention program — to identify youth to participate in the program next spring.
"It's definitely beneficial for everyone to be active, but these are kids who may not be participating in organized team sports," he said. "Our hope is to get them out and active on the water. We want them to build a lifelong passion for it and stay active in the future."
Early next spring, NRC instructors will begin the program for Cherokee kids by introducing them to kayaking. With a few sessions in a pool — which will definitely be warmer than the river that time of year — participants will get familiar using the kayak and become comfortable with their instructors.
"Then when it warms up in late spring we can spend more time moving down the river because they've already gained those basic skills," Gaughan said.
As the program moves into the summer months, the kids will be introduced to paddling lessons before getting to go on an overnight canoe trip on the Tuckasegee River. At some point during the trip, Gaughan said a tribal leader would come teach participants about Cherokee history with canoeing and the tribe's cultural interaction with the local waterways.
"We want to draw kids back to their roots so they can understand why canoeing is important and why they need to help preserve it in the future."
And this type of program doesn't have to be a one-time thing for the Cherokee youth. NRC offers a multitude of youth programs with an eye toward creating the next generation of Olympic athletes.
The Nantahala Kids Club is a six-week similar program offered twice a year to get kids active and in the water with introductory paddles ports. After completing the spring program for Cherokee youth, Gaughan hopes some of the participates will come back on the fall so they can continue to grow their passion for outdoor watersports.
"We get about 30 youth involved in kayaking that have no experience to little experience on the river," he said. "From that program we allow them to grow into some other programs we offer like the After School Kayaking Club. It's a nice progression and we hope to continue to build the sport with youth in the local community."
Gaughan said the Cherokee youth program is hopefully just the beginning of a longlasting relationship with the Eastern Band of Cherokee Indians. NRC's goal is to normalize these types of sports for Cherokee youth not only so they can live a healthy and active lifestyle but also so they can pass it on to their children.
"If we can build a community among that age group, they can create lifelong friendships and make it a sport that is accepted by the tribe, and then it will be a lot easier for us to convince these children's children to participate."
Gaughan said it's great as an instructor to see the kids go from being timid in the water to being competitive with one another and pushing each other to improve. They motivate each other and the older kids then teach the younger ones new skills — they become leaders without even realizing it.
Youth that participate in the Nantahala Kids Club will gain the knowledge needed to be able to earn their American Canoe Instructor certification when they are older as well as wilderness training and first aid certifications.
For more information about the club and its programs, visit www.nantahalaracingclub.com or call 828.488.7285.