Living Well
Fitness by the numbers at 9Round
Wednesday, August 17, 2016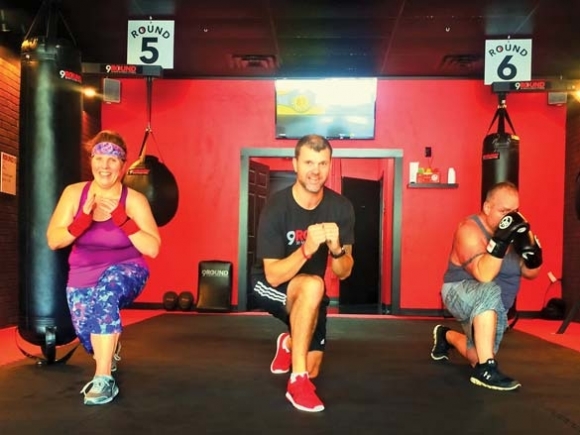 Enjoy working out like a fighter but hate getting punched in the face? Then a new fitness franchise concept in Clyde might just be the thing for you.
"9Round is a franchise that's been around since 2009, based out of Greenville, South Carolina," said Scot Worley, co-owner of the Clyde location. "Basically, it's is a 30-minute full-body kickboxing workout. The concept is that there's no class time, so you can come in any time the store is open."
Based on the popular and effective circuit-training model of fitness training, 9Round offers a fast-paced workout that continues throughout the day, allowing almost anyone to jump right in, every three minutes — without actually having to fight anyone.
"There's no sparring here, but you do train like a fighter," he said. "The guy that founded this, Shannon Hudson, won an international title in kickboxing and made it into a fitness type of workout."
One thing that does take a blow right to the jaw is boredom.
"The workout changes every single day," Worley said. "In fact you'd have to come here every single day for six months to repeat a workout. And there's always a trainer, either myself or my wife here to help coach and demonstrate and motivate for every workout."
As with most combat-based training, the focus isn't on heavy weights or showy exercises like the bench press or squats.
"Our heaviest weights in here is are 20-pound dumbbell and a 16-pound medicine ball, so we don't focus on a lot of heavy weights here, just a lot of repetitions of lighter weights," he said. "So no one feels intimidated when they come in here. We've got four bags, heavy bags, and they're providing the resistance."
The lack of 45-pound weight bars and thick iron plates can be deceptive, cautions Worley; just because customers aren't pumping out reps with heavy weights doesn't mean that 9Round's results are nonexistent. In fact, it's quite the opposite.
"When you go and hit those bags, that is your strength training," he said. "And you don't realize that until after a workout, maybe the next day your chest may be sore, your biceps, your shoulders, from working just the speed bag. As opposed to putting plates on a bar and doing a bench press or a squat with those weights you can see, this kind of disguises it."
What isn't hidden in any way is the heart-healthy results of an extended regimen of circuit training of the type offered at 9Round.
"We have a heart rate training system here, so we do provide heart rate training," Worley said, pointing to a large flat screen mounted in the back of the space. "That shows your heart rate throughout your training. It helps guide you and your intensity level. It helps try to keep you in the right heart rate zone to maximize your effort."
Worley says that by the time you're done with a workout and pulling out of the parking lot, you'll have received an email summary of your workout, telling you how long you've been in each heart rate zone, the total number of calories you've burned, your average heart rate, and your maximum heart rate.
"A lot of people like numbers and statistics," he said. "They're able to see that over the course of days and weeks, they can look on a piece of paper and see their progression and see how their heart has improved with this workout."
More info
9Round Fitness is located at 289 Paragon Parkway in Clyde. For more information, call 828.246.9855 or visit www.9round.com.