Living Well
Flying on faith: Clyde woman finds strength and spirituality in aerial silks
Wednesday, August 17, 2016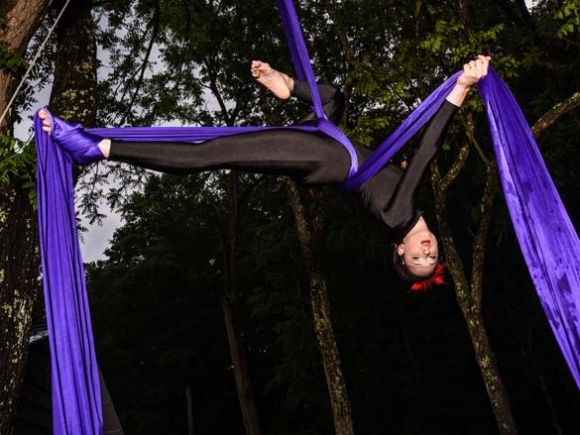 Wearing a leopard-print leotard and suspended 4 feet off the ground in a band of purple silk, Patricia Forgione is in her element.
"I'll do this until I'm 80," she says, beaming while holding a mid-air straddle, far-apart feet wrapped skillfully in the fabric to secure her position. The move — her favorite one, called the double-dancer footlock — demands engagement from just about every muscle in her body.
The silk hangs from a hook attached to one of ceiling's beams, which Forgione reaches by removing a tile from the ceiling. The parallel silk pieces can be tied together to make a sling — the best way to go for a beginner — or locked into separately, as Forgione does with her double-dancer move.
She makes the art look smooth and graceful, but after just a few minutes in the air, Forgione comes down breathing hard. Even in professional shows, she says, aerial artists can't go more than about five minutes without a break. That's about how long she spent letting The Smoky Mountain News reporter try out a few basic moves, and Forgione's forecast of sore muscles the next morning proved quite accurate.
Confidence through movement
In the world of fitness and exercise, aerial silks certainly isn't the best-known field. But it's a niche where Forgione, a former ballerina, has found a home. The moves are both graceful and demanding, the exercise fruitful but low-impact.
"Being able to do aerial, it's kind of freeing," she said. "You can hang upside down and just feel a sense of relief on your back."
In March, Forgione, 39, opened her own aerial studio — Flight of Faith, located within The Fitness Connection in Waynesville — but she's been working with silks for only about three years. The adventure began in Alaska, while on a cruise with her husband. They went to an aerial silks show on the cruise, and Forgione met the woman who had put it on. Turns out that, like Forgione, the woman was a former dancer — she had turned to aerial silks when she aged out of ballet. Aerial, she discovered, was the perfect way to reap the benefits of dance without accepting its wear on the body.
Forgione was inspired. Upon returning to North Carolina, she enrolled in a class at Asheville Gymnastics — despite her fear of heights.
"Basically, I couldn't even get 2 feet off the floor, I was so scared," Forgione said.
But she conquered the fear and took her training further and further. Now she gives lessons, as well as taking them from Asheville-based master aerialist Waverly Jones.
Forgione's proud of what she's accomplished, but she attributes any success to the God of her Christian faith.
"He's done so many good things in my life and he's helped me overcome so many obstacles in my life that this is nothing I can't tackle either," Forgione said.
Throughout her life, dance — and now aerial, too — has been the key to moving through hard times. Originally from New York, Forgione had a difficult childhood, but she found her escape in dance, which she began as a required class at the Catholic school she attended.
"It wasn't a place I could get hurt," she said. "It was a place I felt happy and fulfilled. Having that sense of peace and joy, it was what I needed. It saved me, pretty much."
That's not to say that struggles ceased. As a young woman, Forgione found herself gaining weight as she turned to food for comfort during a difficult chapter. She has only one photo of herself at the 230-pound mark, a grainy image in which she's wearing a formal dress. She's gotten rid of the rest of the photos.
"I don't have to look at the past," she said. "I want to look at the future."
These days, the extra weight is long gone. It came off after Forgione participated in a fast with her church that involved giving up meat, sweets and bread for 21 days.
"I liked it so much, I stayed on it for two years," she said.
Sharing the gift
In 2008, tragedy struck. Forgione was diagnosed with ovarian cancer, precipitating a year-and-a-half-long battle through radiation and chemotherapy before beating the cancer into remission.
But she came out the other side with a sense of purpose and a strengthened conviction to keep herself healthy.
"I knew I did not want to live my life like that," she said, pointing to the picture of herself overweight. "There was a bigger purpose in my life."
She'd taken a three-year hiatus from dance to get her health back in order, but after she and her husband settled into their new home in Haywood County — they arrived in 2009 — she found herself drawn back to it.
"I saw some kids throwing some rocks at some window and I thought, 'You know, it's my duty to help them and find them something to do,'" Forgione said.
So, she started teaching dance lessons on her back porch, feeding the kids a meal as part of the deal. The endeavor grew to the bi-weekly dance class she now teaches at New Covenant Church in Clyde.
"I don't do this for the money," she said. "I do it because I love sharing my gift with others."
Every other Sunday, Forgione and the volunteers who help her meet with about 20 to 30 kids to share an hour of lunch and an hour-and-a-half of dance. They learn all kinds of different dance moves, but the afternoons also include lessons about life. Forgione talks about everything from bullying to body image to self-confidence with the youngsters who circle around her.
"It's not just a dance class or an aerial class. It's more to me. It's more of a ministry," she said.
She knows all too well that not every kid gets that feeling of being celebrated and important at home, so she tries to make that happen during dance.
"Growing up I never got that chance, and that's the reason I want to give back," she said. "Even though I missed that I would love to see that for a child. I don't ever want them to feel what I felt."
Dance and aerial are a way to build confidence for kids who might be struggling. And besides, it's fun.
It's also a metaphor, at least to Forgione. She sees dance and aerial as gateways to joining mental, spiritual and physical health together into one seamless unit, and as reminders of the God who's gotten her through all the challenges life's thrown her way.
"Regardless of age or your background or disability, with God all things are possible, and there's nothing you can't do whether it be dance, whether it be a life situation," she said. "You can go through life knowing God's got your back."
Get moving
Patricia Forgione regularly offers classes in dance and aerial silks in Haywood County.
• Mighty Mountain Dancers for Christ, open to kids 2 and up, meets from 12:45 p.m. to 3:15 p.m. every other Sunday at New Covenant Church in Clyde. $5 covers class, which begins at 1:45 p.m., as well as lunch. Scholarships available.
• Flight of Faith offers classes in aerial silks at 3:30 p.m. on Saturdays at The Fitness Connection in Waynesville. $12.
Classes are open to people with special needs. Patricia Forgione, 828.550.9203.
Leave a comment
1

comment
The phone number has been changed from the article that was in the Mountaineer about your business.
I'm very interested in talking with you about having my granddaughter, age 9, participate in your program. She and I saw your float in the Waynesville Christmas parade on Monday. She said that she would love to learn to do what she saw the young girl do with the climbing/stretching on the float.
Please email your contact information. Courtney will be with me this Saturday. If you have ongoing classes, she would like to join you on Saturday if possible.
Thank you.
Lori Castner

Thursday, 12/09/2021