Archived News
Maggie Valley landmark more than just a restaurant
Wednesday, August 10, 2016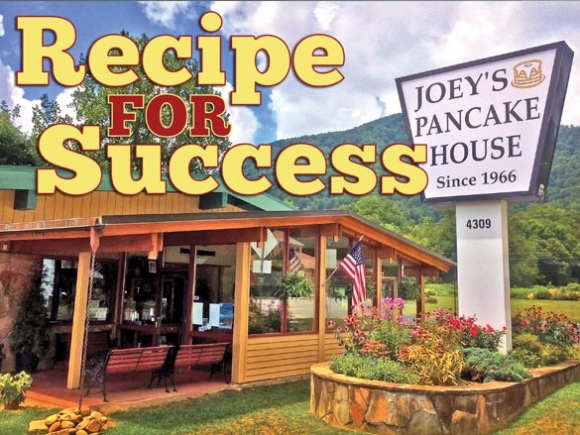 The year was 1966; "The Good, the Bad, and the Ugly" was on the big screen, "Bonanza" was on the small screen, and an Irish guy from Philly had just arrived in Maggie Valley to open Joey's Pancake House.
SEE ALSO: The Book of Joe
America's fascination with cowboy culture had not only elevated the Lorne Greene television show and the Clint Eastwood movie to the top of their respective charts that year, but had also elevated a western-themed amusement park called Ghost Town in the Sky more than 4,600 feet up to the top of nearby Buck Mountain three years prior.
Drawing up to 10,000 visitors daily during its peak, the park in turn propelled Maggie Valley's hotels, souvenir shops and restaurants — including Joey's — to heretofore unseen heights of prosperity, for decades.
But as the park's allure petered out around the turn of this century resulting in its closure several years ago, many neighboring businesses That had become reliant on the seemingly unending stream of out-of-town dollars began to fail.
On Aug. 20, 2016, Joey's will celebrate its 50th anniversary. How it's managed to thrive where others have failed is a hard lesson in economics, but also in a softer science: the social connections forged within a business that treats employees and customers like a family.
A Miracle
"He hated the cold," said Brenda O'Keefe of her late husband Joey O'Keefe. Born in Pennsylvania, Joey worked in hotel management and headed south to Florida as soon as he could, landing at one of the most famous and luxurious hotels in the country — Miami's Fontainebleu.
It was there that he met his soon-to-be wife Brenda, a Savannah, Georgia, native whose mother operated the DeSoto Beach Hotel on Tybee Island until, newly divorced, she took her three children to Miami and continued to work in the hospitality industry.
Florida in the mid-1960s was still somewhat uncharted territory for most Americans; swampy and sparse, it was about to embark on a massive transformation that would reverberate throughout the state, the country, the world and indeed the universe.
Although a dramatic escalation in the space race boosted America's fledgling rocketry program — which had been launching artificial satellites into the Florida skies since the early 1950s — into a full-fledged industry centered on Cape Canaveral, a star of a different sort caught Joey's eye, helping him to see the writing on the wall.
That star was Mickey Mouse.
"He could see what was getting ready to happen, because he knew about Disney World before it opened," Brenda said.
So Joey decided to get out of Florida.
"He wanted to open a small hotel in Williamsburg, and he had a very wealthy financier from Cuba who was going to loan him money at like 2 percent because he knew Joey wanted to get out of Miami," Brenda said.
Walt Disney World didn't open in Orlando until 1971 after years of real estate straw purchases were made using assumed names and shell corporations by Disney. In doing so, it ushered in the era of the mega-resort, changing tourism and the hospitality industry forever.
"So we went to Williamsburg and there was some sort of legal problem, but Joey had a desk clerk whose family had a small motel here [in Maggie Valley] and a small motel in Cherokee," she said.
Joey and Brenda came to visit the area and found themselves with an unexpectedly free schedule.
"Because he thought he was going to be in Williamsburg for the summer, he'd taken a sabbatical from the Fontainebleu in Miami," Brenda said. "So here we were — Williamsburg wasn't going to work out, and we thought, 'What are we going to do for the summer?'"
Miraculously for the O'Keefes — and for generations of travelers, tourists and locals alike — there happened to be a small restaurant for lease.
"We just went in there and started," she said. "The idea was, we'd be here for the summer, work six months, and head back to Miami. We were there seven years, our business grew so huge."
The popularity of Joey's Pancake House wasn't surprising, given the situation. Ghost Town in the Sky was booming, and helped fill the dozens of western-themed motels, hotels, campgrounds and trailer parks that still line Soco Road today.
At the time, however, Soco Road was only a two-lane highway that would often become so saturated with traffic that it could take up to two hours just to travel the 3-mile stretch leading in to the park.
Located just yards from the park's entrance, near the end of Maggie Valley's tourist strip was Joey's.
The original location — across the street and a few blocks further down from the current restaurant — is now the Murphy Garland Fellowship Hall St. Margaret of Scotland Catholic Church, but in the late 1960s it was slanging pancakes at a dizzying pace.
"Everybody's got to eat breakfast," Brenda said wryly.
They ate lunch, and dinner too; Joey's used to be open all day, because a chair lift would take patrons up to Ghost Town, and once they were there, they were there — at the mercy of Ghost Town's cuisine and pricing.
Meanwhile, servers at Joey's dressed as Indians and dished out that contemporary Wild West culture in addition to reasonably-priced servings of good ol' fashioned home cooking.
Even without the boon provided by Ghost Town, Joey's remains extremely popular today, thanks in part to those servers, who no longer wear costumes but do serve up old Southern favorites like biscuits, grits and honey-cured ham, as well as Joey's specialty pancakes – which have proven so popular that the restaurant sells and ships packages of dry mix across the country and the world.
Diners can find such fare anywhere, or nearly so; Joey's doesn't really serve anything all that out of the ordinary — certainly nothing that can't be found at a Denny's or a Waffle House. Nearly every town in America has such a place — that secret, sacred joint that locals revere and tourists discover with the enthusiasm of a mineral prospector spotting a shiny golden nugget in a swiftly flowing stream.
Sure, they're known for their pancakes (and amazing hash brown casserole), but even Brenda admits that the restaurant isn't particularly unique in concept.
"We're just a little restaurant on the side of the road in Maggie Valley," she said. "I mean, how smart do you have to be when you see 40 hotels and motels lined up on the same street?"
The most notable and visible features of the current restaurant – open since 1971 – are the overflowing parking lot and the throngs of people who wait up to 45 minutes for a table most days. Families hover about the place waiting to be seated, while others lazily toss a Frisbee in the adjacent field as the more sedentary set sits in the lobby, drinking free coffee and reading newspapers.
But what has made Joey's truly special over the last five decades is the community that has sprung up around it.
Not Fade Away
"You need to develop a relationship with your customers," says Brenda, seated on a comfy green-cushioned bench within a four-top booth near the front door of the restaurant.
It's about 7:15 on a busy Monday morning, and the sounds of hushed chatter and spoons clinking in coffee mugs waft through the air as easily as the smell of batter on the griddle.
Diners shuffle in and out — most of them waving to or waving back at Brenda as they do.
"There was a man here yesterday — I was in the kitchen, washing dishes — and he asked to see me," she says, looking off into the back of the restaurant. "And this man, he was about 90, he got up and hugged me and he said, 'You remember me, I came here with my wife all those years.'"
Brenda remembered the man and his wife, which is not at all uncommon. She calls her ability to instantly recognize and remember people "a gift from God."
The man, who was accompanied by his daughter, told Brenda that his wife had recently passed.
"He wanted to come back to tell me he was adjusting, because his heart was broken when he lost his wife," she says. "It was really broken."
Generations of memories have been made in the place; tales of grandparents and grandchildren permeate Brenda's stories, a testament to the fact that Joey's is really more of a temple than a restaurant.
"Just yesterday, I had four or five families that had either lost a husband, a father, a mother, who had come here for many years," she says. "And the kids came when they were little, but now they're older. So it's about people's memories. It's about preserving something in their life that means something to them."
She goes on to recite a list of regular visitors to the restaurant who are so familiar to her and her staff that she says if they stopped turning up, she'd go looking for them.
"We have a minister who comes; he's 88 now. He came here with his wife for years," she says. "This is part of his life. This keeps him going. He comes here three or four days a week, and everybody hugs and kisses him. He can barely walk now, but he comes to this restaurant no matter what. Then there's this dentist from Canton. My people here at Joey's are his family. That's not making us more important than we are in the world — it's about having someone that still remembers you, and cares about you."
Almost as if on cue, one of the men she's been talking about walks in the door and slowly approaches the hostess stand.
"It all makes my life so much richer," she says, waving to him.
The relationships cultivated by Brenda and Joey over the years seem to have made everyone's life much richer — and that includes her staff.
There are many longtime employees still working there today; they become a valued part of the daily comings and goings of the regular customers, who also attend company holiday parties and often bring them gifts to commemorate a graduation, wedding or other significant life event.
Another interesting aspect of the staff at Joey's is that they're not just drawn from the area. In fact, there are former employees of Joey's strewn about the globe.
For years, Joey's would bring from overseas students with J-1 visas to work at the restaurant, perfect their English, build their knowledge of American culture and seek jobs elsewhere in the Unites States after graduating in their chosen fields.
"When Joey was alive — this is 15 years ago — we had a group of 10 students from Russia," Brenda says as yet another customer walks in and waves to her. "We rented them a condo and bought them bicycles. It makes a huge difference in their lives, and the customers just got attached to them right away. They became a big part of this restaurant."
Recent changes in immigration law made these cultural exchanges more difficult to arrange, but former employees both foreign and domestic tend to keep in touch with Brenda; she said she expects at least one to return when she hosts a private 50th anniversary reunion for up to 300 of them on Aug. 20.
"There's a young man from Russia, Igor, who is really tech-saavy and he went into that field more than 15 years ago; he taught so many people here how to use a computer. He's in Canada now," Brenda says, "and he's coming for this reunion."
Looking ahead 50 years, Brenda says she doesn't have children or family to pass the restaurant on to, but she wants to be sure it — and the people who constitute the community that congregates around it — are in good hands.
"People ask me about the restaurant, and I say, 'What are your plans for my restaurant?' They say, 'Oh, well, we're going to change this and that,' and I'll say, 'This is a highly successful business. Why would you do that?' I would love to see someone young — a young couple — come and be able to do this, and understand the importance of the people here. It really is about the people — the people that work here, and the people who eat here."