Outdoors Latest
'It all ties together': Waynesville couple inducted into Livestock Hall of Fame
Wednesday, September 20, 2023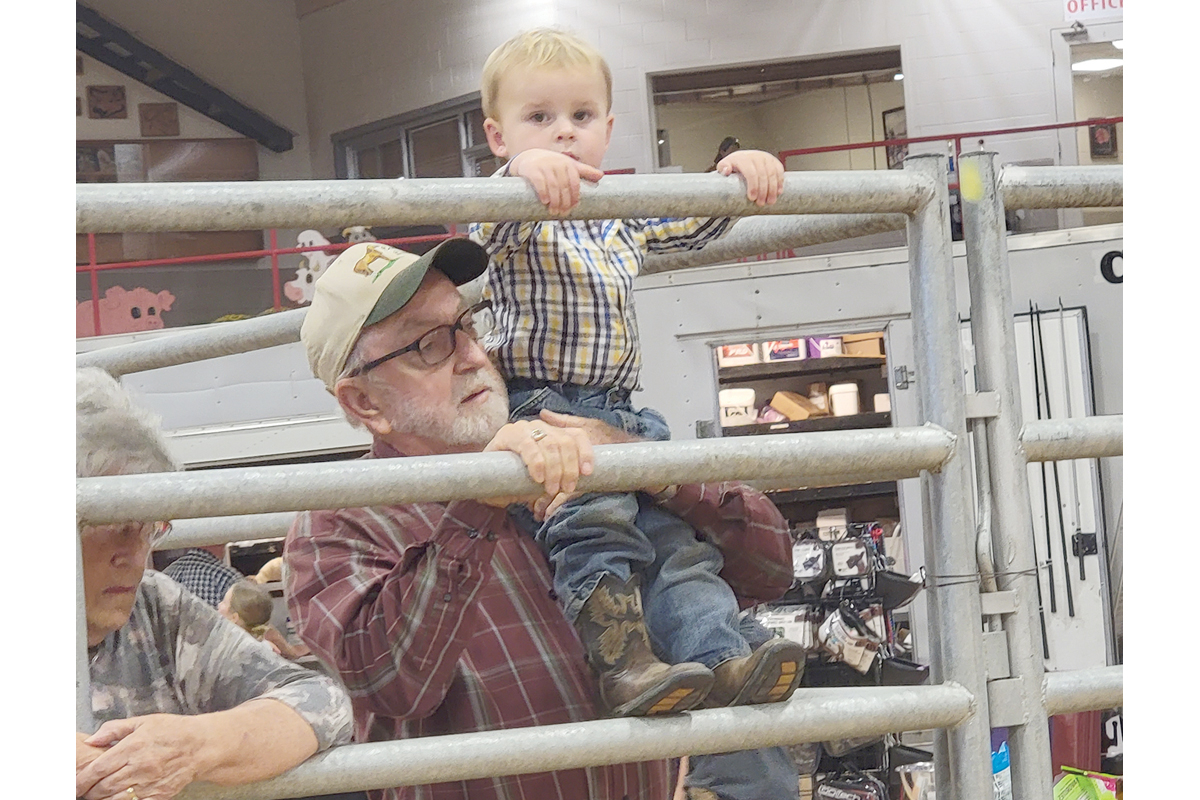 Buddy Cochran boosts his great-grandson Corbin Smith, 2, for a better look at the livestock show during the 2023 N.C. Mountain State Fair. Donated photo
Buddy and Janice Cochran are used to seeing things through.
The Waynesville residents have been married for 59 years, in that time instilling generations of children — including the two they raised — with a love for livestock. Last week, their decades of dedication earned them induction to the N.C. Mountain State Fair Livestock Hall of Fame.
"The Cochrans are generous with their time and resources, especially with youth that may not be able to participate in shows without their help," said N.C. Agriculture Commissioner Steve Troxler. "Buddy and Janice are always willing to help any youth in the area in any way they need to get them involved in livestock and showing."
The induction was a surprise for the Cochrans, who had been attending the fair since its inception in 1994 without any such thing happening.
"There's a lot of people that goes on that board with plaques just like ours that have … supported kids throughout the years and kept the Mountain State Fair going, and it's just an honor to be able to be part of that," Janice Cochran said.
For both Buddy and Janice, agriculture is a way of life that goes back to their respective childhoods in Haywood County. Throughout their life together, Janice said, Buddy has "always dealt in some kind of livestock."
Buddy and Janice Cochran stand together on their daughter's farm in Crabtree. Donated photo
Since 2006, Buddy, a long-time horse and cattle trader, has worked as a market news reporter for the N.C. Department of Agriculture and Consumer Services, recording cattle prices at Asheville, the old Canton yard, the WNC Regional Livestock Center and North Wilkesboro, also filling in at Shelby and Turnersburg. Janice retired from First Citizens Bank and worked for Jackson County Schools Central Office.
As their children grew, showing animals in the fair became a family tradition. The Cochrans have been part of the livestock shows that took place at the fairgrounds since the mid-1980s, years before the Mountain State Fair got its start, and they've been going to the N.C. State Fair in Raleigh for 44 years. Buddy took their son, Scotty, for the first time when he was only 10 years old and haven't missed a year since. Scotty, who would have been 54 this year, died in 2009, but Buddy and Janice still keep the tradition alive.
"It all ties together as far as our life is concerned, because that's what we dwell on and that's what we go from year to year looking forward to — what we do and how the fair are going to turn out and how our cattle's going to turn out, and all that responsibility," Janice said. "We just love it. We've been involved for so long, that's what we do as a family."
Both Scotty and their daughter, Karen, grew up showing cattle and sheep, and the Cochrans' granddaughter, Courtney Wade, showed cattle, sheep and hogs throughout her childhood. Wade now teaches agriculture at Pisgah High School and has kept her students involved with the fair since 2013.
The Cochrans' dedication to passing on an agricultural legacy goes well beyond their biological family, however. They are both members of the Pisgah Future Farmers of America Alumni, and Buddy donates his time and trailer to transport all Pisgah FFA livestock to and from the fair. Since the dairy steer project began, the Cochrans have helped find buyers, market the steers and haul them after they are sold. Without her grandparents, Wade said, many of the livestock shows her students participate in wouldn't be possible.
Pisgah FFA students show shorn sheep during the 2022 Haywood County Fair. Donated photoPisgah FFA students show shorn sheep during the 2022 Haywood County Fair. Donated photo
"They are true champions for agriculture, and that shows in their dedication to the Pisgah FFA program," Wade said. "I have students who even years out of high school will drop by to visit them, just to sit on the porch and talk for a while. That is a testament to their impact on students, even when it may not be realized by the student when they are in school."
It's important work, they believe, a tangible contribution they can make to stem the tide of shuttered family farms and increasing numbers of kids who grow up not knowing where beef comes from before it's stocked in the grocery store fridge.
"There's got to be somebody in the background that does all this stuff that provides the food we eat," Janice said.
"There's got to be somebody in the background that does all this stuff that provides the food we eat," Janice said.
Undoubtedly, she said, the livestock experience they've gained through the fair has made a difference in the lives of the FFA kids in Wade's class.
"Most of the kids in her program do not live on a farm and were not raised on the farm, so when she gets them signed up to show her cattle or her sheep or whatever, she has to actually train them," Janice said.
But more than once, Janice said, one of those kids who came into the program knowing little to nothing about livestock has since gone on to study agriculture in college, or even teach it as a career. She believes participating in the fair was key to opening up those possibilities.
Pisgah FFA students show off ribbons and livestock following the Super Special Sheep Show at the 2022 Haywood County Fair. Donated photo
Even for kids who don't choose agriculture as a career, the fair is an important experience. Raising a sheep, goat or any other farm animal requires a high degree of responsibility. A lot of work goes into raising an animal and getting it ready for a show.
"You've got to take care of those animals," Janice said. "Sometimes you have to feed them before you feed yourself."
The Cochrans entered the Livestock Hall of Fame along with Leicester residents Tim and Sonia Worley, who, like the Cochrans, have been involved with the Mountain State Fair since it began. Responsible for introducing dozens of youth to raising and showing animals, they operate a cattle farm together and also grow corn and hay. Tim has spent more than a decade as a livestock health technician for the N.C. Department of Agriculture and Consumer Services, while Sonia is a tax preparer. Their son Tucker is a horticulture research specialist at the Mountain Research Station in Waynesville.
Tim's father, Larry Worley, was inducted into the hall of fame in 2017.
The N.C. Mountain State Fair Livestock Hall of Fame was created by livestock show staff to recognize individual contributions to the livestock industry and livestock shows in Western North Carolina. Each year, it welcomes new inductees representing the agricultural tradition across the mountain region. This is the first time since 2019, when Haywood County resident Jim Padgett was inducted, that an inductee has hailed from a county west of Buncombe.