A&E Columns
This must be the place: 'I don't know, don't really care, let there be songs to fill the air'
Wednesday, September 13, 2023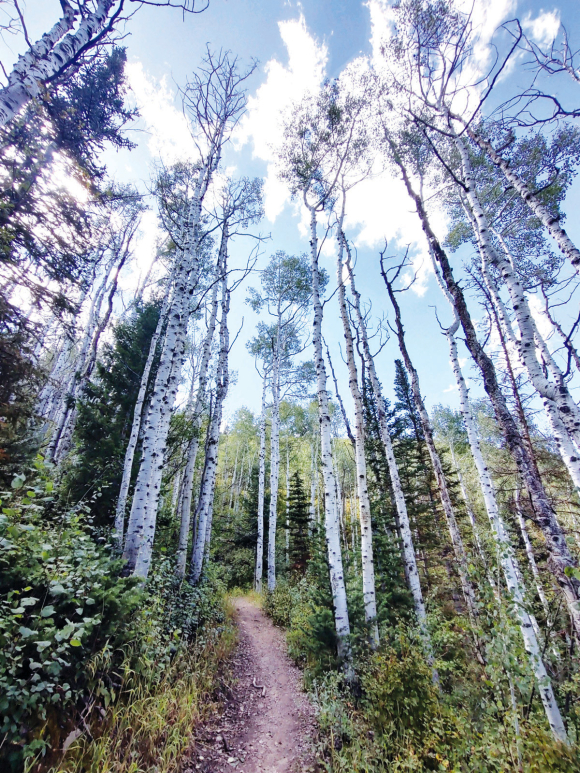 Holly's Trail is in Park City, Utah. Garret K. Woodward photo
It's 11 a.m. Monday. Currently sitting in the rec room of my aunt's high-end apartment complex on the outskirts of Charlotte.
Halfway between the city and Statesville near Lake Norman.
And less than 24 hours ago I was sitting in an airport bar in Salt Lake City, Utah. A cold Coors Light draft in the fleeting minutes before a nonstop flight back east. Two time zones behind. Onward to my Haywood County home, my girlfriend waiting at CLT to pick me up.
The beer soothes pre-flight nerves that usually arise amid other existential thoughts constantly brimming under the surface of my daily existence and social interactions. Finish up the beverage. Pull up the flight ticket on the Delta app on the smart phone. Wait in line. Find your seat. Store the travel bag in the overhead bin. Await departure.
This cross-country go-round Rolling Stone assignment landed me at the Park City Song Summit. The gathering focuses on health/wellness in the often-self-destructive music industry. Numerous symposiums, panels and live performances by musical greats like Bob Weir, Eric Krasno, Ivan Neville, Chuck D and Darryl "DMC" McDaniels.
And there I was, somewhere between 7,000-9,000 feet in elevation, running around conducting interviews, taking in artist talks, soaking in live shows and, well, simply trying to, once again, make sense of "it all." Record quick quotes. Scribble down even faster notes. Shake hands. Kick around ideas for future articles on new albums and projects.
A couple times throughout the weekend jaunt, I was able to disappear in the depths of Mother Nature surrounding the Canyons Village complex and greater Park City just down the road. Lace up the dusty old trail running shoes and exit the uber-fancy Hyatt Centric hotel. Wander down the sidewalk into the heart of the slick Canyons Village.
Porsche, Range Rovers, Rivian and Tesla vehicles parked in seemingly every direction. High-end boutique shops for outdoor enthusiasts in search of $300 windbreakers. Steakhouses where you can buy yourself a nice slice of beef for around $120 (before tax and tip and without a side salad included). Pricey liquor and wine. You know, the good life.
All good indeed, but give me a lonely dirt trail meandering up a quiet mountain and that's the good life for me, eh? At the end of the commercial corridor of the Canyons Village , I walked past the silent ski lifts and gondolas, each patiently awaiting the winter weather and impending crowds hitting the slopes.
At the trailhead, I found myself alone, save a small group of golfers teeing off further down the mountain. Even at high elevation, my breathing felt rhythmic and at ease. So, too, my legs and calf muscles on the steep trek uphill to the trail. Start trotting and just let the run unfold into itself as per usual. Let it all hang out and go with the flow.
About a half-mile in, my body was chugging along. But, I definitely felt more like my current 38 years than that spry college athlete who used to bound up mountainsides like some western ram. Hell, I'll take any ability to meander up a mountain at a steady pace at any age moving forward, come hell or high water.
I may not be the 18 or 28-year-old runner of yore, but I feel pretty good out there, at least in the grand scheme of things. And, most important, running (especially trail running) still provides me with much-needed mental clarity and a euphoric sense of self and of the universe while in constant motion.
Half-hour later, I found myself at the end of the trail (well, that portion of it) as it filtered out on this empty dirt service road used for by the ski resort. Before turning around and heading back to the Canyons Village, I simply stood in the middle of the dirt road and just listened, left alone with my restless thoughts in the abyss of ancient rock, dirt and trees.
Gazing around my spot, I could see all the endless ski slopes covering the numerous peaks. Green grass soon to be inundated with snowflakes. I wondered if there were any bears hiding in the tree lines nearby. I wondered what else was lurking just over the horizon. No fear, just appreciation and respect for the wildlife that call this place home.
The mind started to drift back to the moment at-hand. On assignment in Park City. Interviews with musicians I adore. Interactions with people, places and things that captivate the heart and soul. It's all I've ever wanted, personally and professionally, and here it is for the taking. Be grateful. Be studious. Be free to be you and me, right?
I also realized that it had been some 14 years since I last was in Utah. In 2009, heading back to Jackson, Wyoming, from the Burning Man festival out in the Black Rock Desert in Nevada. So much in the news as of the late about the gathering and the disastrous exodus due to unusual rainstorms.
My Burning Man experiences throughout the 2008 and 2009 installments was one of joy and connectivity (more about that in some other column). Though I don't even plan to ever attend again, I do, however, continue to honestly live and promote its mission/ethos of fellowship, creativity and compassion.
And I vividly remember that last Utah traverse. Sleeping in a beat up 1998 Dodge Ram at rest area along Interstate 80. My friends passed out in the camper trailer hooked up to the truck. Thousands of miles from home. I was 24. Hungry and dirty, but ready for the next adventure — whatever and wherever it may be.
I even wrote a poem about being at that rest area that very day in September 2009. The truck still covered in dust from the Black Rock Desert. Words and emotions long-held and deeply-felt, more so today as I think of this woman who has miraculously come into my road-weary field-of-view this past year.
Here's part of it: "Where were you when I was in the cold / Motel room in Gallup / Cramped loveseat in Deadwood / Damp tent in Newport / Musty backseat in Salt Lake City / Dusty sleeping bag in Reno / Hurried rest area in Worcester / Silent guestroom in Chattanooga? / I relent with a smile, and turn to you / Your eyes I now call home."
Life is beautiful, grasp for it, y'all.