Archived Outdoors
Residents offer feedback on parkway plan
Wednesday, August 23, 2023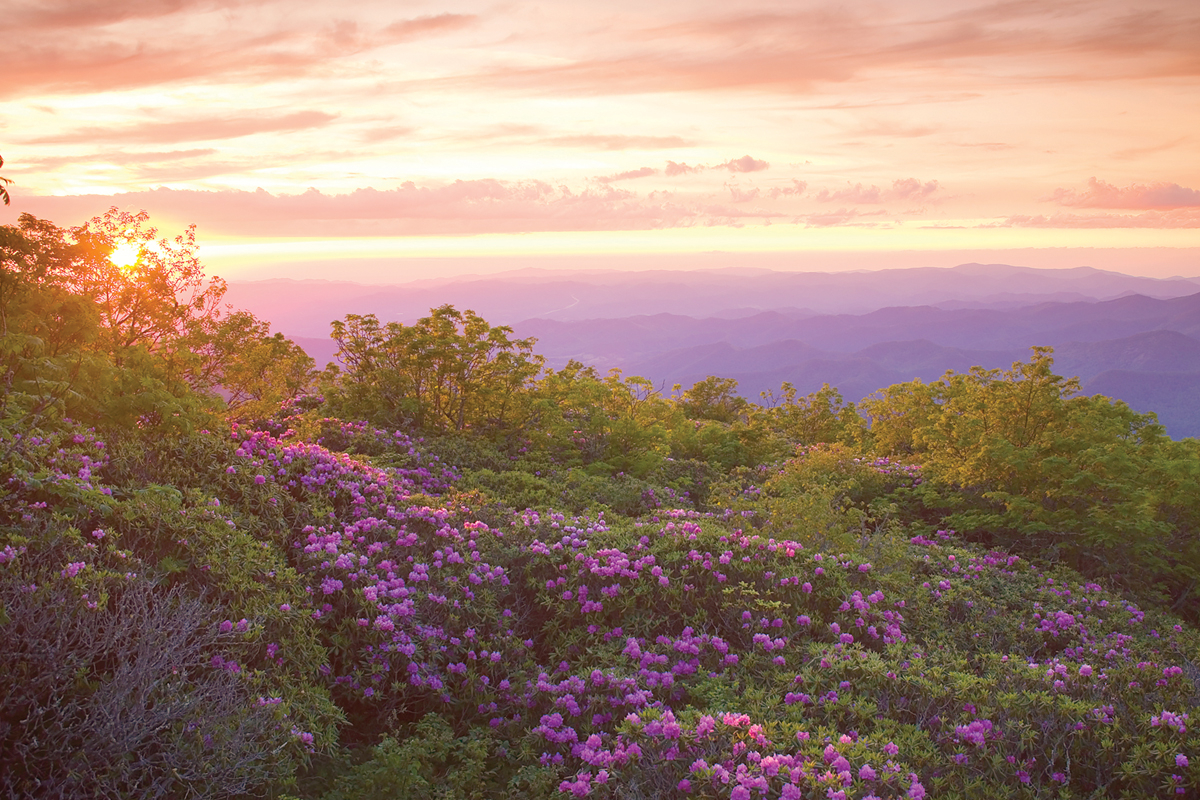 The Blue Ridge Parkway Foundation is one step closer to drafting its new action plan following a series of seven regional meetings.
The Blue Ridge Rising Action Plan has been in the works for a while now, and recently, people at the regional meetings had a chance to weigh in on things they consider most important when it comes to how the parkway impacts their communities. Along with stations explaining the parkways economic benefits, there were several that had lists of suggestions gathered during 30 separate local meetings earlier in the year. Each person got to mark which suggestions they believed were most important.
Of the seven regional meetings, one, an event last week at Lake Junaluska in Haywood County, was held in The Smoky Mountain News' coverage area.
At that meeting was George Ivey, North Carolina's development director for the parkway foundation. Ivey talked about the foundation's vision for this current project, which is funded by a grant from the U.S. Economic Development Administration.
"The idea is to find ways to encourage economic development in the local communities, because we really believe that everyone does best when the parkway, the parkway visitor and the parkway communities are all doing well," he said. "And they feed off each other. If the parkway is in bad shape, you're going to have fewer visitors on the parkway and fewer visitors to the community. If there's not good signage on the parkway, those visitors aren't going to come down to the community. It's all related to us."
Ivey said that he thought the 30 local meetings and the other regional meetings went well and that they received valuable feedback. Some of that feedback has varied between different places along the parkway.
George Ivey speaks with Maggie Valley residents Shelly Coker and Teresa Smith. Kyle Perrotti photoGeorge Ivey speaks with Maggie Valley residents Shelly Coker and Teresa Smith. Kyle Perrotti photo
"And then there could have been a good idea that came from Floyd County that people and Haywood County didn't think of or vice versa, and a chance to kind of think, well, maybe that's a good approach," he said.
However, Ivey did note that there were common interests across the board, such as more emphasis on marketing and signage to let folks know what some of the great communities along the parkway have to offer.
"It comes down to creating content and delivering the content electronically and through old fashioned ways of signage, because there's not great cell coverage on the parkway," he said. "So you either have to improve the electronic delivery, or improve the signage … if you see a sign that just says Brevard one way and Canton the other way, that doesn't tell you if there are hotels in either direction or how long to a gas station."
Ivey said he's learned plenty hosting these sessions but that one of the most remarkable things he's learned is just how open individual communities are to adopting a regional marketing plan.
"Doing this with a full cross section of communities has given us more detail but also just more data to back it up so that we can then hopefully go to funders and say this is what people said," Ivey said.
Tim Johnson has taken one of the leadership roles on this project for the contractor, Destination by Design, out of Boone. Destination by Design's job is to coordinate the planning and community engagement processes, consider the feedback and ultimately produce a planning document the foundation can use to implement new strategies.
"We created this method of allowing people to prioritize these various strategies," he said.
Johnson said he finds this particular project interesting because the Blue Ridge Parkway goes right by Boone.
"We live in a gateway community, we work in a gateway community along the parkway, so it has been interesting just to see what other folks think about it and sort of where their minds are going," he said. "Of course, at the same time, we're staying totally objective. We try not to lead anyone in a certain direction."
Hylah Birenbaum places a sticker on one of the boards. Kyle Perrotti photo
Although the data hasn't been analyzed yet so Johnson couldn't comment on specific things that an overwhelming majority of people wanted to see, there was one thing that he stuck out anecdotally, and it isn't too surprising.
"Trails are always something of interest in any planning process we do, so they have come out on top, and the marketing and wayfinding have also come out on top," he said.
Johnson reiterated a point Ivey had made.
"It's nice to see people not just looking at the parkway in their own county or community; they are now seeing this as a whole region," he said. I don't feel like people thought about it that way before."
Spruce Pine Town Manager Darlene Butler was one of the people who came to the Lake Junaluska meeting to weigh in on the potential elements of the plan. She said she's excited to see that the Parkway Foundation is taking proactive steps to develop partnerships with the satellite communities.
"I really like the uniting local partners," she said. "We've always thought of the Blue Ridge Parkway as something where the leadership is just somewhere else, you know, not local," she said. "It's really good to learn that they're interested in being partners with communities and then all the communities partnering as well."
Butler feels as though people in her community have expressed plenty of interest in the parkway and how it can benefit them economically.
"I've talked to our chamber and went to the local meetings, and they're really interested," she said. "We all grew up with the Blue Ridge Parkway just in our back door. And from the town's perspective, we have satellite annexations toward the parkway, but we can't always get people to our contiguous downtown. We'd love to be able to do that.
"I believe we're in a unique position since we're kind of in the center," she said. "Mount Mitchell and Boone are an hour away. But the folks on the parkway are from everywhere and are going just outside our back door. I think businesses are interested in terms of expanding their recreational opportunities."
Visitors had the opportunity to review suggestions under each category and place up to three stickers on the ones they felt strongest about. Kyle Perrotti photoVisitors had the opportunity to review suggestions under each category and place up to three stickers on the ones they felt strongest about. Kyle Perrotti photo
One thing Butler noted is that a lot of folks around Spruce Pine want to see improvements, or even more frequent maintenance at facilities along the parkway, many of which around her area she said have deteriorated.
"Our average citizens really would love to see Crabtree Falls back to its glory," she said. "We'd like to see those facilities manned and returned back to what they used to be."
Overall, throughout the local and regional meetings, hundreds of people have voiced their opinions on what they would like to see take the spotlight as the parkway foundation considers what will be best for the economies along the 469-mile road. Ivey said a total of about 420 people came out to the 30 local meetings and that the regional meetings were bringing in about 30 people apiece. He added that he expects some way for people to provide electronic feedback to be implemented, as well.
Ivey also said people who are interested will likely be able to view the results of the seven regional meetings at blueridgerising.com in the next few weeks.
The final step of this phase will include a two-state summit in Blowing Rock in December, where the results of the regional meetings will be discussed by stakeholders from both North Carolina and Virginia.