Outdoors Columns
Up Moses Creek: Look up!
Wednesday, March 08, 2023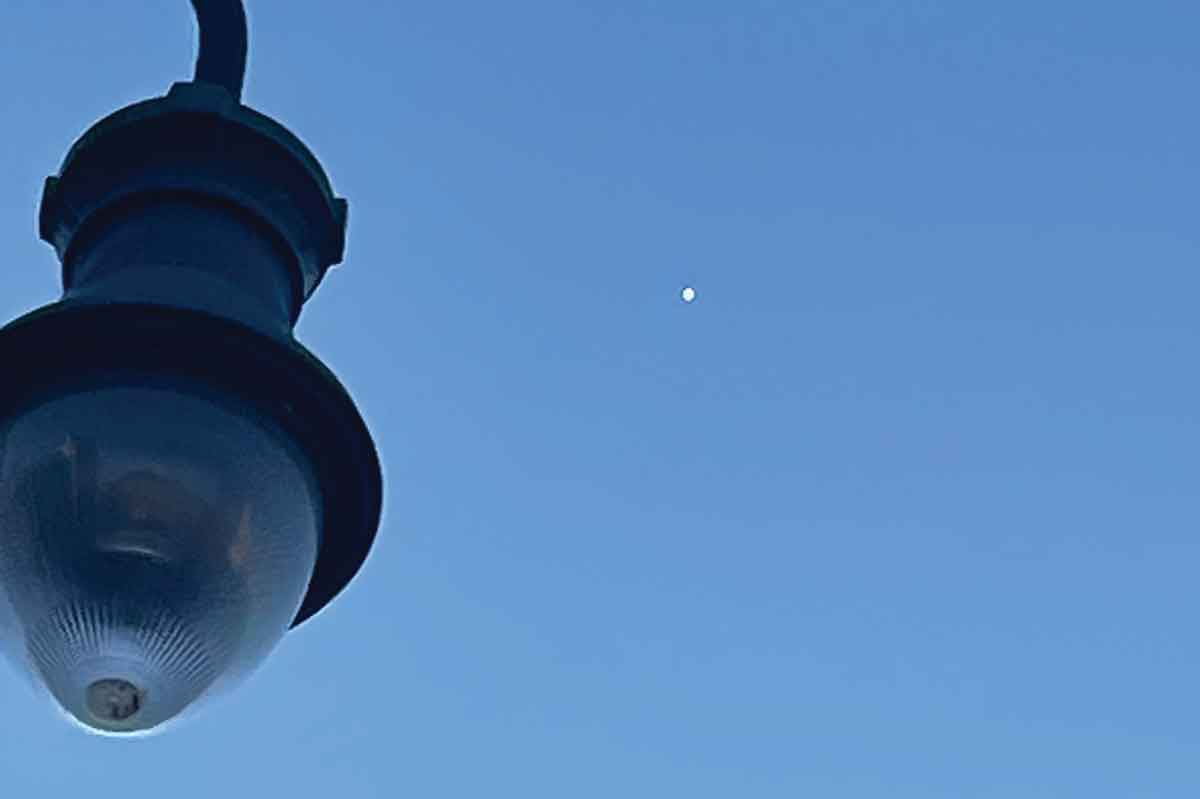 The Chinese balloon soars over downtown Waynesville Saturday, Feb. 4. Scott McLeod photo
The day dawned clear, and I was standing on the ridge behind our house looking west and waiting for the mountains to turn rosy in the rising sun, when I heard the high-pitched clucks of a pileated woodpecker winging toward me.
Hoping the crow-sized bird would swoop down in a flash of black, white and red feathers to fix itself to a tree, I Iooked up and found my eye drawn not to the bird but to a strange, silent, brilliant white light hung in the sky over Moses Creek.
This was no "green comet" recently hyped by the news, said to be swinging past Earth and offering the only view of it for the next 50,000 years; and you go out in the frigid night air prepared to behold something as spectacular as the full-color image that filled your computer screen only to see, if you are lucky enough to pick it out, a smudgy dot in the star-spangled heavens. No, what hung over Moses Creek that morning was the biggest, most radiant celestial object I'd ever seen, except for the sun and moon. Standing on the ridge, I felt "like some watcher of the skies," to quote Keats, "when a new planet swims into his ken."
What was it? Science tells us the "Chicxuclub Impactor" (pronounced "Sheek-shu-loob") hit the earth 60 million years ago, annihilating most terrestrial life. For all I knew, the light over Moses Creek was another massive asteroid about to strike with an obliterating flash.
Then I saw through the bare tree branches that the light was indeed "swimming" slowly through the blue from west to east, opposite the natural course of the sun, moon, stars.
The thing I wanted most at that moment was down at the house: my binoculars. Also, afraid that the strange light might suddenly zip straight up out of sight, like I hear UFOs do, leaving me to decide whether to tell anyone else about the amazing thing I'd seen, I wanted Becky to see it too — and to back me up.
I headed straight down the slope, shortcutting the trail and grabbing at small trees to slow my headlong descent to a breakneck speed, pulling myself to a stop every once in a while to make sure the light was still there, when suddenly it came to me — the Chinese spy balloon! The day before I'd read about it hovering over Montana. Was that it now over Moses Creek, radiant in the sun?
After what seemed forever, I burst into the house, rousing Becky from her newspaper and coffee, "Go out! Look up!" and grabbed my binoculars.
The white ball was still there, a bit dimmer, but continuing in its course towards the brightening east. Sitting down to catch my breath, I put the field glasses to my eyes, and the brilliant light I had first seen on the ridge — so unexpected, beautiful and mysterious that it could have been the Star of Bethlehem returned to earth — all at once came into focus as a white balloon. A ginormous balloon, to be sure, big looking even though I'd read it was 11 miles high, but a balloon in fact. I could even see a metallic shiny structure suspended below, gondola-like.
I also saw why the object was becoming less bright. At first sight the balloon's entire side facing me had been lit up by the sun, like a full moon, only brighter. But now, as it traveled east, it was going through the lunar phases, shrinking to gibbous and quarter and crescent, eventually to become an old moon with the new moon in its arms.
Then the word "spy" came back to mind, and I couldn't help but wonder if some cold-eyed military analyst in China was staring back down at us, but through an instrument with far more magnification and clarity than my 8x32s. For all I knew, he might be boring through my lenses at that very moment, able to look me in the eye and, with a click, scan my retinal ID for dire future purposes.
The ancient Greeks believed that the center of the universe was a smooth boulder enshrined at their sacred temple of Apollo at Delphi. They called it "omphalos" meaning "navel." But to one who calls this mountain cove home, Moses Creek is the nation's navel. And the thought that Becky and I had become objects of surveillance heightened my suspicion that now we were in the crosshairs of an enemy. So goes Moses Creek, so goes America.
We watched the balloon sail toward the ridgeline, on a collision course with the thermonuclear sun.
Leave a comment
1

comment
Great article.
You have to get up early to see what Burt sees.
Thanks for sharing.

Wednesday, 03/15/2023