Sponsored content
6 Tips to Improve Your Credit Score
Monday, February 07, 2022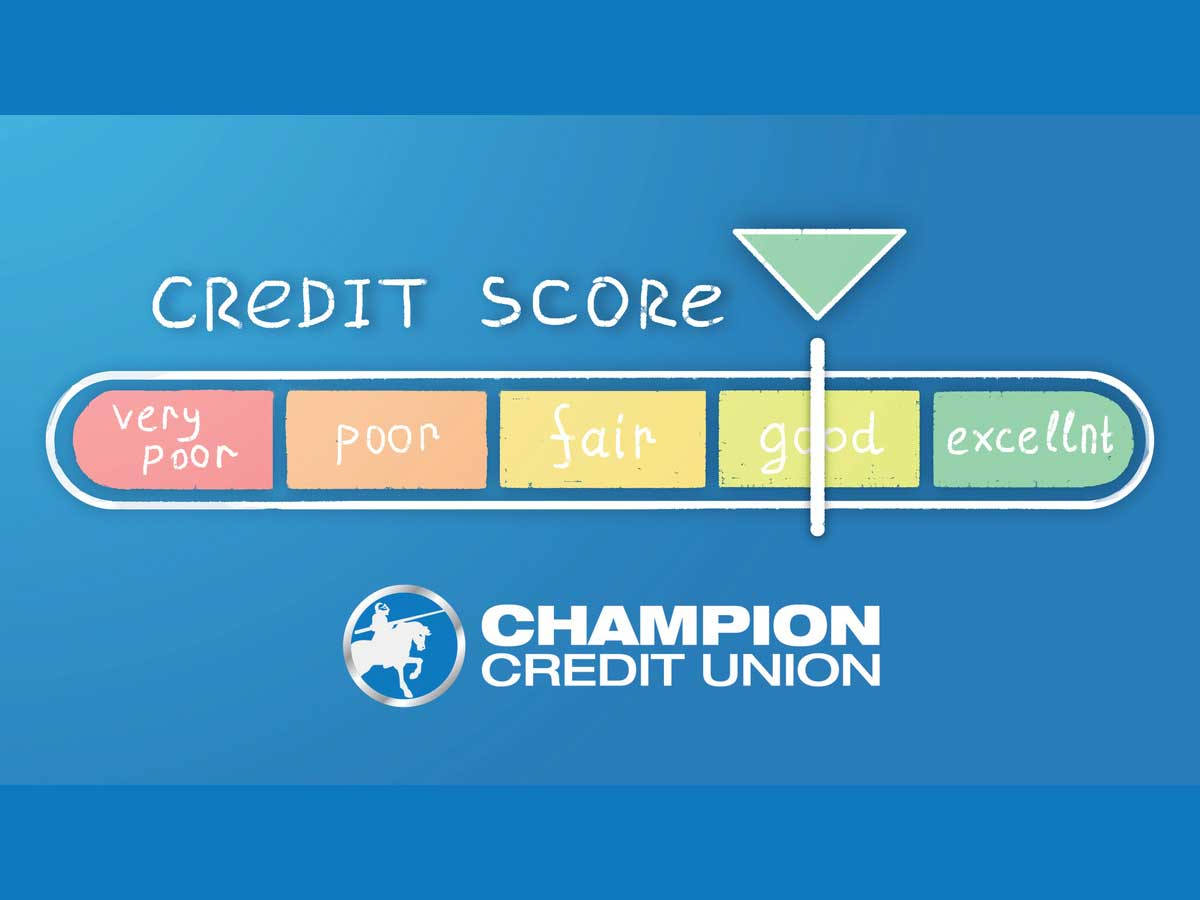 Creditworthiness is defined by a three-digit credit score and could be the key to a healthy financial life. Good credit is a determining factor when it comes to acquiring a mortgage, auto loan, student loan or credit card with a low interest rate. Credit can also affect utility costs, insurance rates, rent applications and even your ability to land the job you want. A low credit score will make it more difficult to do any of these things and could potentially cause stress in your life.
The best plan is to never get upside down with your credit in the first place; however, in the unfortunate event that happens, there are proven strategies to help turn your credit around. Below are several suggestions for improving or keeping a positive credit score.
1. Obtain a low-interest, no-fee credit card: One great way to initiate a good credit score is by getting a credit card that offers a low, fixed interest rate and does not bombard you with fees. Champion Credit Union offers a credit card with a fixed, low rate and no balance transfer or over-the-limit fee. Don't apply to the first credit card company you find on a Google search or who solicits you through the mail. Do your research and make sure you're partnering with an institution that works for you and your lifestyle.
2. Review your credit report: These days it's easy to get your credit score, but occasionally you should print out and assess your entire credit report to see what's working for or against you. Factors that contribute to a higher score include a history of on-time payments, low balances on your credit cards, a mix of different loan types and credit cards, older credit accounts and minimal inquiries for new credit. In contrast, late or missed payments, high credit card balances, collections and judgments are major score detractors. Quick fixes are paying down revolving credit, having inaccuracies removed and becoming an authorized user on someone else's credit card account.
3. Understand the FICO score: More than 90% of lenders use the FICO credit score, which is based on the following five factors:
Payment history (35%)

Credit usage (30%)

Age of credit accounts (15%)

Credit mix (10%)

New credit inquiries (10%)
With this in mind, try to make all payments on time and avoid late fees at all costs, since payment history is number one on the list. Additionally, create systems to help you stay on track, such as automating bills with direct withdrawals, setting reminders on your phone or creating a filing/timeline system. Some people have bills drafted with a credit card and then pay off the credit card each month.
4. Maintain 30% or less credit utilization: This refers to the portion of your credit limit you're using at any given time. There are two main ways to help with credit utilization. The easiest way is to pay your credit card balances in full each month. If that's not possible, try and keep your total outstanding balance at 30% or less of your total credit limit. A second helpful tactic is to ask for a credit limit increase, as long as your purchasing doesn't increase simultaneously. With online access to your credit card account, requesting a higher limit can happen within a matter of minutes.
5. Work to keep old accounts open: Remember that credit card you got in college? Don't close it. The age of your credit line greatly contributes to your overall credit score. Keep open old accounts, even if they're paid off and you don't plan to use them. It's not wise to close accounts with zero balance when you have other cards with remaining balances. This negatively affects your credit utilization ratio. Further, if you have delinquent accounts, try to resolve the issues as opposed to closing them entirely.
6. Consider consolidating your debt: If you have several outstanding debts, it could be to your advantage take out a debt consolidation loan from a bank or credit union. Then you just have to focus on one payment and more than likely, you can find a debt consolidation loan with a low interest rate. A similar tactic is to transfer high-balance, variable rate credit card balances onto a credit card with a lower rate. Credit card companies often offer promos such as 12 to 18 months of low or zero interest on the transferred amount.
Building good credit or repairing a low credit rating won't happen over night, but if you faithfully follow these suggestions, you'll see significant improvements. Putting the work in is worth it. Lastly, if you have young people in your life, teach them these skills when they're teenagers so they can enter adulthood with healthy credit lines.
Discover a better way to manage your finances and build credit with a Champion Credit Union Visa® Platinum or Platinum Rewards card. Apply online today!
Leave a comment
8

comments
I lost all my life crypto savings on my Trust Wallet and I couldn't explain if it was a phishing link I entered or what but all I can say is my wallet was wiped. I read some much about a Money Recovery expert who I decided to contact and trust me, he didn't disappoint. He recovered all the lost tokens as well as my coins (bitcoin and ethereum) worth about $186,000 as of then. His charge was moderate and he kept me informed about every step. You can reach him via (Backendrecover AT Rescueteam doot c o m)

Thursday, 02/02/2023

thanks for the information

Tuesday, 04/12/2022

Working with FirewallBreachExpert ?? gma?il ?? com was a well- worth it experience. He helped increase my score immensely. I was embarrassed when trying to get a loan with my poor credit score. Now i am much more confident when i walk into the bank for any reason. He was great to work with, always responded almost instantly every time i sent an email.

Thursday, 03/31/2022

Whether your bad credit stems from negatives like repossessions, charge-offs, late payments on credit cards e. t. c, quit bothering yourself over the problems, firewallbreachexpert -\- gmail -\- come is the fastest solution. I suffered for 4 years unable to get credit cards, having to use well overpriced financial institutions to get a car loan and even in some cases i was being denied a mobile phone contract. I thought i just had to accept it even though i believed i was not totally at fault for the listings being there until i met firewall breach expert. He restored my credit giving me the life i thought i would never have.

Tuesday, 03/01/2022

Whether your bad credit stems from negatives like repossessions, charge-offs, late payments on credit cards e. t. c, quit bothering yourself over the problems, firewallbreachexpert -\- gmail -\- come is the fastest solution. I suffered for 4 years unable to get credit cards, having to use well overpriced financial institutions to get a car loan and even in some cases i was being denied a mobile phone contract. I thought i just had to accept it even though i believed i was not totally at fault for the listings being there until i met firewall breach expert. He restored my credit giving me the life i thought i would never have.

Tuesday, 03/01/2022

Thanks for sharing this valuable information..

Thursday, 02/24/2022

Thanks for sharing this valuable info.

Monday, 02/21/2022

Yes with the help of an expert tech recovery center KALI PROFESSIONAL HACK you will be able to fix your credit score without having any issues with your credit score. Contact him (kalihacksonline At Gmail Dot Com}. On Instagram kalihacksonline or anis_lebedev

Friday, 02/11/2022