Archived Outdoors
A new chapter for Max Patch: Forest Service issues two-year camping ban for iconic bald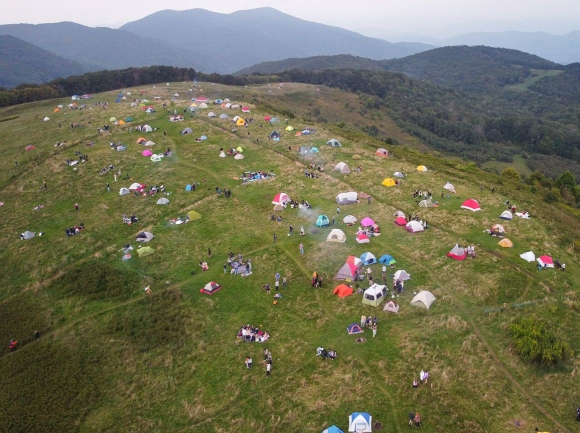 About 130 tents dot the top of Max Patch in a viral photo taken by Mike Wurman on Saturday, Sept. 19. Mike Wurman photo
Following an explosion of use at Max Patch, the U.S. Forest Service is prohibiting camping and fires on the iconic site, among other new restrictions now in effect for the next two years.
From now on, the area around Max Patch will close an hour after sundown and reopen an hour before sunrise, with visitors prohibited in the area overnight. No groups larger than 10 people, drones or fireworks will be permitted, and aircraft are not allowed to land, drop or pick up anything in the area.
Dogs and other animals must be on a leash 6 feet long or shorter, or else in a crate or cage. Horses and other pack animals may not be ridden, hitched, tethered or hobbled in the area. Visitors must stay on designated trails, and bikes are allowed only on roads.
"We've been working with partners to achieve sustainable recreation at Max Patch because of the impacts due to a significant increase in visitors over the past decade," said Appalachian District Ranger Jen Barnhart. "Unfortunately, the level of use is causing a public safety hazard as well as serious damage to wildlife habitat."
Over the next two years, Forest Service personnel will monitor and address visitor use and impacts in the area before determining the site's longer-term future.
The new rules represent a significant tightening of restrictions for a place that has long been a favorite spot to camp, watch the stars or enjoy a picnic lunch with a four-legged friend or two. Before the regulations were announced July 1, camping was allowed on the bald for up to 14 days so long as the site was 200 feet away from the Appalachian Trail and half a mile from the trailhead.
However, the reaction from local people and conservation organizations has been overwhelmingly positive. An initial post about the change on The Smoky Mountain News' Facebook page July 1 had generated 26 comments as of press time, nearly all expressing support for the decision along with regret that visitor volume and behavior had made it necessary.
"A great day for CMC, the ATC (Appalachian Trail Conservancy), and the Forest Service!" read a July 1 post on the Carolina Mountain Club's Facebook page. "We have been working towards this for three years."
Overuse at Max Patch has been a building issue over the past decade. Officially added to the Pisgah National Forest in 1983, Max Patch was for years a secret spot for locals and a hidden gem for Appalachian Trail hikers, the sweeping views spreading from the grassy bald accessible only by driving miles up a winding, rutted mountain road to reach the trailhead. Even as recently as 2014, when Asheville resident Mike Wurman first ventured to the scenic spot near the Haywood-Madison County line, hiking Max Patch was a quiet, solitary kind of experience.
The new restrictions apply to the entire bald known as Max Patch. USFS map
But in the years since, use increased and then exploded as Max Patch found its way onto countless "best hikes" lists. Various local tourism organizations tout it as a must-see, and it's appeared on multiple magazine covers over the last several years.
On Instagram, #maxpatch has more than 40,000 posts — up from 37,000 in September 2020, when Max Patch's overcrowding issues gained new prominence in the public eye after Wurman took an aerial photo showing a veritable tent city covering the bald the evening of Sept. 19.
The image quickly went viral, the birds-eye view showing about 130 tents, not to mention picnic blankets. When Wurman left the trailhead around 9 p.m., even more people were arriving.
That was the night after Harriman, Tennessee, resident Benny Braden of Plug It In Hikes camped out at Max Patch, where the sounds of loud music and partying cut through the canvas walls of his tent until the wee hours of the night. He woke up to a trash heap, enlisting the help of a few friends to gather 82 gallons worth of waste, along with four pillows, three blankets and one wagon abandoned on the bald.
"I've personally been advocating for this since September 2020," Braden wrote on social media in response to the newly announced restrictions. "I've personally with the help of many others removed over six truckloads of trash and abandoned camping equipment from Max Patch from September to November 2020. I'm excited to see the USDA (Forest Service) was able to come up with a decision on this and a plan for this iconic location to begin rehabilitation and healing from all the overcrowding and abuse that's been done to it in the last couple of years."
Wurman's viral photo came as a relief to land and trail managers who for years had been trying to get the public to understand to severity of the issues facing Max Patch. Since 2018, the Appalachian Trail Conservancy, Carolina Mountain Club and U.S. Forest Service have been working on a plan to address growing popularity in the area. The newly announced restrictions are a product of that work.
While all the organizations involved agree that increased restrictions like the ones recently announced are needed to accommodate the barrage of use at Max Patch, they also acknowledge that visitor education will be key to addressing the problem. Many people who visit the area aren't experienced hikers familiar with Leave No Trace principles and outdoor etiquette. Trailhead signs and trail ambassadors are both used to help visitors understand how to use the area sustainably.
The seven principles for sustainable use of outdoor spaces promoted by the Leave No Trace Center for Outdoor Ethics are to plan ahead and prepare; travel and camp on durable surfaces; dispose of waste properly; leave what you find; minimize campfire impacts; respect wildlife; and be considerate of other visitors.
In Braden's view, there's another important consideration that outdoor visitors should keep in mind, one that could have made a big difference in the case of Max Patch: think before you geotag. Geotagging social media posts and other online publications makes it very easy — too easy, some would say — for others to navigate to the exact location where a particularly beautiful photo was taken.
"Before geotagging a location," Braden wrote in a June 28 social media post, "consider the following: (1) Does the current infrastructure support an additional amount of visitors? (2) Are there adequate parking, roads and restrooms that can handle more visitors? And consider the possible human and environmental impact that could be placed on that location...."
Practice Leave No Trace
Learn more about the seven principles at www.lnt.org/why/7-principles.
Leave a comment
2

comments
As a local, I remember in high school it was the thing to go to Max Patch to just ride around and enjoy a day of peace and quiet. That was just 6 years ago. I see such a change in Max Patch itself and the bald in just those 6 years. When COVID first hit, I remember me and my friend hiking the bald being the only people on top of that mountain. It was so nice, and reminded me of how it use to be. But it can still be nice with dozens of people IF they respect the area. So that the next visitors get to see it in all it's beauty. You know, without seeing tents, blankets, garbage, and an ungodly amount of socks, underwear, etc... These restrictions could be one of the better things for Max Patch, if they are taken seriously.

Monday, 07/12/2021

When does this no camping ban go into effect? July 4th family went up there and people was still camping and still walking up there after hours.

Thursday, 07/08/2021