Archived Outdoors
Bones from coast to coast: Black Mountain runner completes 1,175-mile run while battling cancer
Wednesday, August 29, 2018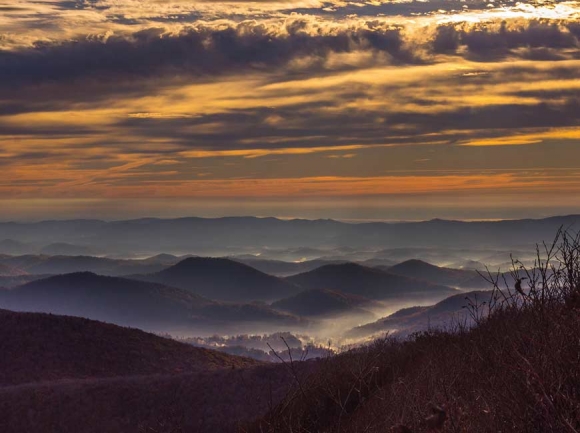 The Yadkin Valley spreads out below Grandview Overlook on the Blue Ridge Parkway, which Kenny Capps ran past on the Mountains-to-Sea Trail. Donated photo
Most people would not see a diagnosis of incurable cancer as an invitation to run 1,175 miles. But Kenny Capps is not most people.
"It's a cancer that requires you to say on top of it," he said. "Moving in whatever way you can, that's invaluable to being able to live with it. Because you can live with it. I know it's terminal, but so is life. They don't have a cure for that either."
Capps, a 46-year-old Black Mountain resident, was diagnosed with multiple myeloma in 2015. Multiple myeloma is a rare blood cancer that currently has no cure. Capps was certainly afraid when he found out he might die early, sad to miss the grand adventures he'd wanted to embark on and scared of what the illness might mean for his wife and three kids.
After the diagnosis, Capps, an ultra-marathoner, couldn't run at all. But in August 2015, he received a bone marrow transplant that soon had him feeling significantly stronger.
"Right at the end of 2015 they said I could start getting back into it, so I started walking. The walking led to running and the running led to shuffling slash jogging, and from shuffling slash jogging to full-on running," Capps said. "I ran a 10K at the end of January 2016."
He ratcheted it up as the year wore on, completing 16 races in 2016 including three half marathons and the 18-mile, 5,500-foot elevation gain Shut-In Ridge Trail Race. In 2017 Capps began tackling even longer runs, but that wasn't enough.
"I decided that I wanted to do something more," he said. "I needed to get back to doing something."
Before the diagnosis, Capps had owned two small businesses, but he found himself unable to run them while also dealing with his medical issues. By 2017 he was managing some rental properties but not a whole lot more.
Capps encouraged people across the state to sign up to run portions of the trail with him. Donated photo

Throwing bones
So, Capps started a nonprofit.
He called it Throwing Bones, with the tagline "Blood, Sweat and Cures," and he decided that the organization's first project toward its goal of raising awareness and support for multiple myeloma patients should be a run across North Carolina. Capps decided that he would follow the 1,175-mile Mountains-to-Sea Trail from Jockey's Ridge State Park to Clingmans Dome.
He ran the idea by his wife. Miraculously, he said, "She didn't look at me like I was nuts. She said, 'Fine.'"
Capps started planning. His first coup was convincing Chuck Dale and Dean Hart, both experienced in organizing support logistics for long-distance athletes, to join his team. They planned the logistics from top to bottom, and Capps began to publicize his goal of raising $117,500 — $100 for every mile he planned to run.
Then, he threw himself into training.
"It's one thing to say I'm going to train for a 10K or a marathon or even a 100-miler," he said. "Well, you try to put in a lot of miles and make sure you can make cut-off times. How do you prepare for 22, 23 miles a day, every day? When is your recovery time? How do you allow for recovery time?"
The answer, he discovered, is a lot of cross-training. Capps got in the pool, on the bike and in the weight room. And finally, the big day arrived. At 7:30 a.m. on April 1, he stepped off from Jockey's Ridge and began the long run to Clingmans Dome, which he eventually reached on May 25.
"People have asked me before did you have times when you thought, 'I don't know if I can make it?' and I never did," Capps said. "Not once."
That's not to say it wasn't ever hard. The eastern portion proved surprisingly difficult, because unlike in the mountains, the trail is mostly routed on road in that region. He found himself running by people's houses on streets that locals weren't even aware were part of the MST.
The dirt trail of the mountains provided a more secluded experience, but physically it was much more difficult. The hardest day, for sure, was the nearly 34 miles he ran in a single day, from Asheville up Shut-In and to Pisgah Inn.
"I was absolutely exhausted, and the next day I had to go down into Graveyard Fields," he said.
Capps takes a break from running (left) to pose with two of his three children. Capps and his wife share a kiss (right) after he finishes his cross-state run at Clingmans Dome. Donated photos

Just the beginning
In all, the run raised $68,000, and for Capps his jaunt across the state was only the beginning of what he wants to see Throwing Bones accomplish. The organization held a 5K in March and hopes to repeat the event in 2019, also offering a 10K. Within the next couple years, Capps wants to organize a relay run that covers the entire state — echoing the idea of his run, but using a different route to better accommodate logistical planning — as well as an ultra marathon of either 50K or 50 miles.
"Hopefully by doing that we're going to draw in ultra-marathoners from all over the country," he said.
Unlike many other cancer-oriented nonprofits, Capps isn't trying to cure myeloma. What he is trying to do is to address the gap in care that often makes the disease so difficult for patients to manage. Because it's a rare form of cancer, there are only a handful of places in the U.S. with multiple myeloma experts, so most patients will have a local oncologist and then travel whenever they need to see their specialist. But even aside from medical costs, that's expensive. There's gas, hotels, food and the ever-present expense of not being able to work while undergoing treatment. That can lead to people making health care decisions based on what's in their bank account, Capps said.
"The other side of it is a lot of myeloma patients give up because it's hard," he said. "Physically, it just sucks. You hurt. And you think that if I move too much, it's going to hurt more. Just the opposite of that is true. You need to move more in order to feel better."
Capps knows what it's like to hurt. Multiple myeloma causes lesions in the bones. Capps has two compression fractures in his back, a "decent size" hole in one hip and holes all through his sternum, collarbone and scapulas. It's eating him up, but he's not giving up.
Throwing Bones, which recently received its 501c3 status, is working to fine-tune its application forms for the grants it will soon give out to myeloma patients. The plan is to offer patients the opportunity to apply for $500 grants up to four times a year. The money can help with any of the innumerable auxiliary expenses that come with a major illness.
Capps wants to be a conduit of information and inspiration for those battling the illness. He even hopes to see myeloma patients among the participants in the races he's organizing.
"As soon as you stop moving," he said, "you stop living, you start dying."
Support Throwing Bones
Black Mountain resident and multiple myeloma patient Kenny Capps started the nonprofit Throwing Bones to financially support others battling the disease with travel expenses and bills.
Read the trail journal from his recent 1,175-mile run across North Carolina or donate to the organization at www.throwingbonesrun.org.