Ask Leah! The Ingles Dietitian
Sponsored: Superfoods
Wednesday, November 03, 2021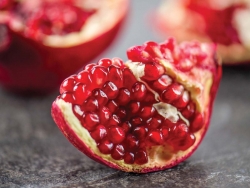 Question: What are some "superfoods" that you would recommend?
Answer: The term "superfood" is a clever marketing term to draw attention to a specific food to enhance or increase visibility, awareness and consumption(sales). Over the years we've seen lots of different foods referred to as "superfoods" — pomegranate juice, acai berries, wild caught salmon, kale, spinach, Greek yogurt — to just name a few. Classifying an item as a "superfood" creates an opportunity for that food to be highlighted on cooking shows, blogs and in magazines, to cost a bit more at the supermarket and to have it included in other items, e.g. pomegranate tea, kale chips, acai berries in cereal.
In fact, we could find something "super" about most any food from beans to beef and from tea to turnips based on macro and micronutrients!
Focusing on what we eat in our meals and across the whole week is a better way of improving our nutrition and our health rather than just worrying about trendy "superfoods".
Leah McGrath, RDN, LDN
Ingles Markets Corporate Dietitian
facebook.com/LeahMcgrathDietitian
800-334-4936