Archived Reading Room
Imagining Bob Dylan's fictional youth
Wednesday, August 04, 2021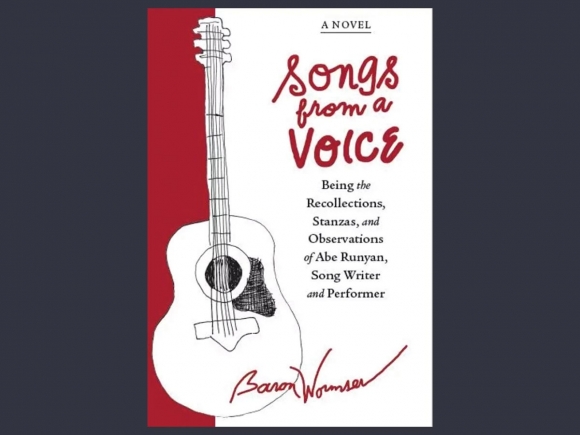 As a reader, I tend to get on jags with authors whom I admire. Recently, I've discovered the work of Baron Wormser and have reviewed his nonfiction memoir of living off the grid in New England for 25 years in these pages. An amazing story, an amazing writer. I wanted to read more of his work.
So I've been reading his novel this time, Songs From a Voice, that is the story of the imagined life of a young Bob Dylan as told by the main character, Abe Runyan. And what a tale it is; "partly truth and partly fiction" as Dylan himself asserted in one of his classic songs. So well imagined and written is this book that not even halfway through I thought that I was reading a Dylan autobiography — a book that reads like a personal diary revealing sides of someone you've always wondered about and wanted to know.
Wormser writes like he is channeling Bob Dylan, who finally reveals to us who he really is. "There's part of me that never has been close to anyone, including the women I've loved. There's part of me, first and last, that lives in my imagination. You can touch me, but I'm not there. Access isn't something I can pass out like tickets. There's something in me that's beyond me, something that seals me off but replenishes me. Call it the artist, call it the song-maker, call it haunted. The names can only mean so much," as Abe proclaims.
Songs From a Voice begins with Abe describing the life and landscape of growing up as a Jewish boy in the upper Midwest in Minnesota and lingers there for quite a while to give us a plausible background for what may have formed Dylan as a youth and his love of songs. "There were five of us in the house in which I grew up. No one song could tell you every aspect and angle of what each of us felt day by day and how we acted when we were together." And then later on he adds this statement: "Poems they had us read in school didn't feel like part of life. Critics write about influences and what I've taken from this song or that song. I've taken penty. Loss may be the deepest feeling, and Robert Johnson knew that. In America, losing track of your feelings came easy. Every folk song that had lasted showed a map of true feeling."
Reminiscent of James Joyce's Portrait of the Artist As a Young Man, Abe/Dylan emerges and gives us a glimpse of who he is — a walking contradiction. "My songs are about the discrepancies, what tilts one way but says it's the opposite. Being an artist had to have something to do with letting your imagination do the talking." But this and any other quotes offered in this short review can't begin to give one the full breadth and depth of Wormser's psychological, philosophical and artistic insights.
In the end it's all about the songs — more important in Abe's life than the relationships or any social institutions. In the early years it was mentors like Little Richard, Buddy Holly, Chuck Berry and William Blake that spurred him on to begin to write songs and to play the guitar. Later, it would be the black blues artists like Son House and Muddy Waters that spoke to him under the covers of his bed at night listening to a transistor radio to stations in Chicago and New York City.
As Abe puts it: "My first tool of liberation was a beige transistor radio. I lay in bed at night and listened to the world beyond my town. That little plastic electronic box opened up my head." From these roots we venture with Abe/Bob out into the world. "I was where I wanted to be: elsewhere," he says as his mind and body venture to the east and eventually New York City. Here, he finally finds his creative community and artistic family, his "university of the streets" as it were. "I could never have believed in myself if there hadn't been those people around me who liked to play the songs and listen to the songs and talk about the songs. For a time there was a community there among the folksingers — or at least a tribe," Abe says in describing his years and life in NYC's Greenwich Village.
Anyone 65 years or older and living today is of the same generation as Baron Wormser and grew up with folk music, rock 'n roll and the blues, which meant that we also grew up listening to the songs of Bob Dylan. Reading Songs From a Voice is like listening to a song-story, a backstory that is the foundation for the hundreds of songs Dylan wrote and that led to his receiving the Nobel Prize for Literature in 2016. As a novel, Songs For a Voice is an homage, investigation, nod and affirmation of the strength of imagination — both Wormser's and Dylan's. A must-read for aspiring young musicians, poets and all Bob Dylan fans.
Thomas Crowe is a regular contributer to The Smoky Mountain News and author of Rare Birds: Conversations with Music Legends (Univ. Press of Mississippi, 2008) and the album "The Thief of Words: Thomas Rain Crowe & The Boatrockers," (Fern Hill Records, 2011).
Leave a comment
6

comments
I've never heard of Baron Wormser before, but it'll change, I'll be happy to read it..it 's very close to my thoughts about Bob Dylan and It's an inspiration for me.

Saturday, 08/07/2021

What a treasure, I 'm deeply touched by that . I feel the same , If I hear Bob songs again and again there are part of me lives in my Imagination too. There's something in me that's beyond me - absoluty great..thank you Thomas Crowe you made my day..

Saturday, 08/07/2021

Wow!
Discrepancy, loss
Map, soul
Loneliness,
The search?
Solitude, togetherness
More solitude
Persist in the ongoing

Thursday, 08/05/2021

Wow!
Discrepancy, loss
Map, soul
Loneliness,
The search?
Solitude, togetherness
More solitude
Persist in the ongoing

Thursday, 08/05/2021

Good review, can't wait to read "Songs from a Voice." Abe/Dylan says in the novel "There were five of us in the house in which I grew up..." The real Bob Zimmerman grew up on a house on 7th Avenue & Howard Street in Hibbing Minnesota. I visited the town in 1974, decades before the street was renamed Bob Dylan Drive and a plaque was placed in front of Hibbing High School (a short walk from 7th & Howard) honoring their hometown Nobel Prize recipient. Anyway, I spent a few days there, talked to high school acquaintances (at the time, in their mid-30's, as was, of course, Dylan), and others who knew the family; Bob's father, Abram (Abe), owned a hardware/appliance store in town. None of them spoke of anybody living in the house (one person I spoke to was a neighbor) other than Bob, his brother David, Abe and his wife Beatrice (Beatty). I wonder if the "fifth person" is actually a kind of literary device. As the novelist Joyce Carol Oates wrote the magazine Esquire in 1972 about Dylan, " 'He' is both an individual and a medium, a process by which certain energies are released."
Here is a good article about present day Hibbing and how they have caught up to honor to their prodigal son ...https://www.mprnews.org/story/2016/12/09/bob-dylans-hometown-of-hibbing-struggles-with-how-to-honor-its-most-famous-son

Thursday, 08/05/2021

Good review, can't wait to read "Songs from a Voice." Abe/Dylan says in the novel "There were five of us in the house in which I grew up..." The real Bob Zimmerman grew up on a house on Howard Street in Hibbing Minnesota. I visited the town in 1974, decades before the street was renamed Bob Dylan Drive and a plaque was placed in front of Hibbing High School (a short walk from Howard Street) honoring their hometown Nobel Prize recipient. Anyway, I spent a few days there, talked to high school acquaintances (at the time, in their mid-30's, as was, of course, Dylan), and others who knew the family; Bob's father, Abram (Abe), owned a hardware/appliance store in town. None of them spoke of anybody living in the house (one person I spoke to was a neighbor) other than Bob, his brother David, Abe and his wife Beatrice (Beatty). I wonder if the "fifth person" is actually a kind of literary device. As the novelist Joyce Carol Oates wrote the magazine Esquire in 1972 about Dylan, " 'He' is both an individual and a medium, a process by which certain energies are released."
Here is a good article about present day Hibbing and how they have caught up to honor to their prodigal son ...https://www.mprnews.org/story/2016/12/09/bob-dylans-hometown-of-hibbing-struggles-with-how-to-honor-its-most-famous-son

Thursday, 08/05/2021