Ask Leah! The Ingles Dietitian
Sponsored: Beef vs Broccoli - Fake News?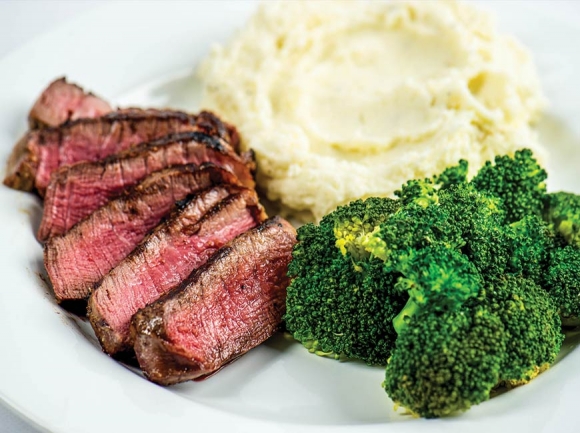 Recently an infographic appeared on social media showing a cube of cooked meat on the end of a fork next to a small floret of broccoli on the tines of an adjacent fork. The text questioning "Do you really need to eat meat to get protein?" and showing amount of protein in in 100 calories of beef vs 100 calories broccoli and that there is more protein in 100 calories of broccoli. This is not exactly the whole truth and definitely not an accurate visual representation.
Here's the truth:
1.5 oz of cooked beef =106 calories & 11g protein - this would be the size of a small cube of beef.
4 cups chopped RAW broccoli =124 calories & 10.4g protein
2 cups cooked broccoli =108 calories & 8 grams protein.
It doesn't have to be battle between broccoli and beef and we don't have to try and fool people with fake information to get them to eat broccoli. Both beef and broccoli have great nutrients beyond protein.
• Beef is good source of iron and zinc.
• Broccoli is a source of fiber, beta carotene (vitamin A) and vitamin C.
Besides tofu, tempeh, beans and lentils, if you are specifically looking for items in the PRODUCE section that are a good source of protein:
Corn Almost 5 grams of protein in 1 ear of corn
Potato 5 grams of protein in 1 medium baked potato
Spinach 5 grams in 1 cup of cooked spinach
Peas 9 grams in 1 cup of cooked peas
Sources: Vegetarian Resource Group: "Protein in the Vegan Diet" www.vrg.org/nutrition/protein.php and Self Nutrition Data nutritiondata.self.com/
Leah McGrath, RDN, LDN
Ingles Markets Corporate Dietitian
facebook.com/LeahMcgrathDietitian
800-334-4936