Ask Leah! The Ingles Dietitian
Sponsored: Did you know that you have a DIETITIAN on call?
Wednesday, October 18, 2017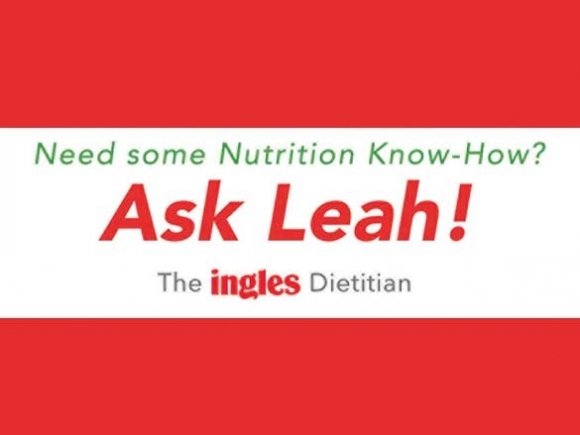 Leah McGrath, RDN, LDN is the Corporate Dietitian for Ingles Markets. She can answer your questions about food from the farm to the plate, whether you want to know about nutrition, ingredients, preparation or agriculture.
Leah is a registered dietitian nutritionist, licensed in the state of North Carolina. She has a B.S. in Human Nutrition from the University of Maryland, completed her dietetic internship with the U.S. Army, served as an officer and dietitian in the U.S. Army and worked in Public Health as a WIC and Nutrition Director in South Carolina.For the past 17 years Leah has been the Corporate Dietitian for Ingles Markets.Her passion to learn more about the food system has led her to visit over 50 farms( of all sizes) and food entrepreneurs in the past 5 years. She is also actively involved with farmers and food businesses in Western NC and works regularly with ASAP ( Appalachian Sustainable Agriculture Project) and the North Carolina Department of Agriculture.
Stay connected with Leah!
Listen to her podcast interviews at www.inglesinfoaisle.com
Listen to her every Saturday morning on WWNC 570am on iheartradio
Read her columns in the Smoky Mountain News and in Smoky Mountain Living
If you have questions write to her at:This email address is being protected from spambots. You need JavaScript enabled to view it.
Call her:800-334-4936
Leah McGrath, RDN, LDN
Ingles Markets Corporate Dietitian
facebook.com/LeahMcgrathDietitian
800-334-4936