Latest
District Attorney seeks death penalty in Otto murder case
Wednesday, September 27, 2023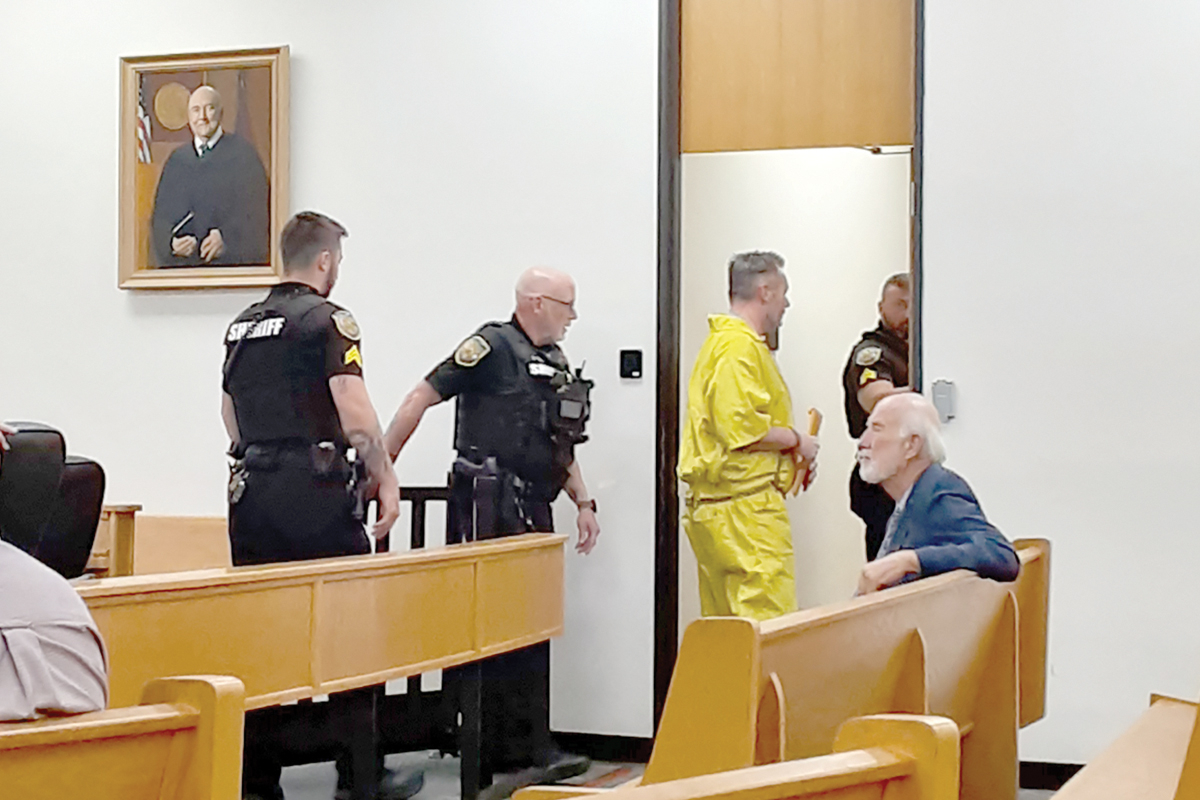 Christopher Shields exits Macon County Superior Court after learning he could face the death penalty. Jerry Neace/NowHabersham.com photo
District Attorney Ashley Welch will seek the death penalty in the odd and heinous murder case of Tina Walkingstick Frizsell.
The defendant, Christopher Shields, who has been charged with first-degree murder, appeared in Macon County Superior Court before Judge William Coward on Sept. 25. A request was made during a hearing on Sept. 11 by Shields' defense attorney, Tony Dalton of Brevard, that his client's bond be set at $1.2 million. During that hearing, Assistant District Attorney Jim Moore motioned to make the charge capital murder, meaning Shields would be eligible for the death penalty if found guilty.
Frizsell was killed in May of last year. According to probable cause affidavits for several warrants for arrest and search warrants tied to the killing, Macon County deputies were first alerted there may have been a homicide when a relative of Frizsell called the Rabun County, Georgia Sheriff's Office on May 19. That relative said she had been missing for a while and that he had just heard she'd been murdered at Shields' house in the Otto community.
The next day, Rabun County received another 911 call from the man, this time saying that a woman was actively "getting away from Chris Shields and his house." After law enforcement tracked her down, the woman and several Macon County Sheriff's detectives quickly met at the Otto Fire Department. The woman who met with law enforcement at the Otto Fire Department noted that the body she saw was a female wearing jeans and black flip flops. She also said she saw blood coming from underneath the body.
It was Frizsell.
"[She] told detectives that she was at Chris Shields' residence in the shed on Wednesday 5/18/22 and that she saw a female's body lying on the floor inside the shed," the probable cause affidavit reads, adding that she said Shields was a "violent person" with a bad temper who always carries a gun.
Detectives paid Shields a visit. When they arrived, he and another woman were across the road from his house working on a truck. The deputies introduced themselves and said they were looking for Frizsell, to which Shields replied he'd seen her about a week prior. He recommended they check the Rabun County Jail.
Christopher Shields' residence in the Otto area. Kyle Perrotti photo
The affidavit says the woman said to detectives that Shields told two other people that they were going to help him bury the victim, whose body they allegedly loaded into the back of his truck. They then drove to a property off nearby Mulberry Road owned by a Bashey Arizona McCracken that WLOS reported had a "homeless encampment" on it. The woman said that was where Smith and McCrackin were "forced" to help burn the body.
Another search warrant signed and executed June 8 begins with the same narrative but elaborates on how the case developed. It details the strange motive likely behind the homicide, saying that Shields believed the victim had killed his girlfriend and "chopped up the body and scattered her remains across several counties in North Carolina."
According to a story published in Now Habersham , which covers a broad region in North Georgia, Dalton argued that his client's bond should be reduced since he has never failed to appear and has immediate family with health concerns that could necessitate his presence. In addition, he said that because Shields has other family in the area, including children, he wouldn't be a flight risk.
However, Welch noted that Shields has connections in other states and is a flight risk simply based on the severity of his case. The Now Habersham story says Welch stated that Shields has proven an escape risk by picking locks in several cells where he's been held.
Perhaps most notably, Welch said Shields made a "hit list" where he threatened the lives of witnesses. She even went as far as to say in court that one witness mentioned was Angie Ledford, who was murdered; her decapitated body was found in the Chattahoochee National Forest last month, and the man charged with that murder, Keegan Phillips, is noted in files connected to Walkingstick's murder to have ties to Shields.
Coward ultimately denied Shields' bond motion and transferred the felony murder charge to a capital murder charge.