Latest
Tribal official solicited favors from cannabis contractor, investigation finds
Wednesday, September 27, 2023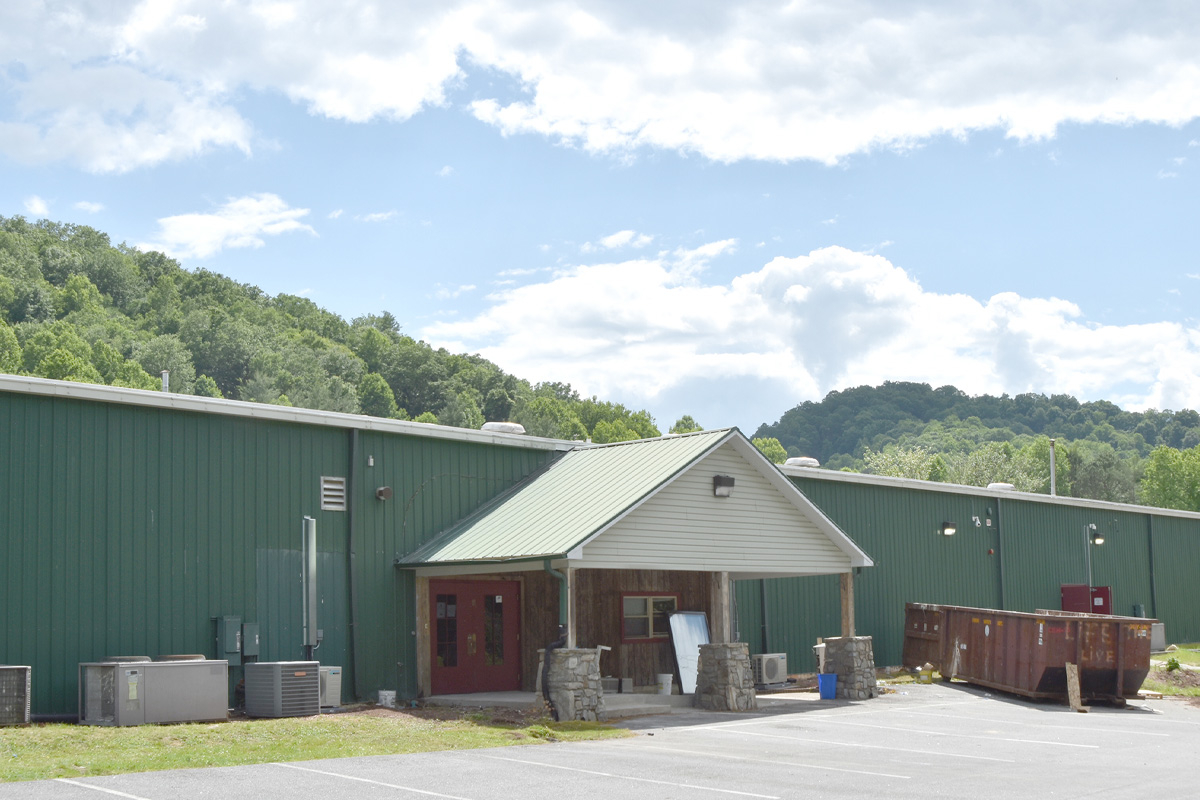 Qualla Enterprises is headquartered in Cherokee's former bingo hall. File photo
Council considers fine, employment ban
The Cherokee Tribal Council is considering taking formal action against a former representative who is accused of using his position to secure money and personal favors from a vendor guiding the tribe's fledgling cannabis enterprise.
Jeremy Wilson was an outspoken advocate for the economic development potential cannabis offered when he represented Wolfetown on Tribal Council 2017-2019, and he continued his involvement in the effort after losing his re-election bid. Principal Chief Richard Sneed appointed Wilson as tribal governmental affairs liaison, and he also sat on the board for Cherokee Medical LLC, which later became Qualla Enterprises LLC.
According to an investigation the Office of Internal Audit and Ethics released Aug. 3, during this time, Wilson violated codified standards of ethical conduct by soliciting gratuities and favors from Sovereign Solutions Carolina, with which Qualla Enterprises later contracted for professional services to bring its ambitious plans to fruition.
But Wilson maintains that no such favors were exchanged.
"There were never promises made, there were never favors done on either side of the fence," Wilson said in an interview. "There just — there wasn't."
The findings
The investigation, spurred by a confidential complaint received Jan. 25, 2023, relies largely on text messages Wilson sent to the principal of Sovereign Solutions and to a company "associate," neither of whom is named in the report.
Public records show that Sovereign Solutions filed articles of organization to be recognized as a North Carolina business on Dec. 1, 2021, but that it was administratively dissolved on May 26, 2023, after failing to file the required annual reports. In the meantime, Sovereign Solutions had filed to register as a business in Oregon, where it has maintained active registration since June 13, 2022.
According to the investigation findings, Sovereign Solutions submitted its proposal to manage and consult with Kituwah LLC , the tribe's business arm, on its cannabis initiative on Nov. 8, 2021. Eleven days later, Wilson sent a text message to an unnamed Sovereign Solutions associate asking for donations to a GoFundMe campaign he'd organized to fund Thanksgiving food boxes for families in need. According to the fundraiser page, this was Wilson's fourth annual Thanksgiving Box Event and would provide 50 families with a food box. Donations would be used to supply each box with a $25 gift card, which families could use to buy a turkey.
The fundraiser brought in six donations totaling $1,200. Searches for the names listed turn up articles about people working in the cannabis industry.
On March 3, 2022, Wilson was appointed to the Cherokee Medical LLC board, and a month later a formal term sheet was executed between Sovereign Solutions and the cannabis business, which had been renamed Qualla Enterprises. However, the formal management agreement between the two companies was not executed until June 16, 2022, three days after SSC completed its Oregon registration. In the interim, the Office of Internal Audit and Ethics found, Wilson sent several messages to people working with Sovereign Solutions that appeared to seek funding and favors.
The first message, sent on May 12, 2022, went to the company's principal and said, "Safe travels home bro. Thanks again for the help. Got some debt paid down. Much appreciated." A separate message sent the same day said, "Means a lot man. Been pretty tough lately. Just know you'll get your money's worth out of me. See you in Vegas."
A week later, on May 20, Wilson sent a message to an associate of Sovereign Solutions that said he and his then-fiancé had just landed in Vegas.
"Looking forward to catching up again," the message read. "On a side note, do you know anyone who has the hookup to Bruno Mars tickets this weekend? If not that's fine."
A couple weeks later, Wilson was once more texting Sovereign Solutions' principal.
"Hey bro. Hate to ask again, but just need to know if the financial assistance is still in play?" read a June 4, 2022, message, followed by "Also, I really don't mind paying you back through profits made from working with your team down the road. I don't use people. Just in need of help. It's now effecting [sic] my relationship."
The investigation report does not include the replies Wilson received to these inquiries, but it appears there was an ongoing conversation between the parties.
"Will we get a chance to discuss this financial thing and [my fiancee's] opportunity at some point?" reads a June 15 message to Sovereign Solutions' principal.
"That's good, sorry I keep asking on the financial stuff," reads a separate message sent the same day. "I really am in a tough spot, and just wanting some peace of mind."
According to the report, Wilson had expected to be hired as general manager of Qualla Enterprises, a position that is now held by Forrest Parker. Anticipating this opportunity, he resigned from the LLC's board of directors on June 24, 2022, and on July 15, 2022, texted Sovereign Solutions' principal with his banking information.
But Wilson never got the job. On Aug. 2, 2022, Sovereign Solutions Carolina asked for a meeting with Sneed and two Tribal Council representatives — Yellowhill Rep. T.W. Saunooke and Vice Chairman Albert Rose — both of whom also served on the Qualla Enterprises board, to "discuss concerns about the respondent's conduct," the report reads. The next day, Sneed fired Wilson from his position as governmental affairs liaison.
Wilson's response
Wilson doesn't deny that he sent the text messages in question but said, despite what it appears based on the excerpts in the report, no favors were exchanged.
"The biggest mistake that I made was putting my trust into somebody that I saw as a good, good friend," he said.
Wilson said he met the principal of Sovereign Solutions at a conference in 2019, well before the Eastern Band of Cherokee Indians had entered the cannabis market, and came to see him as a mentor for success in that business. He became a "great contact" to learn how the industry works, but over time the two men became "good friends."
"In the early part of 2022, I unexpectedly fell on some hard times," Wilson said. "It was a very low point in my life. I really, basically, didn't know who to talk to at the time."
So he talked to his professional mentor and friend.
According to the report, the man said he'd given Wilson $4,000 in cash, but Wilson maintained that no money was exchanged. His friend gave him advice and moral support, he said.
Wilson said he believes that the investigation occurred in "retaliation" for concerns that he began expressing about Sovereign Solutions' job performance.
"The [request for proposals] was not being executed as promised, which began to show some concern for us as board members and for leadership that eventually began to question, was this group the right fit?" Wilson said.
Debate about job performance and accountability at Qualla Enterprises has been a frequent topic of discussion in Tribal Council chambers over the past year. Sneed, a supporter of early efforts to venture into the medical cannabis industry, has become one of Qualla Enterprises' most vocal critics, calling out alleged cost overruns and transparency concerns. In June, he presented Tribal Council with a resolution requesting a forensic audit of the company, but the legislation was tabled and ultimately withdrawn this month as the end of the legislative calendar approached. The majority of Council has been supportive of Qualla Enterprises, saying the company has been transparent and accountable in its business practices and has the potential to generate massive profits in the future.
In discussing the investigation, Wilson pointed out that the complainant is confidential and that none of the replies to the text messages he sent appear on the report. If the principal of Sovereign Solutions did in fact give him $4,000, Wilson said, why is Sovereign Solutions still working in Cherokee?
"If they are stating that they did X, Y and Z, why am I the only one that's being accounted for?" he said.
Council considering action
The Office of Internal Audit and Ethics didn't start looking into the complaint until eight months after Wilson was fired. Due to "other administrative and investigative processes," the complaint filed in January was deferred and not assigned to a staff member until April 26. On June 2, the Ethics Review Committee approved ethics staff proceeding with the investigation and interviews were conducted with Wilson and "Witness 1."
The investigation concluded that Wilson had committed four violations of the tribe's code of ethics: a tribal official or member of their immediate family soliciting anything of monetary value from contractors, potential contractors or subcontractors of the tribe or one of its programs; failing to act in accordance with tribal law and engaging in proper governance of the tribe in a manner that is placed above personal gain; using the prestige of the office to advance personal interests; and failing to maintain or enhance the honesty and integrity of his office and safeguard the tribe's reputation.
"Mr. Wilson's actions were detrimental to the integrity and reputation of the EBCI," the report states.
The report also noted that Wilson's texts "appear to indicate he will give the vendors favorable treatment and work for their interest when he is soliciting money and favors from them." Promises that the contractor would "get their money's worth out of me" and that Wilson would pay back money from future profits working together "show that Mr. Wilson's relationship with these contractors went far beyond the boundaries set forward in the Standards of Ethical Conduct given his position on the Cherokee Medical LLC board and appointment as Governmental Affairs Liaison," the report states.
The Audit and Ethics Committee issued Wilson a $4,000 fine and recommended that he not be appointed to any position within the tribe for five years. Now, Tribal Council is considering a formal adoption of those sanctions. A resolution on the Sept. 7 agenda, submitted by Tribal Council, would have accepted and adopted the ethics investigation report, including the $4,000 fine, an amount "which shall be a debt to the Tribe for which Mr. Wilson's per capita may be garnished."
Further, the resolution would prevent Wilson from being appointed to any position within the tribe or any of its entities, enterprises, boards or commissions, or from entering into a contract to provide goods or services for the tribe or any of its entities, enterprises, boards or commissions, for multiple years. The specific number of years this ban would remain in place was left blank on the submitted resolution.
Tribal Council did not discuss the resolution Sept. 7. It was read into the record, followed by a unanimous vote to table it. The resolution reappeared on the agenda for Sept. 25, which was a special session to debate any pending legislation prior to the end of the legislative calendar on Sept. 30. After that date, any legislation that has not been acted upon automatically dies.
In a narrow vote, Tribal Council decided to withdraw it — but not to forget it.
"It was my understanding that Tribal Council wanted to have a work session or discussion about it, and that hasn't happened," said Attorney General Mike McConnell in recommending that Council withdraw the resolution. "It's the end of the legislative year. That's the reason."
The resolution could be resubmitted at a later date, McConnell said.
McConnell met resistance from Vice Chair Albert Rose, Wilson's erstwhile colleague on the Qualla Enterprises board. Rose said he wasn't aware of anyone wanting a work session and that he'd met with representatives from Wilson's home community of Wolfetown, who had come up with a number to put in the blanks on the resolutions.
"I don't know what has changed since then," he said. "I know there's some other things that probably need to be added to this that's not mentioned in here."
However, the majority of Council supported a move from Wolfetown Rep. Mike Parker to withdraw the resolution — though with the express intention of reconsidering it after the new Council is seated in October.
Rose, Wolfetown Rep. Andrew Oocumma and Painttown Rep. Dike Sneed opposed the move to withdraw. Joining Parker in favor of withdrawing were Yellowhill Rep. David Wolfe, Chairman Richard French, Painttown Rep. Michael Stamper and Snowbird/Cherokee County Rep. Adam Wachacha. Four members were absent.
Representative for Qualla Enterprises and Sovereign Solutions did not return a request for comment.