Latest
Referendum votes meet turnout threshold
Wednesday, September 20, 2023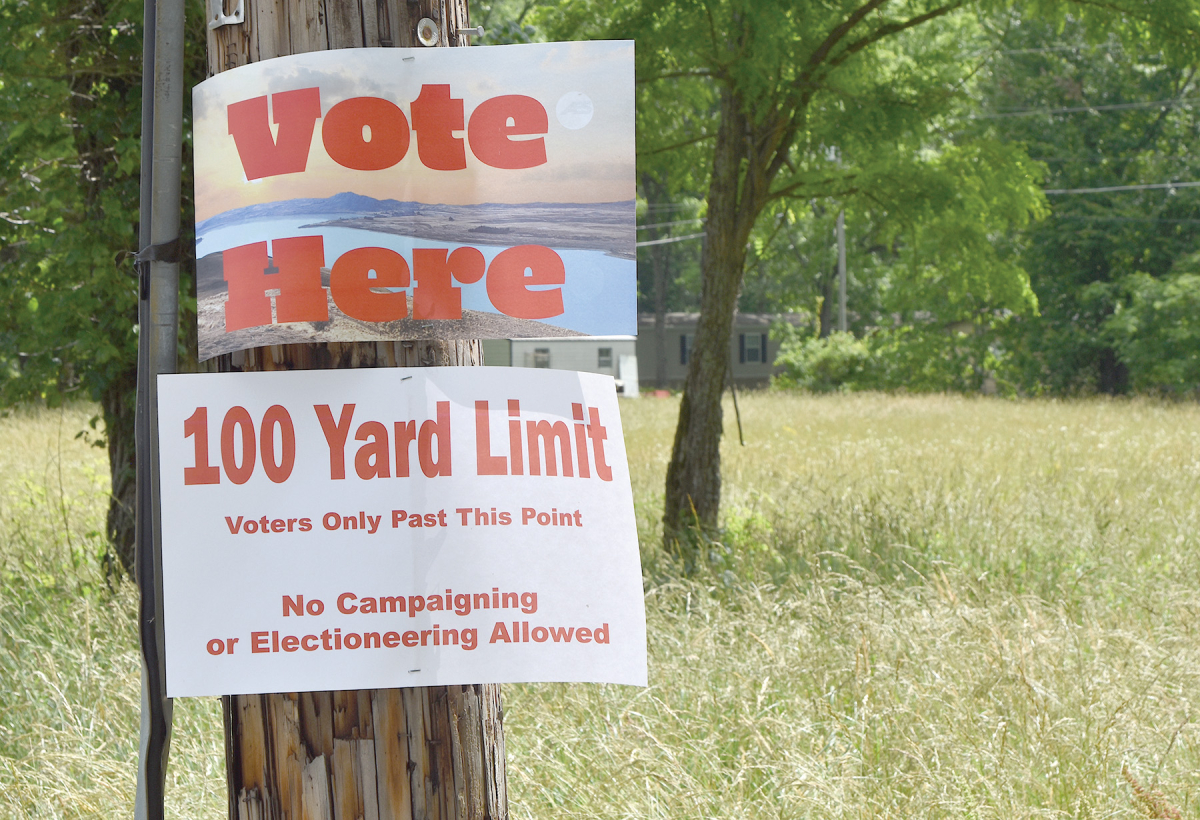 Multiple high-profile referenda required a certain number of voters to turn out to pass. File photo
Voter turnout came in at 53.9% for the Eastern Band of Cherokee Indians' Sept. 7 election, according to numbers the Board of Elections released last week, a dip from the 57.1% turnout observed during the last chief election in 2019.
The offices of principal and vice chief were on the ballot, as were all 12 Tribal Council seats, three School Board seats and referendum questions asking voters to weigh in on legalizing cannabis and issuing permits for the sale of mixed beverages. Both questions earned overwhelming approval from voters but required a 30% turnout to be valid — a benchmark they passed easily. Turnout was 52.4% for the cannabis question and 52.1% for the mixed drink question.
Both referenda drew more voters than the race for principal chief, which had a turnout of 51.6%. By contrast, the 2019 chief race between Richard Sneed and Teresa McCoy had a turnout of 56.5%.
In most communities, turnout was higher than 50% or just a percentage point below it. The exception was Cherokee County, where only 39.5% of 385 registered voters participated in the election. Big Y had the highest turnout, with 58.7% of 380 voters. The two biggest communities — Birdtown, with 1,725 voters, and Wolfetown, with 1,221 — had turnouts of 57% and 56.6%, respectively.
"It wasn't a late night counting votes. There wasn't enough of a margin to have a recount or a protest or anything," said Board of Elections Chair Cyndi Chandler. "So, I think overall, we did well with it."
No protests alleging election irregularities were filed within the five-day window outlined in tribal law.
A big change this year was the availability of expanded absentee voting. In previous years, tribal members have had to meet one of five specific criteria laid out in tribal law to qualify for an absentee ballot, but last year Tribal Council changed the ordinance to allow any person who is "unable to return to Cherokee/polling place to cast their votes" to request an absentee ballot.
Absentee voting still accounts for a relatively small proportion of votes — 2.7% of those cast in the principal chief race, for example — but was more than double the level recorded in 2019. Of the 3,867 votes cast in the 2019 race for principal chief, only 1.1% were absentee.
Despite the uptick in absentee participation, Chandler said, absentee voting was "a little slower than what we expected." She said her office sent out 185 absentee ballot applications for the General Election, of which 89 were returned.
"I think we can do some better stuff with that, and we were talking about how we can update that for people," Chandler said.
The way the process works now, voters have to call and request an absentee ballot application form, which is then sent to them and must be mailed back completed ahead of the deadline. Then an absentee ballot is mailed to the voter, which also must be returned on time for the vote to count. Each application is good for only one election, so a voter who successfully completed the process for the June Primary Election must go through it again to vote in the September General Election.
"Several of them thought that they just needed to do an application one time, it just covered the Primary and General Election, and it didn't," she said. "They had to do a second one. And that's something we're looking at."
Chandler said the Election Board is in the early stages of discussing the possibility of online absentee voting applications. The board is also beginning discussions on potential changes to the tribe's election ordinance, an opportunity that comes up once every two years. Tribal law prevents the ordinance from being changed during an election year, defined as Oct. 1 through Sept. 30 of a year that includes a regularly scheduled election. After this year's winners are sworn in Oct. 2, Tribal Council can consider changes to the ordinance through Sept. 30, 2024.
One such change Chandler would like to consider is a section on special elections. Tribal law used to contain such a section, spelling out the mechanics of how and when to hold elections filing vacancies on Tribal Council or executive office. But that section was removed as part of an election ordinance update Council did in 2018. Special elections are rare, with none occurring in recent memory — until 2022 and 2023, when Tribal Council had three vacancies in less than three months. Two special elections were held to fill them.
"Let's just get it back in there," Chandler said of the special elections law.