Latest
Summit breaks ground on new high school building
Wednesday, September 06, 2023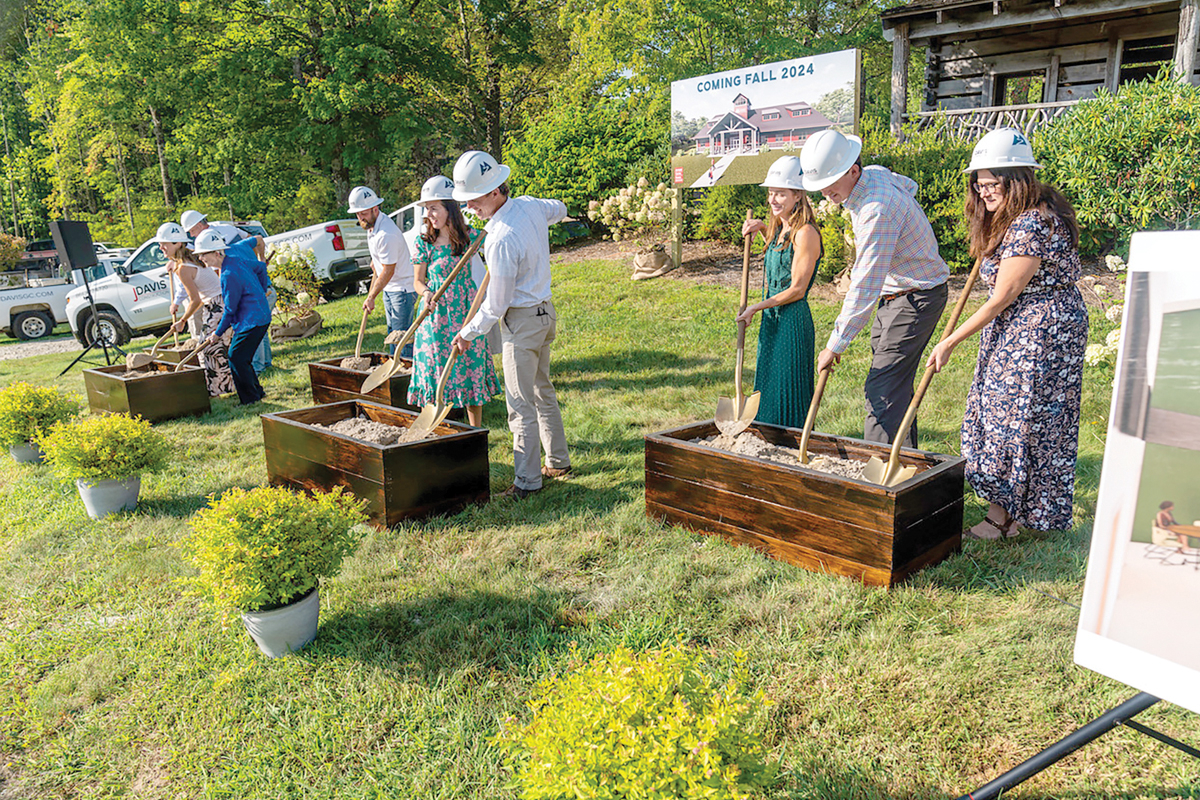 After graduating its first senior class in the spring of 2022, Summit Charter School has broken ground on phase II of a high school expansion that will include a new building.
"A growing number of families desired to keep their students at Summit for high school after eighth grade," said Head of School Kurt Pusch. "The interest among families for a Summit High School provided the impetus for Summit's expansion, and in 2018 Summit enrolled its first-ever ninth grade class."
Summit Charter School was established as a K-8 school in 1997 and when it opened with 110 students in 1998, it was one of the first charter schools in the state. The North Carolina State Legislature approved a law in 1996 allowing for the creation of charter schools.
Since 2019, Summit has experienced a 33% increase in student enrollment. This year it will enroll a total of 311 students, including 52 new students, with eight of its now 13 grades at full capacity.
"With Summit's continued growth over the last four years, our current facilities have reached their capacity," said Pusch. "In our commitment to continually strengthen Summit for our students today and for the generations that will follow, we are embarking on our next phase of expansion."
The new high school building is expected to be operational for the start of the 2024-25 school year. It will be an entirely new space of about 15,000 square feet and will include traditional classrooms, a science lab, a learning kitchen, rooms for individualized education, an outdoor courtyard, admin offices and a large commons area.
"We aim to create the capacity to maintain the small class sizes that are distinctive to Summit's program, and to support our enrollment and financial sustainability goals," said Pusch. "With the addition of our new high school building, we will have the necessary classrooms to support our growing enrollment and establish the capacity for Summit's future growth of up to 144 students in high school and 468 students across our K-12 program."
The building will be separate from the school's existing facilities but still located on the school's 33-acre property.
"The site of our new high school building is set away from our existing facilities, offering a distinctive high school experience, while still maintaining a sense of connection as a larger K-12 campus," said Pusch. "The location also offers the benefit of allowing our existing school operations to continue uninterrupted through the construction process."
With the new facility, Summit will transition its current phase I high school building — constructed in 2019 at 6,600 square feet — into the school's new middle school building and will add a pavilion for middle school lunch and assemblies. The project also includes a student-designed fitness center, which was funded through a student-led project and is nearing completion. Once the new building is complete, Summit will have a capacity of 468 students.
"By transitioning the middle school into our original high school building, we also open up classroom space for our lower grades," Pusch said. "This expansion will enable us to improve our K-12 capacity, build upon our educational program, and welcome new families, all while remaining committed to small class sizes to support our students and teachers."
So far into its high school endeavors, Summit has maintained a 100% graduation rate, with 100% of students also earning acceptance to college, including 71 offers of admission from 31 colleges and universities. Of Summit graduates who have gone on to college, 30% are first-generation college bound.
"In expanding from a K-8 to a K-12 school, we remained committed to the same principles and values that have enabled our success since our founding," said Pusch. "The qualities of a whole-child education reflected in our mission, the goals as embodied in our portrait of a graduate and our seven virtues that form the foundation for our Summit family."
"Further, we have long held the belief that our educational goals are best accomplished in partnership with parents and families. The belief that we — teachers, school leaders and parents — all share responsibility for our students' success is distinctive to our Summit identity and integral to our students' success," he said. "Ultimately, we aspire for our students to thrive as people, which is why we remain committed to continually strengthening Summit's education program to foster the habits, skills and character that will support their success as students at Summit and in the lives they lead beyond."
The whole project will cost the school $6.5 million. Because charter schools do not receive public funding for capital projects, Summit must rely on private funding for the entirety of the project. Fundraising efforts for the expansion are led by the Summit Charter School Foundation, a 501(c)3 that raises private funding for the school. The foundation is volunteer-led by a board of directors that include community members, current and former parents and school alumni. So far, the foundation has raised $4.5 million toward the project, as well as $1 million in donated goods and services.
"It is an exciting time at Summit," said Foundation Chair Sarah Jennings. "With the growth of our greater community comes growth within our school. Summit is so important to the quality of life we all get to enjoy here on the plateau and as a parent and community member, it is heartwarming to see so many individuals and businesses rally around our local children. As a foundation, we are proud to be debt-free and hope to remain that way by garnering the additional support we need for the capital campaign."
Charter schools are public schools authorized by the State Board of Education and operated by independent non-profit boards of directors. In North Carolina, charter schools are funded primarily through state and local tax dollars that follow students as they move through the public school system. Charter schools receive funding depending on their average daily membership — the number of students attending a school in any given year — and the funding levels of the local education agency or the school district.
This year the North Carolina General Assembly proposed legislation that increased funding opportunities and would have allowed charter schools to ask local boards of commission for money for capital improvements. Governor Roy Cooper vetoed the legislation in July, after several North Carolina public school districts, including Macon County Schools, signed letters opposing the legislation.
"There is much to look forward to in Summit's future," said Pusch. "Most importantly, we look to continue to provide our students the highest quality of education that prepares them to be academically prepared, strong in character and engaged members of the community."