Latest
Lacking landlords: Short-term rentals squeezing out Section 8 tenants
Wednesday, August 23, 2023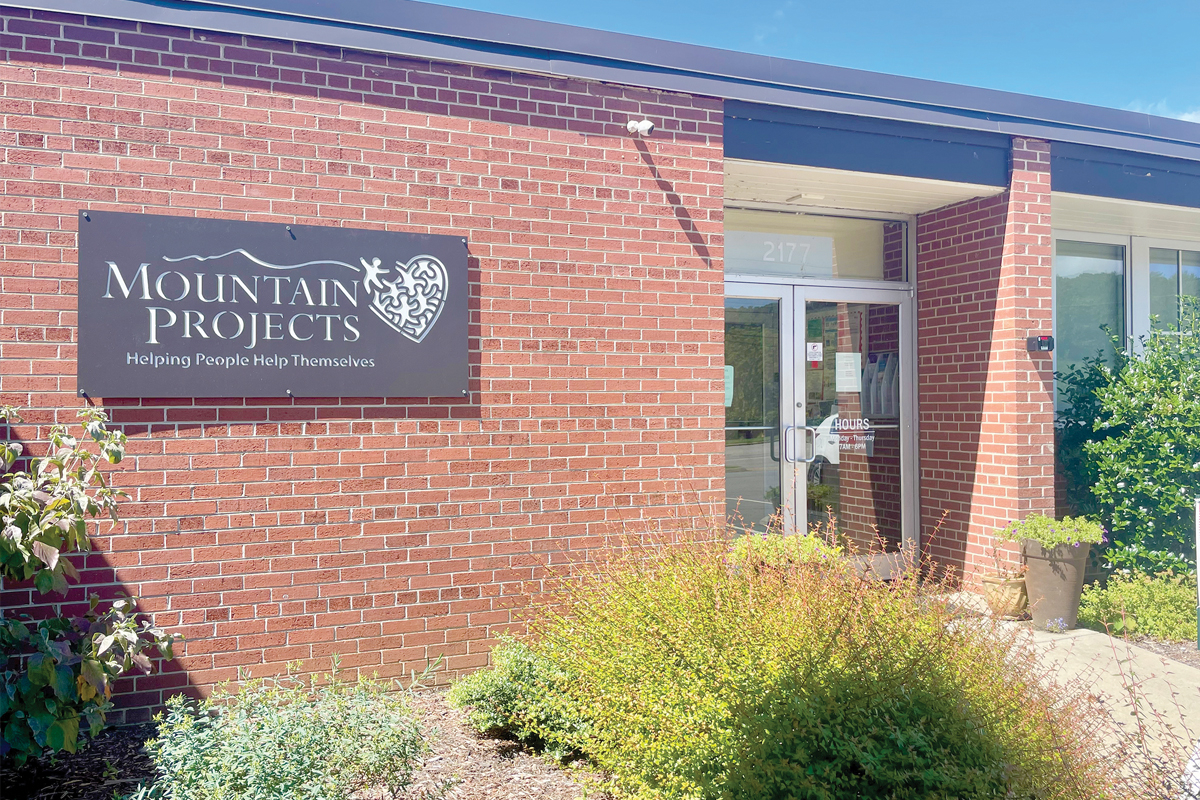 Well over 95% of the clients served by Mountain Projects are the working poor, disabled, elderly or handicapped. Cory Vaillancourt photo
The effect of short-term rental properties on the availability and affordability of workforce housing has been well-documented in Haywood County.
Now, there are signs that the popular vacation homes are affecting not only the amount of Section 8 properties available but also the local human service agency's ability to serve Section 8 tenants into the future, which could exacerbate homelessness.
"We need landlords, because we don't have enough housing for the people living here," said Amanda Singletary, Section 8 coordinator at Mountain Projects. "Literally, the locals can't live where their families were born."
Section 8 of the Housing Act of 1937 authorized private landlords to receive rental assistance funds on behalf of low-income tenants. In a nutshell, the U.S. Department of Housing and Urban Development earmarks a certain amount of money and number of vouchers to local public housing agencies and human service organizations, like Waynesville-based Mountain Projects, which then administer the funds locally.
"Pre-pandemic, we were funded for about 1,000 vouchers a month. We used to hold steady at issuing about 925 a month," said Brooke Smith, assistant director of Mountain Projects.
There are two sides to the voucher equation — demand by tenants who qualify for Section 8 vouchers, and the supply of landlords willing to accept Section 8 tenants.
"We started dropping at the end of 2020," Smith said. "The beginning of 2021 is when we really started seeing the steady decrease. We got to an all-time low in March of 2023 at about 740 vouchers."
There's been no decrease in demand from low-income populations, but Smith says there has been a decrease in landlords, and there's data that suggests she's right.
The number of available short-term whole-home rentals in Haywood County fluctuates throughout the year but usually peaks in June, according to data from analytics firm AirDNA provided by the Haywood County Tourism Development Authority.
In June 2016, there were just 134 whole-home rentals available in all of Haywood County. By June of 2019, that number had grown to 1,039 and remained close at 1,028 in June 2020.
But as the Coronavirus Pandemic really set in, that number again grew to more than 1,200 by June of 2021 and stayed there through June 2022. That 200-unit increase in short-term rentals correlates closely with the 200 fewer vouchers issued by Mountain Projects each month.
As of May 2023, the number of short-term rentals had grown to 1,707. The reason is simple — it's money.
In most places, Section 8 vouchers pay 100% of what's called "fair market rent," which is a figure calculated by HUD for cities, counties and even zip codes across the United States.
In some places, Section 8 vouchers pay 110%.
In Haywood County, where the housing market is saturated and increasingly unaffordable, Section 8 vouchers pay 120%, in a losing battle to remain competitive.
"We had to appeal and beg HUD to approve us to pay more than what they think we should be paying," Singletary said. "That's still not enough for what landlords in our area are asking for rent."
The 28786 zip code covers Waynesville. There, the fair market rent for a two-bedroom unit is $1,040. A quick scan of available long-term rentals in Waynesville shows most landlords can easily earn triple that.
Airbnb whole-house listings in Waynesville for Monday, Aug. 28, average $309 per day, meaning landlords can earn the equivalent of a monthly Section 8 voucher by renting their properties only four nights a month.
In some cases, the supply of Section 8 landlords is decreasing not due to the proliferation of short-term rentals, but rather because of new residents buying up affordable housing and knocking it down.
Nicole Parton has been a housing specialist at Mountain Projects for about two years and does a lot of work in Jackson County as well as in Haywood. In that short time, she's seen this firsthand.
"We've had multiple properties, some of them landlords with multiple units, up to a dozen individual rental units, where we've seen Section 8 residents displaced. There was a mobile home park where nine families got displaced," she said. "Somebody from out of town came in and they just dozed it. They were looking at putting something there, but I don't think it's ever been developed. We've seen a lot of that."
Because Mountain Projects can't do anything about short-term rentals or speculators, they're currently pushing to increase awareness of the need for more landlords willing to work with Section 8 tenants.
"I'd encourage them to give me a call personally," said Chad Hall, housing inspector at Mountain Projects. "I'd be glad to come out and do a preliminary inspection and let you know what is needed."
Another factor in the scarcity of Section 8 landlords is that some who might consider becoming one think that costly repairs and upgrades will be needed. Hall says that's not always the case.
"A lot of times I'm finding that it's not as extreme as they may think," he said. "We look more at safety, security, those sorts of things."
Hall says the issues he encounters are often simple, like a leaky pipe or electrical outlets working their way loose in a wall. He doesn't fail homeowners automatically, but said he works with potential Section 8 landlords to correct problems and minor issues that can become problems.
There's also the stigma attached to Section 8 tenants.
"Along those lines, our desire is to protect your property from the tenants," Hall said. "There's a preconceived notion out there that a lot of the tenants destroy the property."
Most Mountain Projects Section 8 landlords don't experience this issue, according to Smith.
Tenants can lose their Section 8 eligibility if they damage property, which would leave many of them with nowhere to turn. HUD also has a mechanism whereby landlords can apply for reimbursement for damages above and beyond a tenant's security deposit. Smith said it's because HUD knows that it won't be able to attract Section 8 landlords if those landlords are left holding the bag for property damage.
If the supply of Section 8 landlords doesn't pick up in the near future, Mountain Projects could see a permanent decrease in the amount of Section 8 vouchers sent by HUD, who will send those vouchers to other areas where they can be used.
"It's use it or lose it," Smith said. "And you don't get them back."
You can help
If you've ever thought about listing your rental property for rental by Section 8 tenants, now's the time to act — a critical shortage of Section 8 landlords could affect Mountain Projects' future ability to fight poverty and housing insecurity. Call 828.452.1447 and ask to speak to someone in housing about becoming a new landlord. You'll get a new landlord packet and an appointment for an inspection. Visit mountainprojects.org for more information.
Source: U.S. Department of Housing and Urban Development