Latest
Madison elections go partisan, Haywood spared
Wednesday, August 23, 2023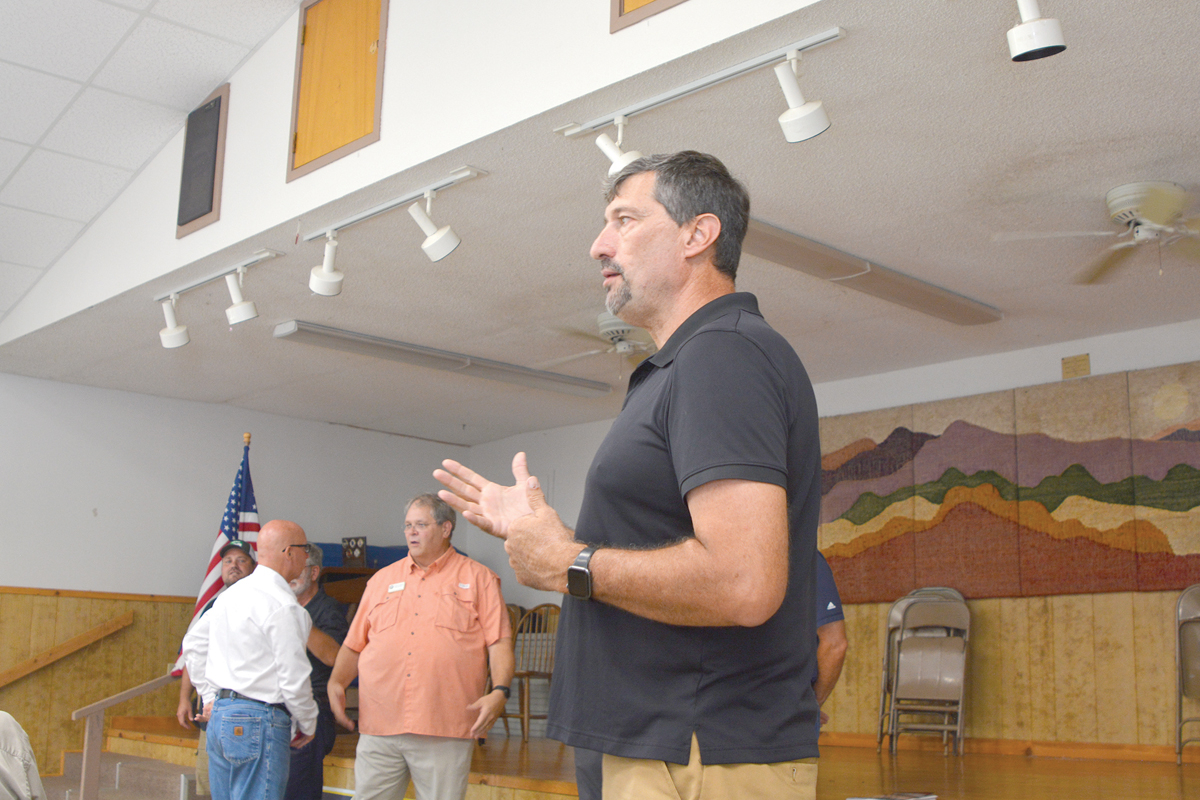 Rep. Mark Pless (R-Haywood) speaks in Maggie Valley in July 2022. Cory Vaillancourt photo
Over the past two years, Rep. Mark Pless (R-Haywood) has made multiple attempts to bring partisan municipal elections to the two counties he represents, Haywood and Madison.
Pless says the elections are already all but partisan anyway, and that the change would help voters identify which candidates to support.
Elected officials in his district couldn't disagree more, but after a hectic day in the General Assembly during which multiple veto overrides and other high-profile issues garnered most of the attention, Pless was finally able to get halfway there.
Now, as one county works to accommodate the changes on short notice, the other holds its breath in anticipation of what may be coming down the road.
Pless introduced a bill in in May 2022 that would have made all elections in Haywood County partisan. His predecessor tried basically the same thing in 2017, without success.
Pless' bill, which stalled in committee, prompted outcry from nearly all elected officials in the county. Opponents like Waynesville Town Council Member Chuck Dickson maintain that national party platforms have little to do with small-town governance.
This year, Pless went on to introduce a similar bill in the House, on March 2. It omitted Haywood's elected school board, but expanded to include Madison County's municipalities.
Again, the bill died in committee after eliciting strong opposition from nearly every elected official that it would have affected, including in Madison County.
But on June 28, Pless was able to get his partisan election language inserted into SB 9, which was first introduced by Wake County Democratic senators Gail Adcock and Sydney Batch on Jan. 25.
Originally, the bill authored by Adcock and Batch had nothing to do with Haywood County or Madison County, but Pless' partisan proposal was that the Haywood and Madison county municipalities of Canton, Clyde, Maggie Valley, Marshall, Mars Hill and Waynesville would all be required to conduct partisan elections, effective immediately.
The bill would not take effect in the Madison County town of Hot Springs until 2025, because Abby Norton, mayor of Hot Springs, is a federal employee. Per the Hatch Act, she wouldn't be allowed to run in a partisan election. She told The Smoky Mountain News on March 3 that she felt she was being forced to make a choice between retiring from her job or retiring from politics.
Because it's a local bill, Democratic Gov. Roy Cooper does not get an opportunity to weigh in on it, so when it hit the Senate floor on Aug. 16, it was do or die for SB9.
"I move that the Senate do not concur on Senate Bill 9," said Adcock said when the bill came up around 5:45 p.m.
Adcock's move was unusual in that it was her bill, but her fellow senators supported her motion with a voice vote.
Sen. Ralph Hise (R-Mitchell) then appointed a conference committee to see if a compromise could be reached. The Senate's side of the committee consisted of Adcock, Sen. Joyce Krawiec (R-Forsyth) and Sen. Phil Berger (R-Guilford). Berger also serves as president pro temp of the Senate.
The House's conference committee included Rep. Jon Hardister (R-Guilford), Rep. Erin Paré (R-Wake) and Pless.
Just two hours after senators failed to concur on the original bill, the conference worked out a slightly different version of the bill, which passed shortly after 8 p.m.
Local bills require the assent of all elected legislators from the affected county to move forward; obviously, Pless was a yes, and apparently Sen. Ralph Hise (R-Mitchell) was a yes as well.
Hise represents a small portion of eastern Haywood County, which is located at the western end of his sprawling district.
At the beginning of the session, Sen. Kevin Corbin (R-Franklin) — who represents the bulk of Western North Carolina and the bulk of Haywood County itself, was recognized by Lt. Gov. Mark Robinson as one of several senators who had an excused absence. Social media reports showed Corbin vacationing with family out west.
Corbin, however, was a no on SB9 unless Haywood County was removed from the bill's text, according to Pless.
"Sen. Corbin wouldn't allow it to happen. He was insisting that [Haywood County] be pulled out even though he wasn't in the General Assembly, so we had to sit down and reach an agreement, which is how government works," Pless said on Aug. 17.
"I pushed it to the last minute. The only way for the bill to move forward was to remove that [Haywood] part of it. So we removed that part of it and allowed Madison to become partisan."
Had the Haywood portion of the bill been included, it would have raised some logistical and financial challenges for municipalities, candidates and election workers here, just over 80 days before the General Election is scheduled to take place, on Nov. 7.
Now, Madison County will go it alone, working to comply with the new legislation.
"We started talking around 9 or 10 the next morning, and we got some guidance from State Board of Elections," said Jacob Ray, Madison County board of elections director. "We really want to try to publicize the change to partisan elections. It's such short notice and a quick turnaround that it's going to be a challenge administratively, but we have a good staff and lots of help from the state."
The Madison County Board of Elections held an emergency meeting to order a new filing period, which began at 8:30 a.m. on Aug. 18 and will run through the close of business on Aug. 25. All candidates, Ray said, have been notified.
Because of the new legislation, the original candidate filings are null and void, so existing candidates have to re-file with partisan affiliation and pay $5.
As the town of Hot Springs is exempt until 2025, only the municipal elections in Marshall and Mars Hill will be affected.
Qualified residents who didn't originally file during the July candidate filing period can now join the races as well.
In Mars Hill, aldermanic seats currently held by Larry H. Davis and Stuart Jolley are up for reelection. Both Davis and Jolley are Democrats. During the July filing period, they were opposed by Eddie Bussard and Terry Burnette, both of whom are Republicans.
As of 9:30 a.m. on Aug. 18, none of the candidates had yet refiled, but all of them indicated to Ray that they would. If no other candidates enter the field, a Primary Election won't be needed because each party may field two candidates for the two seats up for election.
If a Primary Election is needed, Ray estimates its cost at around $3,500.
In Marshall, two aldermanic seats are up for election and only two candidates — the incumbents — filed back in July.
Laura Ponder-Smith, a Democrat, is seeking to retain her seat and will need to refile, but it's a different story for the other candidate, Mayor Pro Temp Aileen Payne.
Payne is an unaffiliated candidate, so she can't simply file for the seat. She needs to gather signatures for a petition to earn her spot on the November ballot.
Ray told Payne on Aug. 18 that she would need to gather the signatures of 1.5% of the Jan. 1, 2023, total of registered voters within the municipality — nine signatures in total.
If no one else jumps into the race, there won't be a Primary Election at all, but if there is, it will cost the town about $3,000, according to Ray.
In either town, the Primary Election would be held on Sept. 12 — just 27 days after SB9 was passed.
Neither Mars Hill nor Marshall conducts absentee voting, so there's no hang-ups with those deadlines, however, voter registration closes 25 days before any Primary Election, whether it's actually held or not.
As a result, the last day to register to vote in the partisan municipal elections in Madison County was Aug. 18, which may have stymied some residents who initially thought — correctly — that they had until Oct. 13 to register. Most people aren't eligible to register to vote on Election Day.
Pless remains adamant that he'll try again with Haywood County at some point in the future.
Sen. Corbin didn't return a call for comment.