Latest
Waynesville establishes environmental sustainability board
Wednesday, August 16, 2023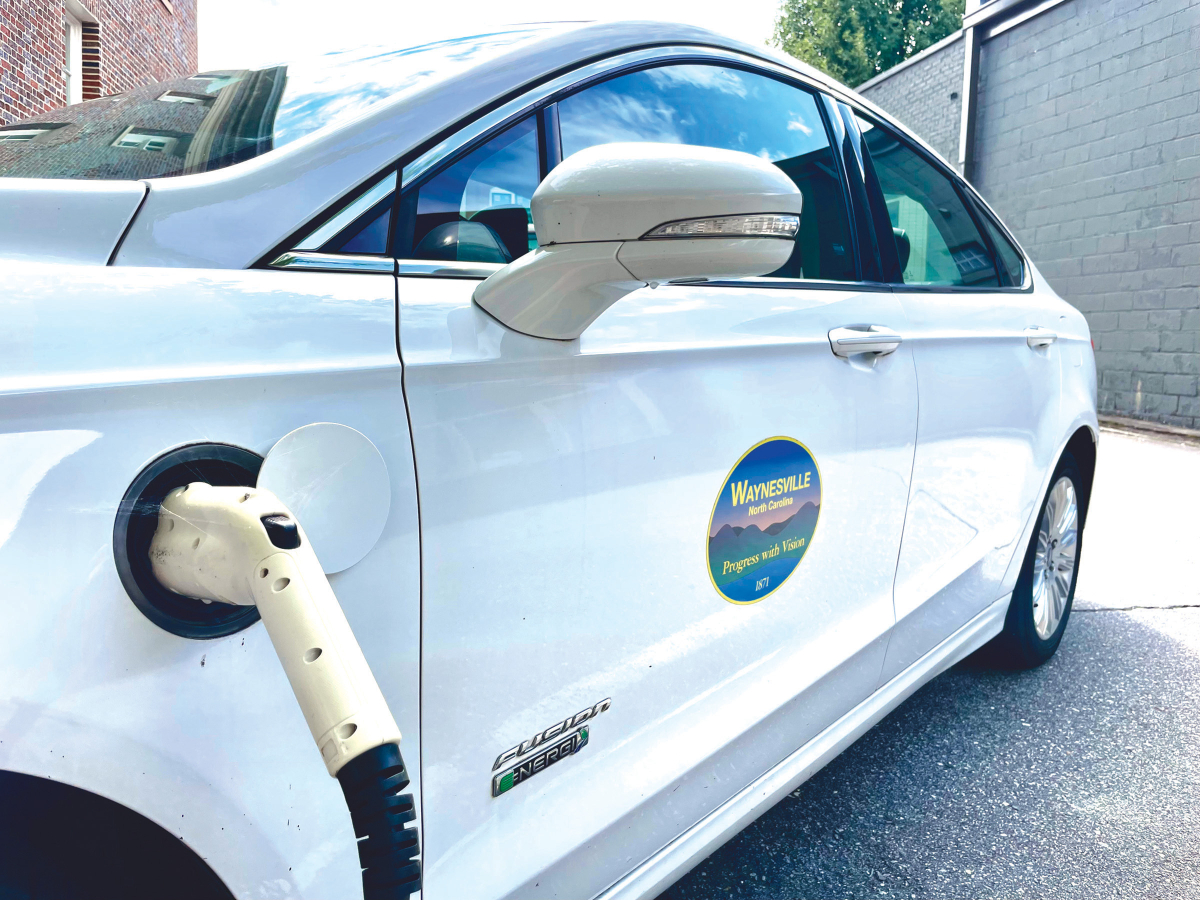 The Town of Waynesville has already taken a number of steps to reduce emissions and promote energy efficiency. Cory Vaillancourt photo
Long a leader among Western North Carolina's local governments in the field of environmental sustainability, the Town of Waynesville has taken recent steps to ensure it becomes carbon neutral before 2050 by establishing an oversight board to research, adopt and implement responsible management strategies.
"One of the main reasons was because of all the federal money coming down through the Infrastructure Bill and the Inflation Reduction Act to promote electrification and use of alternative energy sources," said Council Member Chuck Dickson, who's been a vocal advocate for environmental sustainability and made the motion to establish the board. "We want to take advantage of whatever monies are out there. That's one of the reasons we went for the grant manager position. It's a way to save money for the town and folks in the town."
Called the Environmental Sustainability Board, Dickson's effort will be responsible for "crafting working reference documents that will lay out timelines for achieving climate mitigation and adaptation benchmarks," according to a document circulated by Dickson prior to the July 25 meeting of the Waynesville Town Council.
Recommended strategies will focus not only on town-owned buildings and properties but also on residents and businesses who could benefit from decreased utility costs.
"Our natural resources are our greatest resources as a community, and we have to be a good steward, leaving them better than we found them," said Council Member Anthony Sutton, who seconded Dickson's motion to create the ESB. "Our clean water, our clean air, they're what bring people to the area. They have a huge economic impact on our area. By taking care of our resources, we're really taking care of ourselves."
Preliminary thoughts on how exactly the town will achieve those goals include focusing on renewable energy systems, energy-efficient buildings, conservation standards and green infrastructure — things like pervious parking surfaces and rain gardens.
Waynesville is one of roughly 70 local governments in North Carolina known as " electric cities," because it purchases wholesale power from a supplier and resells it to customers at competitive rates. The ESB will be charged with improving the resiliency of the town's power grid, after a December 2022 attack on Moore County substations that left 40,000 people without power.
The plan also includes a cost analysis of the town's existing electric vehicle fleet and charging infrastructure; the town was quick to embrace electric vehicle technology, installing the third-ever charging station west of Asheville more than a decade ago.
Sutton added that he's working on getting additional high-speed car chargers for the area through the North Carolina Department of Transportation.
Dickson's ESB also includes an affordable housing angle, proposing partnerships with local housing nonprofits to help support energy efficiency measures for low- and moderate-income households with funding made available through President Joe Biden's Inflation Reduction Act of 2022.
As a result, the town expects to see improvements in overall health and wellness of residents and visitors due to reduced emissions from vehicles as well as from household heating and cooking appliances.
Eco-tourism — and the so-called "green jobs" that come with it — could also provide economic benefit to the region, but many of the expected returns from the ESB's effort are less tangible, including increased cooperation with disparate community groups that share concerns over anthropogenic climate change and a "bandwagon effect" that might lead to surrounding communities adopting similar measures.
As established, the ESB could have as many as 11 members, appointed by town council. A council member will be appointed to the board, along with the town manager or their designee.
The other members of the ESB will be sought out on the basis of knowledge in renewable energy systems, green building standards or building efficiency engineering, transportation efficiency, sustainable land management, ecology or environmental science and expertise in the substantial body of published work relating to climate change.
The ESB may also consult with leaders in state agencies or academics from the region's community colleges and universities, as well as town staff who serve on the front lines of infrastructure maintenance and management.
Dickson said he hopes that the town will begin accepting and reviewing applications for the newly established board over the next few weeks.
"Particularly being a small town with limited resources, we've got to take advantage of every opportunity to make things better for our town and our citizens," he said.