Latest
National Guard conducts training exercise in Canton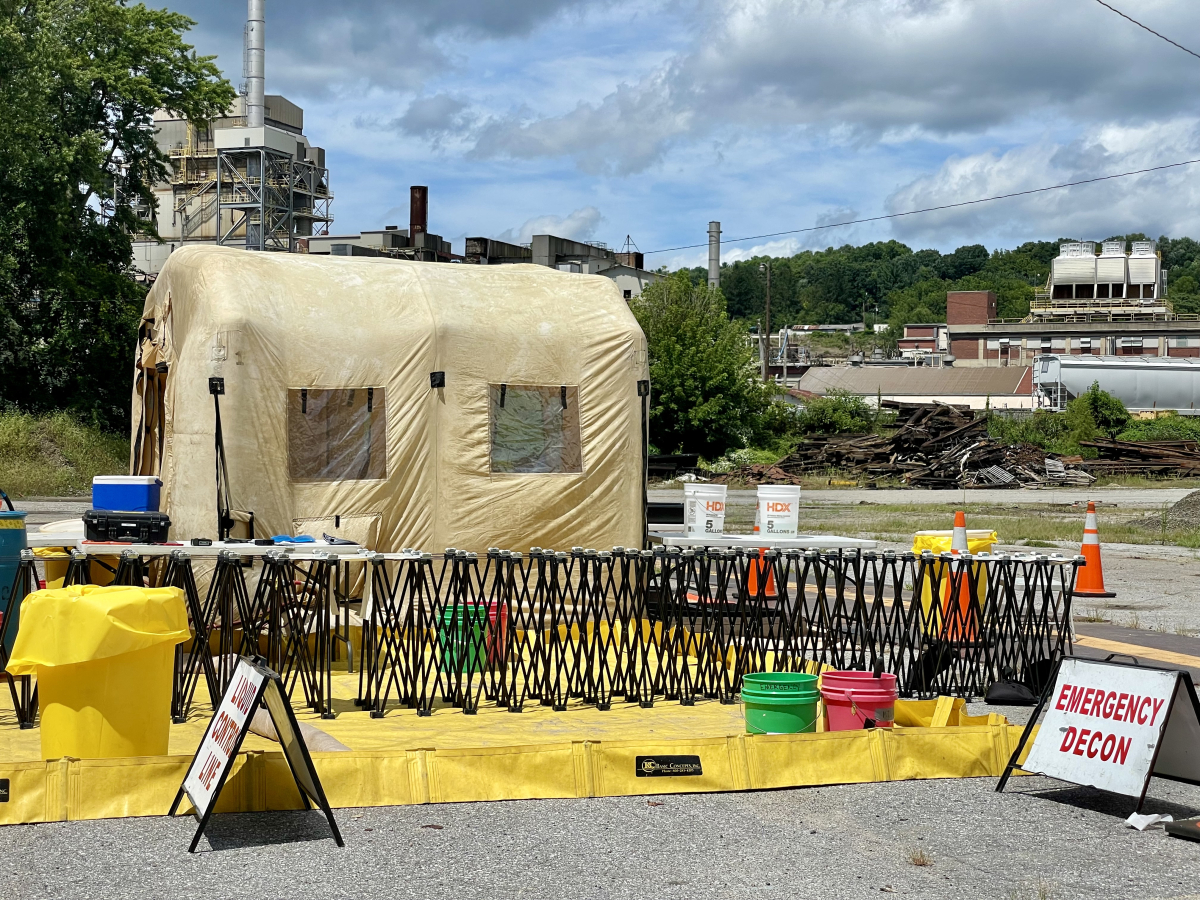 A training exercise underway in Canton on Aug. 15 prompted concern from some citizens.
Cory Vaillancourt photo
The presence of multiple vehicles and a decontamination tent in downtown Canton today prompted tips to The Smoky Mountain News about a possible hazmat incident at Pactiv Evergreen's shuttered paper mill — however, that's not the case.
"Absolutely not," said Maj. Barry F. Stern of the North Carolina National Guard 42nd Civil Support Team. "It's a training exercise. We do this anywhere from 10 to 12 times a year. It varies from location to location in North Carolina. This is just one of those places that was selected for the exercise. Nothing to worry about. Nothing real."
The 42nd is based in Greenville, North Carolina, and gets graded every 18 months by the National Guard and the federal government on its response to simulated disasters. Stern said they're not allowed to know where they'll be called to respond to such simulations.
Stern explained that his outfit was "responding" to a mock terror attack at the old Canton town hall on Park Street. For the purposes of the exercise, town hall was supposed to represent a courthouse where a judge and jurors were sent some mail with an unidentified white powder in it.
According to Stern, the exercise will wrap up around dinner time this evening. After a refit day on Wednesday, Stern said they'll again be called to another exercise "somewhere in the Asheville area" on Thursday.
The exercise is in addition to the usual duties of the 42nd, which holds expertise in weapons of mass destruction.
"We do a lot of work for pre-stages, which is we go to anything like the NFL games, anything that draws a large crowd," he said. "We're going to be at the Apple festival in Hendersonville. Anything that draws a large crowd and a lot of media attention is always a potential target, so we're around training to make sure that we can respond, just in case there is any kind of act of terrorism or an emergency that we can help with."