Latest
What's next for Sylva skate? Commissioners continue to work toward a skatepark
Wednesday, August 02, 2023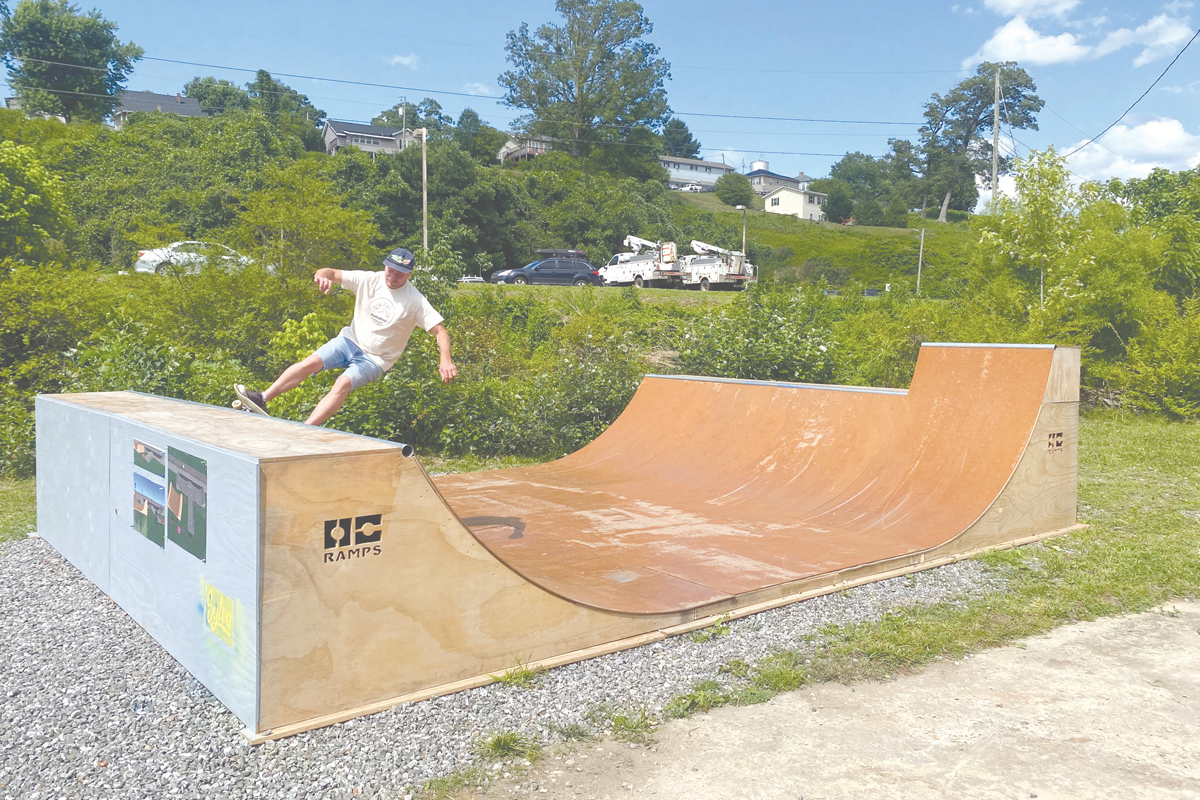 Sylva Pipes opened to the public in June. Hannah McLeod photo
Now that Sylva Pipes is up and running with a temporary half-pipe, commissioners are looking at next steps for the skate community.
Should the town expand options at Sylva Pipes making the space a more permanent one, or will it work toward a permanent skatepark at a different location?
"We need to make a decision as to whether we want to move forward with developing that space," said Commissioner Greg McPherson during a July 24 commissioners meeting. "I think it's an awesome space, and I think it's got a lot of potential."
Sylva Pipes opened with a dedication on June 15, and contains a temporary half-pipe, in addition to a few other features, in the vacant lot behind Motion Makers.
The town began looking into the purchase of a half pipe for the skate community last year while the longer and more expensive prospect of a permanent skatepark played out. A grassroots organization of Jackson County residents, the "Sylva Skatepark Project," began advocating for the construction of a skatepark over a year ago. Both the Town of Sylva and the Jackson County Commission have been receptive to the group's endeavors.
The town spent $9,700 on the temporary equipment, now open to skateboarders, which it purchased from OC Ramps, a California-based company that sells ramp kits. The town does not pay anything to lease the property from Kent Cranford, previous owner of Motion Makers and current owner of the building that houses the business on Allen Street in Sylva.
"Since we moved into that building eight years ago, I've always wanted to do something in the back that would be recreational-minded," said Cranford after the lease was finalized. "When the town leaders inquired about temporarily locating the skate ramp, it seemed like a good test for that space along with solving a problem for the town and the skateboarders."
During its July 24 meeting, the town discussed what to do next to keep working toward a permanent skatepark. With the lifespan of the temporary half-pipe being somewhere in the ballpark of five to 10 years, the board wants to see skatepark construction on track during that time so that the town isn't left without any amenities for the skate community down the road.
Commissioner Greg McPherson floated the idea of adding to the existing structures, as well as repaving the lot behind Motion Makers to improve the space.
"It's really nice to have a space right in town so you don't have to deal with traffic to get out to Mark Watson," said McPherson. "It's a really nice space right by the creek, isolated."
Mark Watson Park has been tossed around as a possible location for a permanent skatepark in the future. Commissioners also discussed the possibility of a permanent skatepark in the lot that currently hosts Sylva Pipes; however, the lot is located within a floodplain. While temporary structures can be situated there without complications, locating any permanent structures there would be more difficult.
"It's really not a good long-term spot," said Mayor David Nestler. "If we had originally set out to build something permanent, we would not have done it right there on someone else's property. That would be bad long-term planning. It's a good spot for a short-term solution, but it's really not a good long term solution to the lack of a skatepark."
"My advice for the board would be to put our energy into getting the county to put a permanent [skatepark] at Mark Watson. The whole point of this half pipe was a temporary hold over while they got that one planned and built," said Nestler. "I would really like to stay on that course as opposed to investing more money and time and maintenance into a temporary one that was never really meant to be permanent."
Commissioner Mary Gelbaugh has attempted talks with the county about working towards a permanent skatepark, which she thinks would be best located at Mark Watson Park.
"I've been kind of disappointed honestly. I think that we have a really great space at Mark Watson Park that's underutilized. I think it's a recreation park and that would be an asset to address all the demographics in the recreation sector," said Gelbaugh. "I wish that county commissioners would be a little bit more amenable to thinking about space near the batting cage where the metal garages are that do not fit the character of Mark Watson Park. I hope that they will open their minds to the concept."
Gelbaugh and Nestler said they would work toward revitalizing talks with the county about planning for a permanent skatepark, whether it ends up being a project paid for by the county alone, or in combination with the town.
"Part of the discussion, the bargain, I felt like, was that we would set up a temporary skatepark and the county would begin talks of investing in an actual one," said Nestler. "I feel like we've held up our end of the bargain. I think we should try to revitalize those talks with the county, and I'd be glad to help with that."
Town Manager Paige Dowling cautioned the board against planning to allocate any money toward additional amenities at Sylva Pipes, or for a permanent park, in part because of all the projects the town currently has going on.
"My caution to the board about the money would be, we have Allen Street, Bryson Park, the bathrooms and Bridge Park, all that will be going on before December hopefully. That's more projects than we've ever had at one time. We're also looking at a dwindling tax base because of the NC 107 project," Dowling said. "The only real funds I see that we have is ARPA funds, but with about $400,000 remaining of those, we've got all these projects going on or about to go on, so I'd caution the board about taking on any more big expenses right now."