Latest
Health care coverage crisis for mill workers continues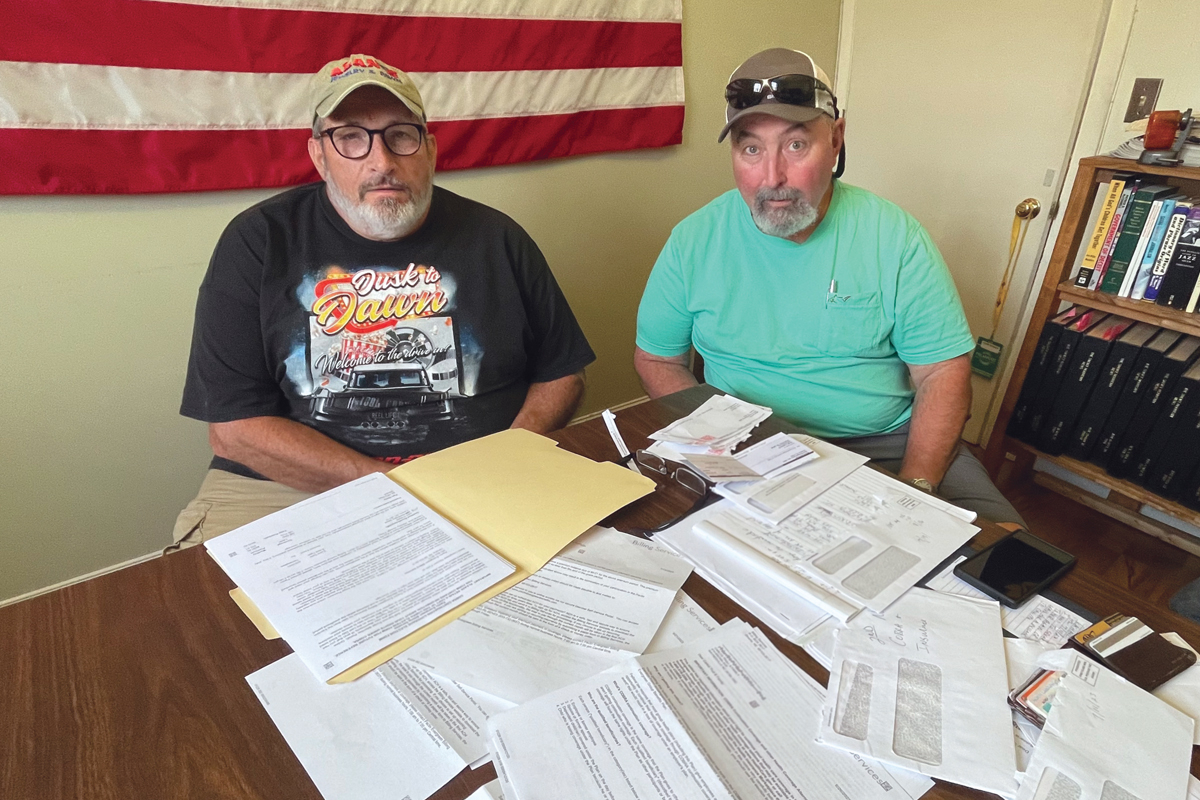 Mike Holland (left) and Dean Trull are just two of many former mill workers who had trouble with their health care coverage. Cory Vaillancourt photo
Employees at Pactiv Evergreen's Canton paper mill knew a health care coverage crisis was coming, and many of them did exactly what the company told them to do to ward off a coverage gap, but some are only just now getting the coverage they're entitled to — and paid for — and they're pointing the finger at Pactiv for the expensive and potentially life-threatening delays.
Communication Breakdown
Pactiv continued its group coverage of employees through June 30, about three weeks after most employees worked their last shift. For the month of July, the company extended employer-subsidized COBRA coverage to employees, who'll be on their own come Aug. 1. The July 1 switch didn't go smoothly for many workers whose medical conditions forced them to spend money and time fighting a bureaucracy they weren't at all prepared to deal with them — skipping much-needed medications and canceling doctor's appointments along the way.
Dean Trull worked at the mill for more than 20 years until an old high school football injury that had already necessitated several surgeries began dogging him again. Although still technically employed by Pactiv Evergreen when the mill shut down on June 8, Trull's last day at work was Nov. 19, 2021.
At the time, his employee-subsidized insurance cost him and his wife $328 a month.
Trull's first notice about the July 1 switch to the employer-sponsored COBRA coverage came in the mail.
Dated June 20 but not delivered until June 26, the letter said he was past due, in the amount of 79 cents.
Then, Trull received a confusing series of bills with conflicting balance information, including one that said he owed $1.50. He contacted Pactiv Evergreen's billing services department by phone, and after several hours on the phone was told that Pactiv actually owed him a refund.
Despite the confusion and the phone calls, Trull still didn't have health care coverage.
Employer-subsidized COBRA coverage was slated to begin on July 1. Trull received his second COBRA notice in the mail on July 3.
The letter contained a website and a code for him to enter, but Trull chooses to be without a computer, so he called Pactiv Evergreen's human resources department to find out how — and how much — he would pay for his employer-sponsored COBRA coverage. No one answered the phone.
Trull again called Pactiv's billing services department on July 5 and was told he could pay over the phone, albeit with a $20 fee for the "convenience."
He told them, more or less, that he wouldn't do that.
That same day, Trull sent the $177 check for employer-subsidized COBRA via priority mail. The check cleared on July 10, but on July 11 Trull was told by his doctor that he couldn't be seen because he had no insurance.
On July 13, he again called billing services, and was told he had a zero balance but still didn't have insurance.
"She proceeded to tell me it takes seven to 10 days," Trull said. "I told her seven to 10 days ain't gonna work."
Trull has a chronic condition related to his surgeries that requires periodic doses of medication. By this time, he'd taken half of what he had on hand and was beginning to run low, so he requested they expedite his coverage.
He was told it would take 24 to 48 hours to update his status, so Trull waited 48 hours, went to pick up a prescription and was told he still had no insurance. He paid $42.26 out-of-pocket for his medicine, which should have cost him $10.
On July 17, Trull ended up on a three-way call with Pactiv's billing services and Blue Cross/Blue Shield of Illinois. He was told it would take another 7 to 10 days to update the provider's database.
The next morning, Trull canceled another doctor's appointment. Opening his mailbox later that day, he found two pieces of mail.
One said he was past due by one cent.
The other said he owed $70.23.
He still had no insurance.
On July 19, Trull was finally able to confirm that he did indeed have the month of employer-subsidized COBRA health care coverage, with only 12 days left in the month.
"They're just sitting up there doing nothing, wanting us to give up," he said of his weekslong fight to acquire the coverage that he'd paid for weeks before.
He also got a check mailed from Pactiv Evergreen's billing services department on July 13 in the amount of $108.55.
"All they had to do if they really intended for this to be seamless was to have somebody available from COBRA, if need be, or from Pactiv's HR team," he said. "They had three months."
With the month of employer-subsidized COBRA coverage ending on Aug. 1, Trull has already mailed a certified check for his continuing COBRA coverage so he doesn't get cancelled.
What used to cost him $328 a month will now cost him $878.
Mike Holland worked at the mill for 41 years — many of them, side-by-side with Trull.
Holland had shoulder surgery November 2021, and like Trull, was off work until the mill shut down in early June. But Holland has a significant health condition that requires much more attention than Trull's — lymphocytic leukemia, a cancer of the blood and bones.
His health care coverage had been costing him $151 every month. He mailed his payment for the employer-subsidized COBRA coverage on June 29, but as of July 19 still didn't have coverage.
"I just tried to use it an hour ago at my oncologist's office," he told The Smoky Mountain News that day.
Since then, he's also received contradictory letters from Pactiv Evergreen's billing services department. One said they'd received his COBRA application but no payment. Another said they'd received his COBRA payment but not his application.
The last day on the job for many mill workers was June 8. Cory Vaillancourt photo
"This is Pactiv Evergreen's fault. They knew when they had their meetings that they were going to shut the mill down. That was day one. They should have been coordinating then, through Pactiv Evergreen benefits service. They shouldn't have been worrying about other things," he said. "If they were going to take care of us, they should have had personnel in place."
Holland experienced a similar runaround in trying to verify his coverage so he could continue to remain under doctor's care for his life-threatening condition, but he remained upbeat about the situation, expressing more concern for his co-workers than for himself.
"I'm a single man of retirement age," he said. "When you leave a family of four or five people hanging without insurance … Pactiv just dropped the ball."
He wasn't talking about Jeff and Angie Franklin, but he could have been.
Jeff worked at the mill for 12 years. His wife Angie never did, but she and their grown daughter were both on his policy. Maintaining coverage for Angie was paramount, due to her own medical conditions.
"I'm a diabetic," she said. "I also have psoriatic arthritis."
Psoriatic arthritis is an inflammatory condition that results in joint stiffness and swelling that can become debilitating, especially in the hands, hips, feet and knees. Angie works in a machine shop as a bookkeeper, and was also a substitute teacher, and says the injections help with mobility.
With health care coverage, Angie's weekly injections to manage her arthritis were relatively affordable and reliably delivered by an online pharmacy.
Without health care coverage, the injections will cost her $8,400 a month, or more than $100,000 a year.
"The first sign of trouble was the lax approach on everything," Jeff said. "They just kept putting stuff off. They postponed promised meetings to negotiate with the union, and then postponed that, and then that took a week, and then they said, 'Okay, no meetings. We'll send you a packet.'"
As with Trull, the Franklins received their first employer-subsidized COBRA letter on June 26. Angie went online and created an account but had to wait for the second letter with the code on it to learn how, and how much, they'd have to pay.
"I was afraid to wait any longer on that second letter," Jeff said.
They never got that second letter.
"Pactiv could have had this in place when they made the announcement," said Jeff. "That's three months they had to prepare."
When the Franklins contacted Pactiv Evergreen's billing services department, the agent told them to just pay the whole amount — more than $2,500, plus $20 for the convenience of it all — to ensure continuation of coverage and that any overpayments could be settled later.
They were also told that it would be a 10- to 14-day wait for coverage to be reflected in provider databases.
The Franklins immediately paid the money, which was acknowledged on July 11. They were told by Pactiv Evergreen's billing services department that expedited paperwork for Angie would be filed on July 12 or 13. It was actually filed on July 14, and as of July 18, Blue Cross/Blue Shield told Angie they still hadn't seen it.
"I can't get any of my medications until this goes into effect," Angie said.
Angie's last shipment of Enbrel arrived on her door in early June — just enough for that month.
Her most recent shipment was due to arrive on July 6, but the day before, the pharmacy called to tell her that they'd tried to run her insurance and that she had none, so they canceled the shipment.
As of July 18, Angie had already missed two injections, a fact to which her knobby, swollen knuckles could easily testify.
Despite her struggles, Angie — like Mike Holland — expressed more concern for others with her condition than for her own suffering.
"I could possibly get free samples, but you hate to take those away from people who don't have insurance when you know you have insurance and you're supposed to have insurance," she said.
The Franklins were notified that their coverage was finally activated on July 19. Angie's medicine is now on its way to her door.
"If Evergreen would have given COBRA the information that COBRA needed prior to July 1," Angie said, "instead of them sending the information June 26 — if things had been done earlier — we would not be sitting here right now."
Holland said that when he finally went to his oncologist's office on July 21, prepared to pay cash, he learned he'd been automatically enrolled in Medicare Part B. He immediately stopped payment on two uncashed COBRA checks he'd mailed weeks ago — totaling $1,034 — and no longer has to deal with Pactiv Evergreen's billing services department.
"And I'm just as pleased as can be about that," he said.