Archived News
Smathers: 'We will fight' Pactiv's tax break request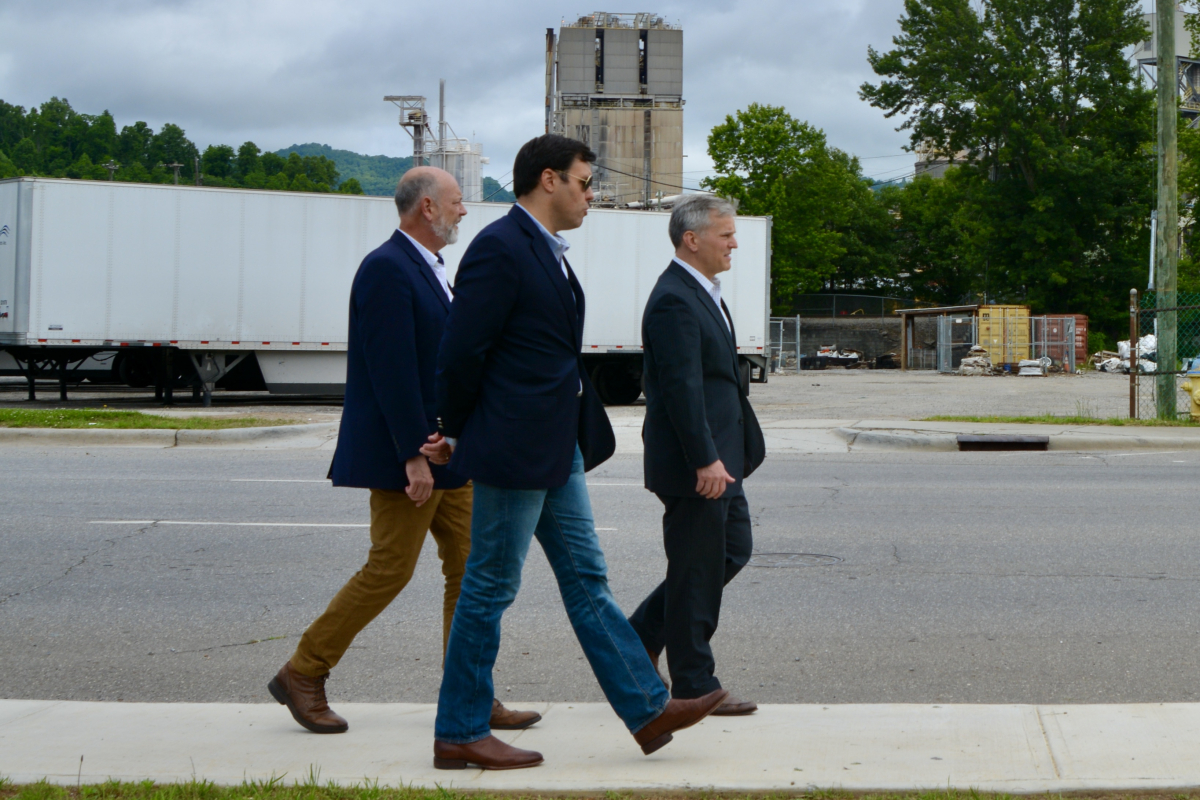 Haywood County Economic and Community Development Director David Francis (left to right) walks on Park Street with Canton Mayor Zeb Smathers and North Carolina Attorney General Josh Stein on May 31, 2023.
Cory Vaillancourt photo
Officials on both the local and the state level have been adamant in demanding Pactiv Evergreen be held accountable for a number of unresolved issues since shortly after the company announced it would halt operations in Canton. But now, a week after the mill's final whistle blew, they're adopting a more forceful tone.
"There's no way to sugarcoat heartbreak and pain," said Attorney General Josh Stein, who toured downtown Canton on the morning of May 31 with Mayor Zeb Smathers.
The Attorney General's office has been involved with the mill shutdown since right around the time The Smoky Mountain News first broke the story about problems with Pactiv's $12 million JMAC grant from the state, which was awarded in 2015.
Stein and Gov. Roy Cooper, who visited Canton for at least the second time this year on May 26, both say that by closing up shop before Jan. 1, 2025, Pactiv has violated the terms of that agreement and that the state wants its money back.
"Pactiv Evergreen signed a contract with the state of North Carolina in which it promised to employ a certain number of people through a certain date in exchange for the money," Stein said. "They failed to uphold their end of the bargain. The state is going to enforce its rights under that contract. I want you all to know that, and I want to thank Gov. Cooper, who has been on this from the very beginning."
Without elaborating on the current state of enforcement, Stein said that he'd personally met with company officials and that his staff continues to meet with them.
"We are in communication with Pactiv about its legal obligations and we're optimistic we'll get to a good place," Stein told a group that included Town Manager Nick Scheuer and Haywood County Economic and Community Development Director David Francis, along with Haywood Community College President Shelley White and its dean of workforce continuing education, Doug Birchfield.
Asked about Pactiv's response to the allegations, Stein simply said the company had been "professional."
When asked about Pactiv's request for a reappraisal of its 185-acre parcel, Stein punted; it's really more of a local matter, subject to the jurisdiction of the Haywood County Board of Equalization and Review.
In essence, Pactiv says the $19.7 million assessed value of the property is off — way off. According to documents filed with the county, Pactiv's opinion is more along the lines of about $5.8 million. Property tax payments are calculated using assessed value, so any reduction would mean more money out of the pockets of local governments, and local taxpayers.
Pactiv's net revenues in 2022 were more than $5 billion. If Pactiv gets its way, the reassessment would save the company about $140,000, costing Canton and Haywood County governments around $70,000 each. In more basic terms, what Pactiv's really asking for is a tax break.
Last Friday, Cooper told The Smoky Mountain News that the company's request was "like knocking you down and then stepping on you before you leave" and that it was "shameful."
Smathers, who previously said the reappraisal request left him feeling "disgusted," used his strongest language to date.
"To be clear about that, no. The feeling of the county and the town is, we're not giving tax breaks — basically what they're asking for — to a company that has broken our economy and our hearts," Smathers said. "We disagree with the math of it, and we disagree with the principle of asking at this point for a tax break. The answer that question is no, and we will fight them locally, all the way to Raleigh, wherever it may go. That money belongs here in this community, to these taxpayers, period."
The Haywood County Board of Equalization and Review meets Friday morning to consider Pactiv's request.