Latest
Lynch named superintendent of Macon County Schools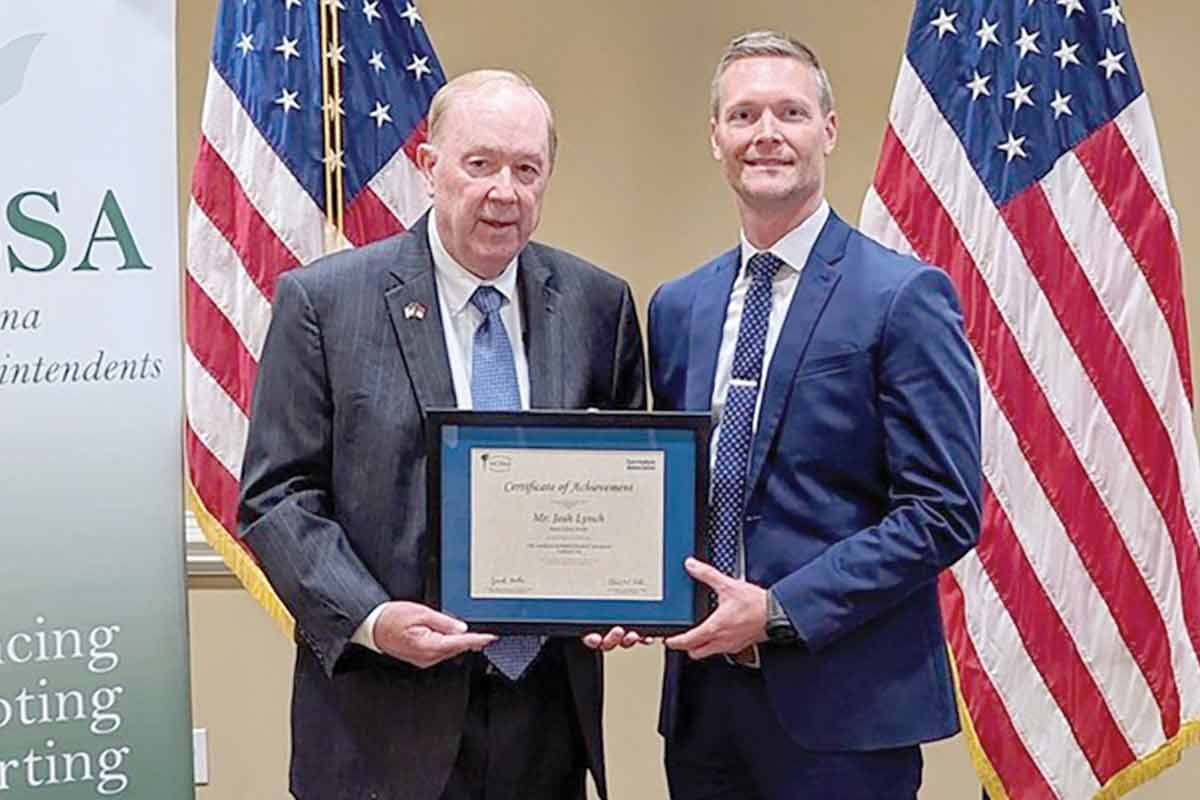 Josh Lynch, right, graduated from the NCSSA Aspiring Superintendent Program in April.
Donated photo
The superintendent of Macon County Schools announced his retirement earlier this year, and now the Macon County Board of Education has chosen his replacement.
After previously serving as associate superintendent for the school system, Josh Lynch will move into his new role during a time when the school system faces funding difficulties brought on at least in part by the end of COVID-era supplemental funding for public schools.
"We are here to serve people," said Lynch. "We're serving students, we're serving families, we're serving the community."

The Macon County Board of Education announced on May 16 that it had selected Lynch as the district's next superintendent, effective July 1. Current Superintendent Chris Baldwin announced his impending retirement during a February board meeting and will officially retire Sept. 1.
"As a product of the Macon County School System, Mr. Lynch has a compelling desire to give back to the community in which he lives and serves," the board said in a press release.
Lynch attended Macon County Schools as a student and began his career in public education as a third-grade teacher at Cowee Elementary School. In 2011, Lynch was named assistant principal at East Franklin Elementary school and later became principal of Cartoogechaye Elementary. In 2020 he transitioned from the school level to the district level to serve as Director of Federal Programs, Testing and Accountability and K-12 Curriculum Director for the school system. In 2021 he was named associate superintendent for the Macon County School System.
"I am the right person for the job, number one, because I'm a product of Macon County Schools," said Lynch. "With that history, having the opportunity to enter this system as a kindergartener and graduate the system as a senior and then also complete my entire educational career with the Macon County School System, it gives me a sense of love and a sense of pride for the district."

Lynch never planned on leaving the classroom, but originally intended to spend his entire career in public education as a teacher.
"I set myself up to really, in my mind, to retire there after 30 years," said Lynch. "I received my master's in elementary education and then went through the national board process. Individuals just rallied around me and supported me and kind of prompted me into other areas. I think that's really what sets our district apart, because we often grow our own. I think that is a good steward of our resources, but also a charge that we all can just jump on board and do more when we see potential in individuals, whether they may see it or not, to rally behind them and support. That was done to me years and years ago and I feel that it is my privilege to do it to others when you see those characteristics, just to be able to support and encourage and give opportunity and give empowerment."

Lynch is taking the reins at Macon County Schools at a time when most school systems in North Carolina are facing funding shortfalls. With the end of COVID-era ESSER funding, coupled with state-mandated pay increases that have to be funded at the local level, school systems are strapped for cash.
What's more, the Macon County School System has a lengthy list of capital improvements, several of which are vital for basic school function. Earlier this year, the Macon County Board of Commissioners asked the school board to prioritize its capital outlay requests and determined that it would fund the top five items on that list.

The school system is also looking to build a new Franklin High School, which is estimated to cost the county over $100 million.
The biggest challenge Lynch sees his school system facing in the coming years?
"Definitely the funding cliff," said Lynch. "We did have an influx of money that came into the district with ESSER, as all districts are struggling throughout the nation, especially in North Carolina, when we accepted those dollars, we actually jumped off the cliff. Because with that, the majority of us brought on personnel and we needed that critical personnel piece to really get us through the pandemic and beyond, so that we could serve the needs of our students which became very complex."

The school system used a portion of the additional funding provided to public schools during the COVID Pandemic to bolster essential personnel throughout its schools. Now, as the end of that funding source approaches, the administration and board of education are tasked with making difficult decisions about some of those positions that were funded with ESSER dollars.
"That's definitely what keeps me up at night is the personnel factor in regard to those ESSER dollars not being available," said Lynch.

To navigate the changing waters of post-COVID public education, and to understand those issues particular to Macon schools, Lynch aims to spend his first days as superintendent listening to and learning from educators, administrators, the public, the board of education and county commissioners.
"That is one thing that I really want to do especially for my first 90 to 100 days in office is to go on a listening and learning campaign to meet with multiple stakeholders throughout the community, to meet with individuals of my own cabinet and members here at the central office, but also the school level, meeting with principals and assistant principals and our different teacher groups, meeting with individual commissioners, just so I can listen," said Lynch. "Then I can learn and know exactly what we need to be doing, to be focusing on. When I do that in that order, then that allows me to lead in a very cohesive, but informed manner."

Another piece of public education that continues to shift and evolve is safety. Anyone with family working in or attending public schools today knows the prevalent concern for school safety. Macon County Schools has a resource officer in every school and recently hired ex-sheriff Robby Holland as Safety Coordinator for the district.
"Our number one goal as a district is safety," said Lynch. "If we can't keep our students safe, then learning and academics, that is secondary. We are entrusted with students, and we do not take that lightly."

Lynch has children of his own who attend Macon County Schools.
"To be able to drop a child off and to know that the policy and the procedures are in place, that their most precious possession is being taken care of in a safety aspect, is an absolute gift that we can give to parents, and we do not take that lightly," he said.

The role of safety coordinator is housed at the district level and serves as a support, not only to administration, but to each school individually. The coordinator is tasked with being an intermediary between MCS and emergency management, the police department, sheriff's office and fire departments to ensure that all safety components are functioning properly.
In North Carolina, it is the job of a local board of education to hire, oversee and fire its superintendent. In a move similar to that of Macon County Schools, Haywood County's school board recently hired its previous assistant superintendent, Trevor Putnam, as superintendent. Haywood school board opted for an internal hire, forgoing the opportunity to search for another candidate from outside the school system. Putnam worked closely with previous superintendent Bill Nolte and the board felt Putnam was the best person to take on the job.
Conversely, when Jackson County Schools filled its vacant superintendent position two years ago, an interim superintendent filled the role for several months while the school board conducted an open search and eventually hired Dana Ayers, who was previously working in Asheville City Schools.
Superintendents in North Carolina public schools are responsible for the leadership and management of their school district, as well as implementing the school board's vision through decisions about education programs, spending, staff and facilities. The superintendent hires, supervises and manages central staff and principals.
"I look forward to working alongside our county commissioners and our county leadership and the different civic organizations and faith-based organizations that I have not had the opportunity or the privilege to work alongside," said Lynch. "This gives me an opportunity to sit at the table and have those important conversations on how we can all support the Macon County School system and make it the best that it can possibly be. I think that's one thing that I look most forward to. I'm a people person, I enjoy people. I enjoy conversations. I have an open-door policy, and I look forward to engaging in that aspect of this role."