Latest
The courageous tale of Charlotte Joy: Rare genetic disease can't stop one Haywood family and their daughter from helping other children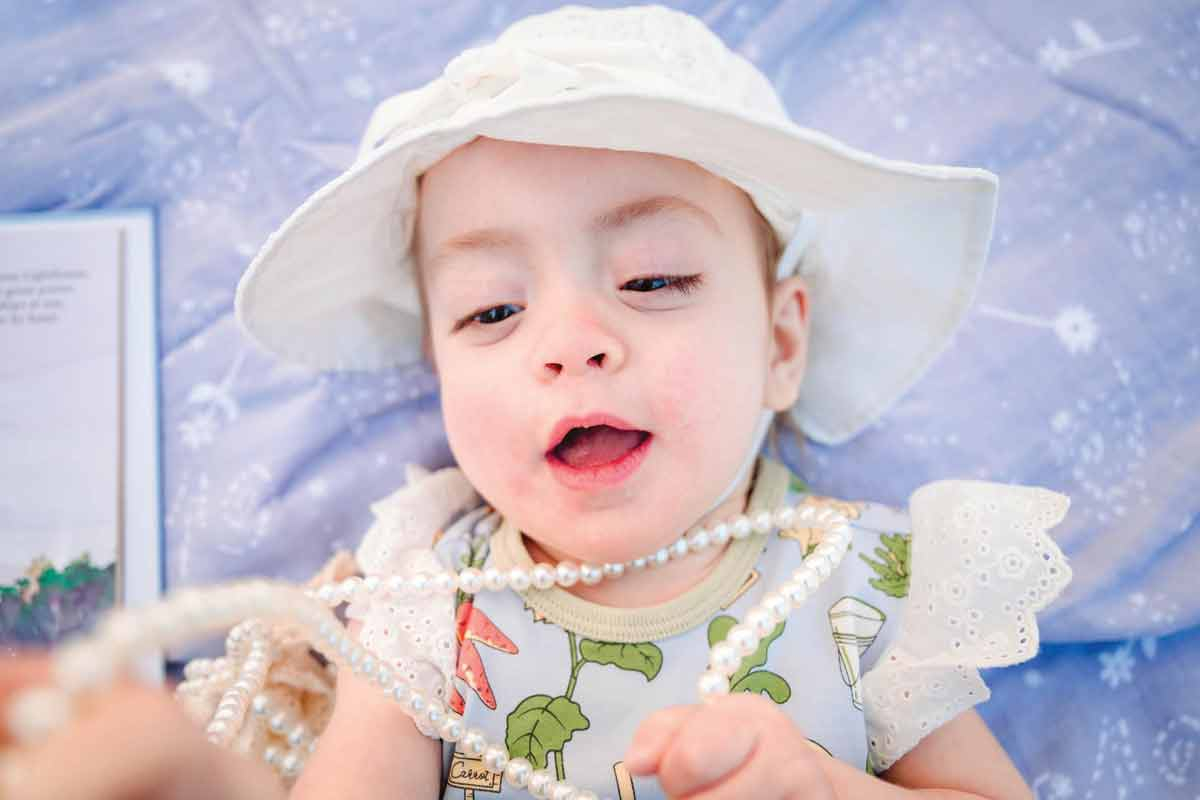 Charlotte Joy is a happy child, but fate has dealt her a seemingly cruel hand. Given her condition, she isn't expected to live more than just a few years.
Helen Pace, CCP, photo
Charlotte Joy is a hero; she just doesn't know it yet.
Her parents, Kyle Norris and Kelsea McColley, were thrilled when they found out Kelsea was pregnant. Both are Tuscola High School graduates. Kyle served in the Marine Corps from 2007 to 2015; Kelsea got her degree in psychology and is working on a masters. They are now engaged to be married.
While other young couples may be mapping out the future, passionately pursuing careers and growing a family, Kyle and Kelsea have become laser-focused on caring for their daughter. While there's no cure for this terminal disease, the family is set on both making Charlotte as comfortable as they can while also furthering research.
This weekend, they're going to further their efforts by hosting an event in Clyde to raise awareness and money for research.
Diagnosis and treatment
Charlotte was born on Oct. 29, 2021. For the first few months, everything seemed normal, but one day, Kyle and Kelsea noticed her eyes started "bouncing." They didn't think too much of it, and when they went to their doctor, they were told everything else seemed normal and not to worry. About a week later, they went in for a scheduled four-month checkup. Their original doctor was out with COVID-19, and the new doctor noticed that Charlotte's liver and spleen seemed enlarged.
Doctors ordered bloodwork and an ultrasound. Charlotte had a high white blood cell count, so they thought perhaps she had cancer. A couple of days later, further tests showed that wasn't the case. The family was elated and even went out for dinner to celebrate. However, at that same time, doctors also ordered a mouth swab to perform genome testing. Doctors told Kelsea during a Zoom conference call that her daughter had ASMD. Charlotte would likely only have months — maybe a year — to live.
Kyle wasn't in on the Zoom meeting because he had a meeting with faculty at his son's school. When Kelsea called him and broke the news, he drove over to his parents' house.

"I went in with my parents and just started scream-crying," Kyle said.
Charlotte's specific diagnosis was Neimann-Pick disease type A.
There are enzymes known as lysosomes in cells that process lipids, including one called sphingomyelin. Those enzymes are called acid sphingomyelin (ASM). In rare cases, both parents carry a genetic abnormality that can be passed onto a child and cause any number of unique complications. For Charlotte, that has led to a complete deficiency of ASM in her cells, which is why the condition is also known as ASMD. The buildup of lipids in those cells can cause organs to become distended, including the liver, kidneys, spleen and lungs. Eventually, a vital organ fails.
Dr. Elizabeth Jalazo is a pediatric geneticist who treats Charlotte at UNC Children's Hospital. Her specific focus is treating children with rare diseases, especially lysosomal storage disorders like ASMD. Much of her work involves treating children who take part in clinical trials. Jalazo said she knew even before medical school that she would work with genetic research but never imagined her specific field would hold personal importance.
"That wasn't the game plan, but my daughter was diagnosed with a rare genetic syndrome in 2015," she said.

Jalazo explained in plain terms how lysosomes work in cells. There are over 70 lysosomal enzymes, including ASM.
"Think of the lysosome as kind of the recycling bin for the cell," she said.
"When we have a missing or deficient enzyme, we get an accumulation or a buildup of whatever product it was supposed to be breaking down," she added.
The recycling bin fills up and overflows, and the cell malfunctions.
Jalazo also discussed what makes Neimann-Pick disease type A the most severe. The symptoms show up much earlier and worsen more rapidly than with Types B, C1 or C2. After months of normal development, a child with type A plateaus and then eventually regresses.
"You can think about ASMD as a spectrum that's loosely related to how much functional enzyme you have left," she said. "If you have a little bit of enzyme left, it can go a long way and do a pretty decent job breaking down that sphingomyelin."

As grim as Charlotte's initial prognosis was, last fall, the FDA approved the use of Xenpozyme from Genzyme for both adult and pediatric patients with ASMD. After first trying another experimental compound in September, Charlotte began receiving that therapy last December. A press release from the FDA noted that Xenpozyme received fast-track , breakthrough therapy and priority review designations. It also received orphan drug designation, which provides incentives to assist and encourage the development of drugs for rare diseases.
Along with possibly extending Charlotte's life (Jalazo said researchers haven't yet gathered that data), this treatment improves its quality.

Jalazo explained how the therapy works.
"We're delivering back a manmade version of the enzyme to replace and do the function of the missing enzyme," she said.
However, the enzyme replacement therapy isn't a complete solution. Even if it does work as hoped to restore normal functions to vital organs, the enzymes are too big to get through the blood-brain barrier. Eventually, neurological symptoms worsen to the point that organs shut down because the brain can't communicate with the rest of the body.
Charlotte's parents are treating their daughter's brain with an experimental compound. Kelsea said she thinks it's having a positive impact for now.
"Some of her neurological functions I think have come back," Kelsea said.
24/7 care
Kyle, Kelsea and Charlotte go to Chapel Hill every two weeks.
They leave on Sunday afternoon, get a room and show up to the hospital by 7:30 a.m. Monday. After doctors access Charlotte's report, blood is drawn. If the labs look OK, doctors order the medicine, which takes about an hour, and then they do the infusion through a port. Each infusion is a bit longer than the last until they build up to the expected regular dosage.
One of the most tiresome things for the family is making that trip so regularly. At first the trips were fun and somewhat adventurous. Having been a lifelong Tar Heels sports fan, Kyle was excited to spend time on campus, and the couple enjoyed exploring the area as they could. But at this point, the trips have become more tedious, a regular chore.
Along the way, Kyle and Kelsea have become experts on ASMD, a condition many doctors haven't even heard of and don't understand. If Charlotte gets sick, they skip the emergency room and just drive to Chapel Hill.

"It's not their fault, but they just don't know how to treat it," Kyle said. "One time, our doctors in Chapel Hill were on the phone with the doctors at [Asheville's Mission Hospital] trying to tell them what they should do, and that's not the easiest way to do treatment."



Charlotte, along with her brother, Carson, father, Kyle, and mother, Kelsea, have long been UNC fans, but now that she's getting treated at the school's children's hospital, they love it more than ever. Donated photo
Charlotte also requires round-the-clock care. Even though there are nurses that can come to the house as needed, one parent pretty much always has to be home. While Kyle can work from their house, Kelsea doesn't yet have the time to get a job in her chosen field of social work. Considering Charlotte has a compromised immune system, Kyle and Kelsea try to avoid situations where she may be around a lot of people, including larger family functions they'd regularly attended in the past.
Although Kyle and Kelsea's lives have revolved around Charlotte, they've had plenty of help from family and friends. Notably, Kelsea's mother, Melanie Hollifield, her grandma, Joyce McColley, and her sister, Cam Hollifield, have given up a tremendous amount of their own time to shoulder some of the caregiving burden. In addition, Kelsea's grandma has helped alleviate the financial burden by paying for their lodging on trips to Chapel Hill.
"Our families have been everything," Kelsea said. "Literally, we couldn't do this without them."

Kyle said his 11-year-old son, Carson, has also shown tremendous maturity in taking care of Charlotte and pitching in wherever he can. Although they try to let Carson enjoy the things a kid his age normally would, there's still added responsibility.
"There are some nights that we're up all night with her, and he still sets his alarm for 6:30," Kyle said. "He's out the door by 7, catches the bus and goes to school on his own. What sixth-grader does that?"

The couple still tries go on dates and see concerts as they can, and recently, some family cared for Charlotte long enough that they could enjoy a cruise. This is all because of their strong support network.
"We have great family, and we have great friends that have become family that have made us get out and be social," Kelsea said.
A small but mighty community
Steven Laffoon's son, Wylder, was born in early 2009 and diagnosed with ASMD later that year. He passed away in July 2012. Laffoon, who lives with his family in Scottsdale, Arizona, said he noticed something seemed wrong when Wylder was about 7 months old.
"I was told, 'enjoy the time you have,'" Laffoon said. "That's not an easy pill to swallow as a parent."

Laffoon began researching. Although his background is in business development, he's become an expert in ASMD, from the nitty-gritty details of the disease itself to the newest potential treatments.
"Parents are kind of forced to dig deep into the weeds and really make sure that they understand the disease and really be the number-one advocate for their kids," he said.
Shortly after their son passed away, Laffoon and his wife, Shannon, made a promise to continue working toward raising awareness and funds for research. They started a nonprofit called Wylder Nation.
"The ultimate goal is to really just improve the lives of these children primarily through advancing the science and the discovery, the development of treatment options to address the brain," he said.
Laffoon said he also quickly learned how to run a nonprofit and fundraise. He said the administration alone is enough to dominate his time, but the mission is worth it.
"I was kind of just drinking out of the faucet as it was going full speed … there's definitely growing pains on that side of things," he said.
While another organization, the National Neimann-Pick Disease Foundation, has played a huge role in making care more accessible for families by alleviating the financial burden they face, Wylder Nation focuses on raising money for research, such as the use of the experimental molecule Kyle and Kelsea have their daughter on in hopes that it can treat the neurological effects of ASMD.
"We learned so much in trying to care for Wylder that, it just would have been almost a disservice to just walk away from it," Laffoon said.

Laffoon said fundraising is tough, but he and other affected families have had success finding significant money to put toward research, especially in more populous areas. Laffoon began fundraising by first reaching out to friends and family to get things off the ground. More recently, Wylder Nation has hosted events like fundraising galas and golf tournaments.

"We've also had some very successful GoFundMe campaigns," Laffoon said.
He said that along the way, through all the tribulations that came with caring for Wylder to navigating the uncharted waters of fundraising, it's important to celebrate the "little wins."

"It's a marathon," he said. "Where I get a little bit of joy, what keeps me going, is that I feel like the dialogue upon a diagnosis has changed … I think that alone, knowing that people are doing things focused on this disease can bring just a little bit of hope, and that in and of itself is pretty powerful medicine for mom and dad."
The value of a life
There's a robust debate in the medical community about the practicality of putting significant resources toward advancing research into the treatment of ultrarare diseases. Treating Charlotte for only a year has cost about $2.2 million.
While Jalazo said it's challenging to generate interest in treatments for ultrarare diseases, considering there are more common ailments that can still benefit from extensive research, she noted that more incentives can and should be created for pharmaceutical companies to pursue compounds that can treat those ailments.
In the meantime, patient donations are critical, as is a willingness to be treated with experimental compounds.
"There's not thousands of patients to treat for these," Jalazo said.
Laffoon said that with less funding going toward ASMD research, families taking charge of their kids' treatment is crucial, regardless of what decisions they ultimately make. Because large-scale studies aren't financially backed by pharmaceutical companies, single-patient studies like Charlotte's are vital to keeping momentum.
He also noted that although ASMD and other lysosomal storage diseases affect a relatively small community, research may prove useful in the fights against other diseases, as well.
"There's association with Alzheimer's and certain mutations of this disease," Laffoon said.
Compassionate care is an ethos shared by doctors and nurses that mandates empathy for patients and prioritizing treatment that can ease pain, suffering and mental distress, no matter the prognosis. Laffoon had high praise for Jalazo, saying that not all doctors have that level of compassion when it comes to ultrarare diseases.
"There are families that don't have a champion on the clinical side like that," he said. "She understands the urgency, that even though things might not be perfect, we know what happens if we do nothing. There are a lot of doctors that don't do that."

Kyle and Kelsea understand that time is not only precious, but it's also vital to furthering the research. They want to follow Laffoon's lead and start a nonprofit in honor of their daughter that would focus on raising money for research. They are currently in the process of launching.
"We really have big hopes that maybe we can help other families down the road," Kyle said.
Courage and compassion
It can take a while for the shock to wear off after receiving the devastating news, but decisions must be made. Although a child with ASMD has no say in their care, they are the ones who endure whatever plays out.
Charlotte has no choice but to be courageous no matter what happens.

"There are other kids out there fighting this fight," Kyle said. "Charlotte's opening doors, she's changing everything for other kids, the work that she's been doing."

As much as Kyle and Kelsea feel like they're doing the right thing, it's still hard to recall the endless opportunities they once envisioned for their daughter.
"We had dreams for Charlotte before she ever took her first breath," Kelsea said. "When those things don't happen, it's a totally different level of grief."
Jalazo said she's often amazed by some of her patients' parents.

"Parents feel like they are contributing to the greater understanding of this disorder, and hopefully, helping the field take one step further so that the next family that's diagnosed has more opportunities than they did," she said. "It's a very altruistic attitude. To take that that leap of faith to try to help the community is very inspiring."

Similarly, Jalazo has worked hard and sacrificed for the advancement of vital research. She said spending a career treating children with ultrarare diseases can be "incredibly challenging," both personally and professionally. But it's also rewarding.
"I think there is a lot of hope in these disorders. Even if that hope is just providing comfort to a child who's in the later stages of disease, that's incredibly valuable," she said. "And I hope that on rare occasions a therapeutic might change the course of the disease."

While Jalazo sees value in letting children take part in research studies, she also sees other routes as equally honorable. Some parents just want to give their kids the most comfort they can while they're alive. Sometimes, their focus is providing that child with rich experiences such as traveling.
"I am happy to support families in whichever direction they want to go after this terrible diagnosis," she said.

Kyle and Kelsea said they've already seen therapeutic benefits from the treatment Charlotte is receiving. She used to scream and cry in pain, but she now appears more comfortable. They believe she's enjoying a better life than she would otherwise.
"Sometimes, she's happy and laughing, and that was not the case before," Kyle said. "Sometimes I'll be laying there with her, and she's so sweet; she'll rub my face. She's such a loving kid."

While Kyle and Kelsea are cherishing their daughter's precious moments in the face of a fatal condition, they also believe there is still time, still hope that a treatment might come along that can save her life. She's now 18 months old, and the initial prognosis indicated she wouldn't even make it that far. As long as Charlotte is alive and there's a treatment worth trying, there's hope.

"We think the treatment is doing some good already," Kyle said. "The mission hasn't changed, and that's to try to save her life."

The event to raise money for ASMD research will be held throughout the day Saturday, May 20, at Shear Glory Hair Design at 390 Jones Cove Road in Clyde. Along with featuring a community yard sale, there will also be a bake sale, a hot dog lunch, a silent auction and multiple raffles.
Kyle and Kelsea are accepting direct donations at their Givebutter site.
Anyone interested in supporting Wylder Nation can visit wyldernation.org.