Latest
Car show reminds people to slow down and move over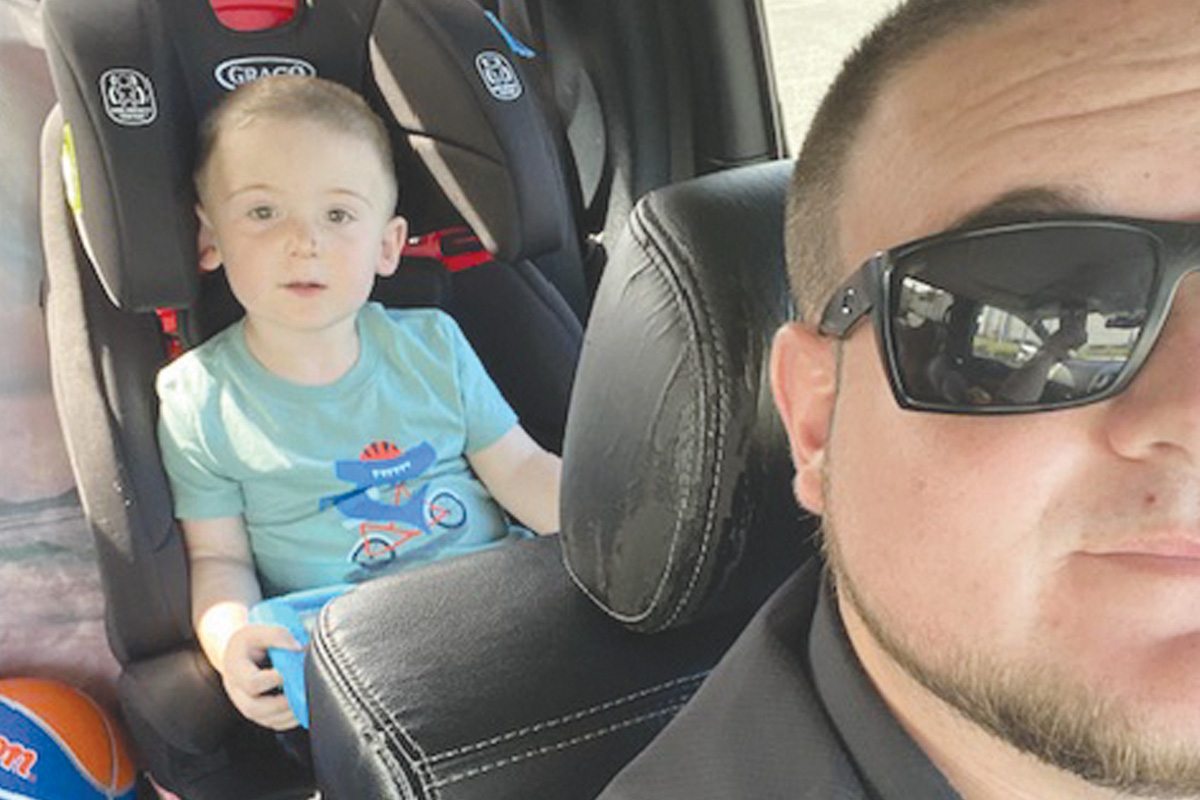 This selfie is the last known photo of Austin Gayne.
Donated photo
Following her son's death, a Haywood County mom is on a mission to get people to slow down and move over.
A first responder is struck every four-and-half days on the side of a highway in the United States. This can be due to distracted drivers, people driving too fast, intoxicated motorists or people simply being too lazy to get over. In Brooke Lawrence's case, it was her son, Austin Gayne, a wrecker driver getting ready to tow a dump truck off the side of a busy Orlando highway. In her son's memory and to raise awareness for the cause she's been reluctantly compelled to adopt, next month she will host a car show in Asheville for the second straight year.
Lawrence and her family moved to Western North Carolina in 2000, and Austin was raised in Haywood County. The whole family was involved in the community, from Boy Scouts and Girl Scouts to sports to the Voices in the Laurel choir. Austin graduated from Central Haywood High School and earned an associate's degree from Haywood Community College in 2017. Lawrence said wrecker operating had long been a family business before they moved from Florida to North Carolina, and Austin wanted to follow in those footsteps.
"He couldn't get wreckers out of his blood," she said. "He just loved the trucks."

Austin set out on his own and headed to Orlando, a good distance from the beaches from which his family moved north a couple of decades prior. But he knew people in Orlando and knew the money would be better. Once he got there, he not only drove a wrecker; he drove a large one meant for the likes of RVs and 18-wheelers. Instead of hauling 15 cars a day, he'd maybe only make five trips, but each one took more time and skill. Along the way, he met the woman who would become his girlfriend, and the couple had two children.
Lawrence said her son was a great dad.
"He just loved being a father, and that breaks my heart," she said.

On Feb. 1, 2021, the day Austin was hit, the weather in Orlando was clear and dry. He was dispatched to a straight, flat stretch of State Route 408 to tow a dump truck. There were a couple of community patrol officers and road rangers, along with lights, a signboard and road cones. The scene should have been easy to see for anyone driving by. Austin stood near the back of the wrecker with a mechanic when a 1996 Buick struck them both. While the mechanic suffered serious injuries to his leg, he avoided the worst of the impact.
"My son was thrown 30 feet up over the top of the big wrecker and came down the hood and then landed in front of the wrecker," Lawrence said. "His one boot was behind the back wheel. And his other boot was 50 feet in front of the wrecker."

The driver was sent to a hospital with minor injuries. Per Florida state law, the only way he could have been held accountable for the collision would have been if it was intentional or he was intoxicated, but his blood alcohol content will never be known since no one ever collected a blood sample. Law enforcement never took the time to get a warrant.
When Lawrence got the news, she left Western North Carolina at about noon and started driving. She arrived in Orlando around 10:30 p.m. At three in the morning, with no doctors around, no one to answer questions, she was allowed in to see her son.
"He looked like a complete mummy," she said. "All that was sticking out was his left foot."

Lawrence would be at the hospital as much as she could, from 6 a.m. until 9 p.m. every day.
Austin had numerous broken bones and severe internal injuries, including head trauma. For the next 26 days, he'd be in a coma. Late in that timeline, his brain swelling worsened, and doctors prescribed him a strong course of antibiotics, so strong that his kidneys failed, and he ultimately had a heart attack. While he survived the heart attack, his brain was without oxygen for severa l minutes.
Lawrence made the choice she dreaded, but it was the choice she knew was right. She took her son off life support.
"The doctors and the brain surgeon said he wasn't going to get any better," she said.
"It broke my heart that he couldn't tell anyone goodbye, that we didn't know if he could hear us tell him that we loved him and we were so sorry," she added.
Austin was cremated. First came his funeral in Orlando, where Lawrence said over 300 wrecker drivers — with their wreckers — showed up to pay their respects.
"All those wreckers couldn't fit in the parking lot," she said. "And the funeral was standing room only."

Austin's memory in Florida is still preserved, as that state's legislature designated that stretch of highway to his legacy, and a sign now marks it.
"I do all that stuff for his kids, because I want them to remember him," she said.
After the funeral, Austin's former employer, Johnston's Wrecker Service, drove his ashes — in the wrecker he'd operated — to Haywood County. Once they got the state line, wreckers from all over Western North Carolina were ready and waiting to bring Austin home. Just a few miles into Haywood County, at the overpass on I-40 near Exit 33, wreckers parked with their beds down, a sort of salute for one of their own. Coming around Lake Junaluska, fire trucks and rotators had flags raised, and the NCDOT had a sign board lit to read "Austin's escort." Austin's friends and family stood on the Lake Junaluska bridge and released yellow and black balloons as they held signs that said "Welcome Home Austin."

Since her son's death, Lawrence has become an outspoken advocate for the "Slow Down, Move Over" movement. North Carolina has a SDMO law, but Lawrence said too few people follow it.
Along with starting #AustinStrong SDMO awareness, a 501(c)(3) nonprofit organization, she has also gotten an impressive number of structures and bridges, from the Sunshine Bridge in Tampa Bay to Charlotte's NASCAR Hall of Fame, to light up yellow in honor of her son and in recognition of the SDMO movement.
On Feb. 26 of this year, Lawrence and folks from about 75 different towing companies, along with county commissioners, Haywood County Sheriff Bill Wilke and firefighters from multiple departments, sat along Service Road in Canton beside the interstate with their emergency lights on for about 30 minutes to remind people to slow down and move over. Lawrence said it's tough to put so much time and effort toward the cause, but she also can't imagine anything else.
"You have to put that energy somewhere," she said.
Next month, for the second year in a row, Lawrence is hosting a car show at the Asheville Outlet malls to raise awareness for SDMO. She said last year's event was a hit, with 50 cars showing up from all over the region and even as far away as New Hampshire. This year, there will be a DJ, cloggers, face painting and food trucks, and Lawrence said it will be attended by representatives from multiple fire departments, the North Carolina Highway Patrol, Asheville Police Department and Sheriff Wilke.

When asked what she'd want to tell readers, Lawrence offered a simple message.
"People just don't have any idea how many lives are affected by a one-second distraction," she said. "Please pay attention when driving, and slow down and move over for flashing lights."

The car show at the Asheville Outlets will kick off at noon on Saturday, June 3.
Leave a comment
1

comment
Thank you, Kyle, for such a moving tribute!

Thursday, 05/11/2023