Latest
Remembering the stolen: Gathering honors those lost to missing and murdered indigenous women epidemic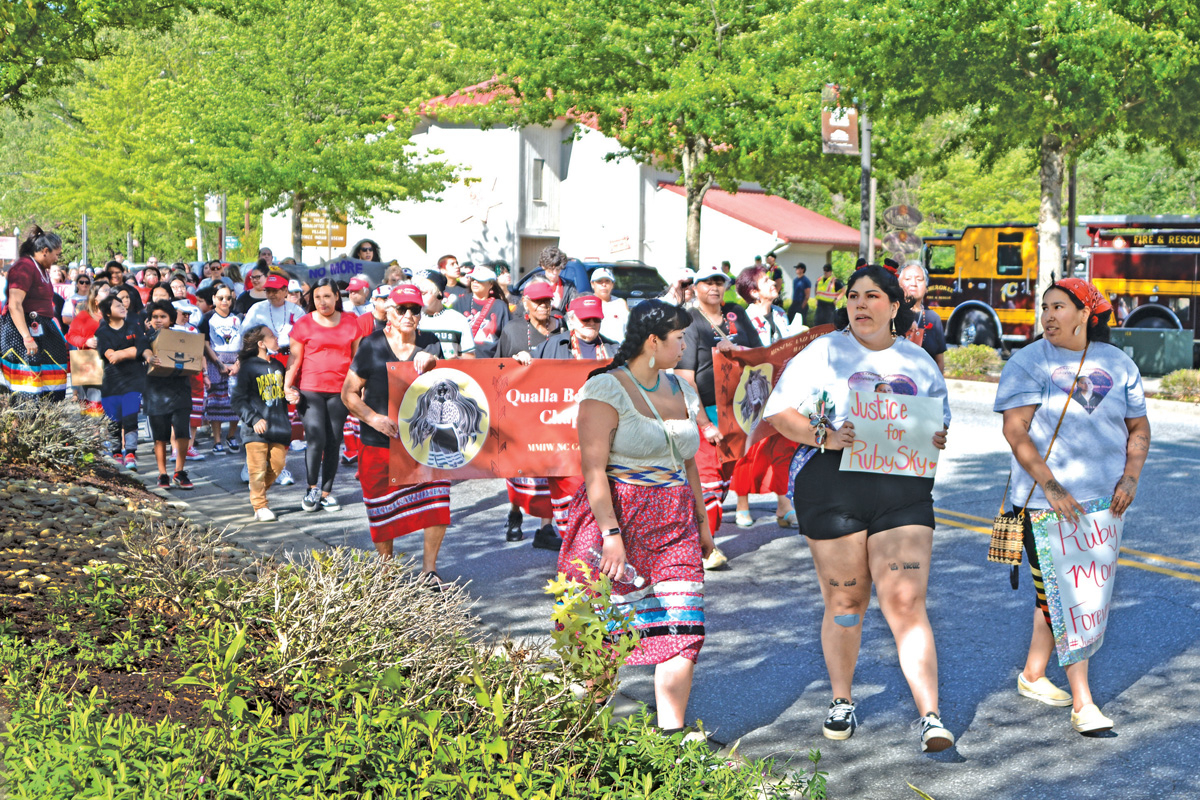 Tribal members march down Tsali Blvd. in Cherokee in honor of the National Day of Awareness for Missing and Murdered Indigenous Women. Holly Kays photo
The fourth annual Missing and Murdered Indigenous Relative Walk and Vigil held in Cherokee Friday, May 5, aimed to do more than raise awareness for the ongoing epidemic of violence against indigenous people , especially women and girls — it was a call to action.
"This day created for awareness also creates a fire for action," Marsha Jackson, Eastern Band of Cherokee Indians Domestic Violence Program Manager, told the crowd gathered in front of the Tribal Council House. "A call for action from our community to not rest. The healing has begun and the answers that we need to move forward are made available. That is a segue way for our community to not allow any new cases to ever happen again."
Change starts when individuals begin to participate and demand a safe community, she said, and continues as that mantle is taken up by tribal nations across the world.
In Native American communities across the country, violence is a fact of life. According to a 2016 National Institute of Justice Research Report, more than four in five Native American women have experienced violence in their lifetime, over half have experienced sexual violence and the majority have been victims of physical violence at the hands of intimate partners. Native women are 1.7 times more likely than White women to have experienced violence in the past year. In some counties, they face murder rates more than 10 times the national average.
Many factors contribute — generational trauma fueling unhealthy behaviors that culminate in violence and abuse, a culture of silence among victims and witnesses, and monumental challenges in prosecuting cases involving a Native victim and a non-Native perpetrator.
Tribes are making headway against these challenges. Since 2017, May 5 has been recognized as a National Day of Awareness for Missing and Murdered Indigenous Women and Girls, bringing increased visibility to the issues and encouraging tribal members to stand up against abuse when they see it. Meanwhile, provisions in the 2013 and 2022 renewals of the federal Violence Against Women Act have increased tribes' authority to prosecute non-enrolled people who perpetrate violence on tribal members.
But that's far from enough to solve the problem.
"This crisis is rooted in racism and poverty and historical trauma," said Principal Chief Richard Sneed. "But it is also directly related to a tribe's inability to properly investigate and prosecute these crimes when they're committed by non-Indians against Indians. Advocates like each and every one of you here today, along with activists from around the country, have been calling for action to address this crisis, including better data collection, increased resources for law enforcement and improved support services for indigenous women and girls."
The walk, organized by the Qualla Boundary Chapter of the MMIW N.C. Coalition, began at the Museum of the Cherokee Indian, and from there the crowd, mostly dressed in symbolic red and carrying signs honoring their loved ones, walked toward the Tribal Council House. At even intervals on the fence encircling the fairgrounds between the two buildings hung wooden, red-painted signs, each bearing the name of a woman or girl on the list. As the walk's leaders approached each sign, they stopped, called out the name, and waited for the crowd to follow suit.
Last year, the event honored the names of 31 missing and murdered indigenous women and girls. This year, that list holds 36 names. Two men — Kobe Toineeta and Robert Clayton Calhoun — were honored May 5 as well.
Another name will also be added — that of 16-year-old Ruby Sky Montelongo, who lived in Covelo, California. According to local news coverage , her uncle found her body April 15 in an empty field after she failed to return home that night. A 15-year-old girl has been arrested in connection with the death.
Ruby Sky Montelongo's cousin Lou Montelongo tearfully told her story from the Council House steps. Violence runs rampant in Covelo, Lou Montelongo said — in the community of 1,500 people, her cousin's murder wasn't the first to happen even within the month.
"Just being there and seeing it, it made me realize so much of the violence that we face oftentimes comes from one another, because of the pain that we feel and the anger that we feel, when in reality, we're not mad at each other," Lou Montelongo said. "We're just mad at the circumstances of our lives that led us here."
Those left behind continue to bear that pain — the pain not only of their loved one's absence, but of its impact on others.
"She was taken way too soon, her and a little 5-year-old child, which was my other grandchild," said Myra Calhoun, who is raising three grandchildren after her daughter Jessica "Jet" Calhoun and granddaughter Ah-Yo-Ka Calhoun died in a car crash in 2021. "I'm just trying to make it day by day, doing the best I can to raise her three children that she left behind. This was an unnecessary act. It should have never happened."
Despite the palpable pain at the gathering, there was hope as well.
"There's no limit to what we can accomplish when we become organized, commit to community education, work together and take care of each other. That is gadugi," said Atsei Cooper, assistant registrar for the Museum of the Cherokee Indian, referring to a Cherokee word meaning "working together."
We Are Resilient , a podcast started by three Cherokee women in 2021 to tell the stories of indigenous women lost to violence, also recognized the Day of Awareness with a call to action. In a mini episode retelling the story of Marie Pheasant Walkingstick, whose body was found in a burned-out vehicle in 2013, the hosts asked listeners to consider writing a letter to the Federal Bureau of Investigation, demanding renewed focus on Walkingstick's case. The Cherokee Indian Police Department is offering a $50,000 reward for information leading to the arrest and conviction of Walkingstick's killer. In a 2022 interview, then-Police Chief Josh Taylor said he believed there are people in the community who know who is responsible but are choosing to stay silent.
But even killers who never face prosecution still bear consequences, said a woman who introduced herself to the crowd as Janice and said her sister was murdered 23 years ago. People who commit violence against others have to live with themselves, and with the knowledge of what they've done. Meanwhile, those left behind have to go on living without their loved ones there beside them.
"As time goes on, it's lighter, but the weight never leaves," she said. "So I came here today to console and to be consoled with all of you. But we cannot hold the anger. And we cannot keep holding on to the grief. We've got to step back into life, and to live fully. They would want us to."