Latest
Sylva considers sponsoring pride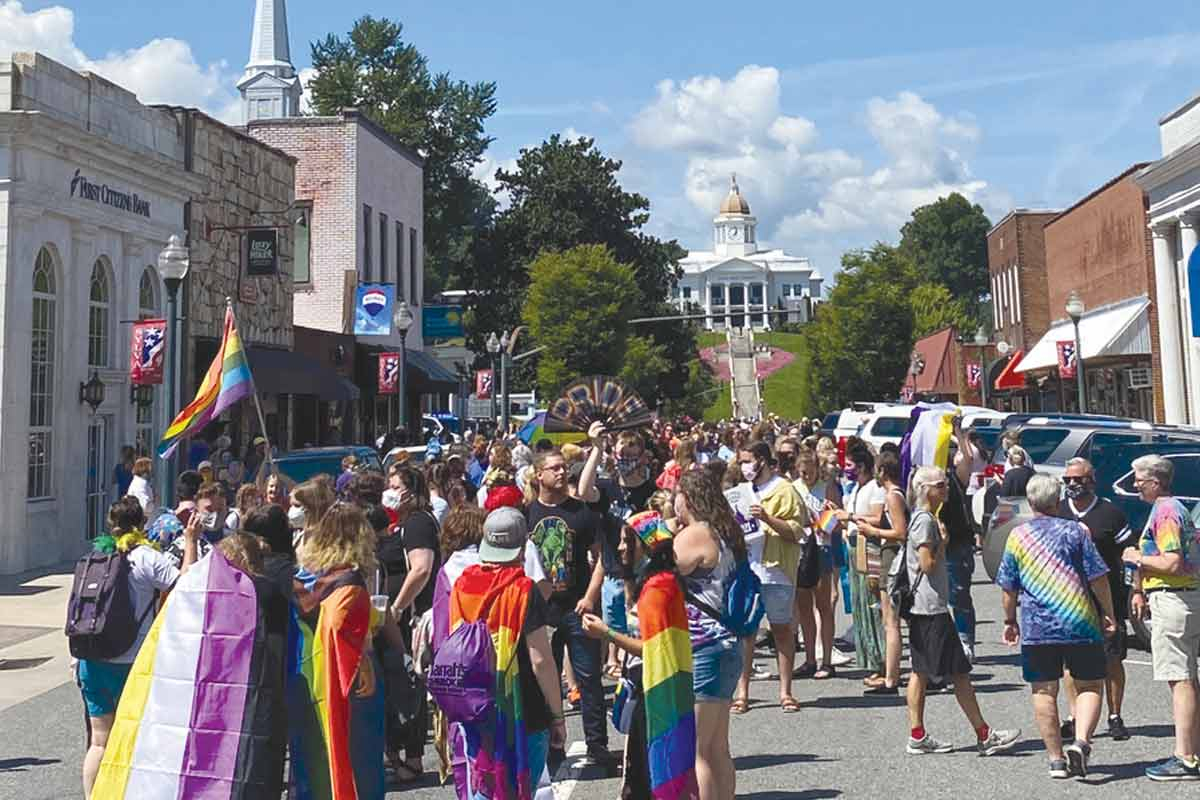 Pride Parade participants march down Main Street during the inaugural Sylva Pride Parade.
Hannah McLeod photo
The Town of Sylva has decided that only town-sponsored events can warrant closing Main Street. Now, the town board will consider folding Sylva Pride into its list of sponsored events.
Each year the Town of Sylva is home to countless community events and festivals. Some of those, like the Christmas Parade and Greening Up the Mountains, involve closing Main Street to traffic. Facilitating and maintaining that closure uses a lot of town resources. It's all hands on deck for administration, public works and police, and can often involve overtime pay for hourly employees.
According to Town Manager Paige Dowling, during the most recent Greening Up the Mountains Festival, which took place April 22, town employees started showing up around 3:30 a.m. and left at 7 p.m. that evening.
"We're trying to get away from closing the road. Town-sponsored events like the Christmas Parade and Greening Up the Mountains, we'll still shut the road down for," said Dowling. "Because of the business disruption, staff time and safety, we've tried to start keeping everything at Bridge Park."

Town staff started working on special event changes in September 2022 because of increasignly large events being held at Bridge Park and requests for street closures along with 5K races. Larger events increase the need for resources and staff realized it needed to work to make these events safer.
During the April 27 board meeting, Commissioner Ben Guiney brought up the question of whether the town should sponsor the annual pride event.
"If the town wants to decide to sponsor another event, it can," said Dowling.
While staff can approve events that require renting Bridge Park, the town board will consider a temporary two-block closure required for the parade.
"Having a two-block march would involve staff time for planning, coordination and overtime the day of the event, but a total road closure where we clear the street would use all our resources for a day like the Christmas Parade," said Dowling.
Sylva Pride held its first annual Pride Parade in 2021. In previous years the event has included a festival at Bridge Park with vendors, crafts, speakers, music and a family-friendly drag show, in addition to a parade. The parade loops from Mill Street up to and down Main Street and back around to Bridge Park. If the town chooses not to sponsor the event, Sylva Pride would not be able to close Main and Mill streets for a parade but could still host the Bridge Park portion of the event.
While pride parades are commonplace among cities across the United States, Sylva is unique among small towns in Western North Carolina in hosting a pride event.
"I'd like to put that on the agenda to have pride be a town sponsored event and therefore looking into what it takes to get the road closed and all that," said Guiney during the April 27 Sylva board meeting.
The board will consider sponsoring pride during its May 11 board meeting.
Leave a comment
4

comments
The goal is to turn Sylva into a mini Asheville, and we all know what has become of Asheville lately.

Friday, 05/05/2023

The whole family enjoys pride. Even grandma.

Friday, 05/05/2023

I thank as Christian that we should not incorge this type of parade for you can not say it's like a Christmas parade. God made Aden and Eve

Wednesday, 05/03/2023

As long as Sylva knows that doing this, it's gonna have to be ride-or-die against the state legislation we all know is coming now that the Republicans successfully bought a Dem and overthrew our state.

Wednesday, 05/03/2023