Latest
Commissioner's tax troubles go deeper than previously reported
Wednesday, April 26, 2023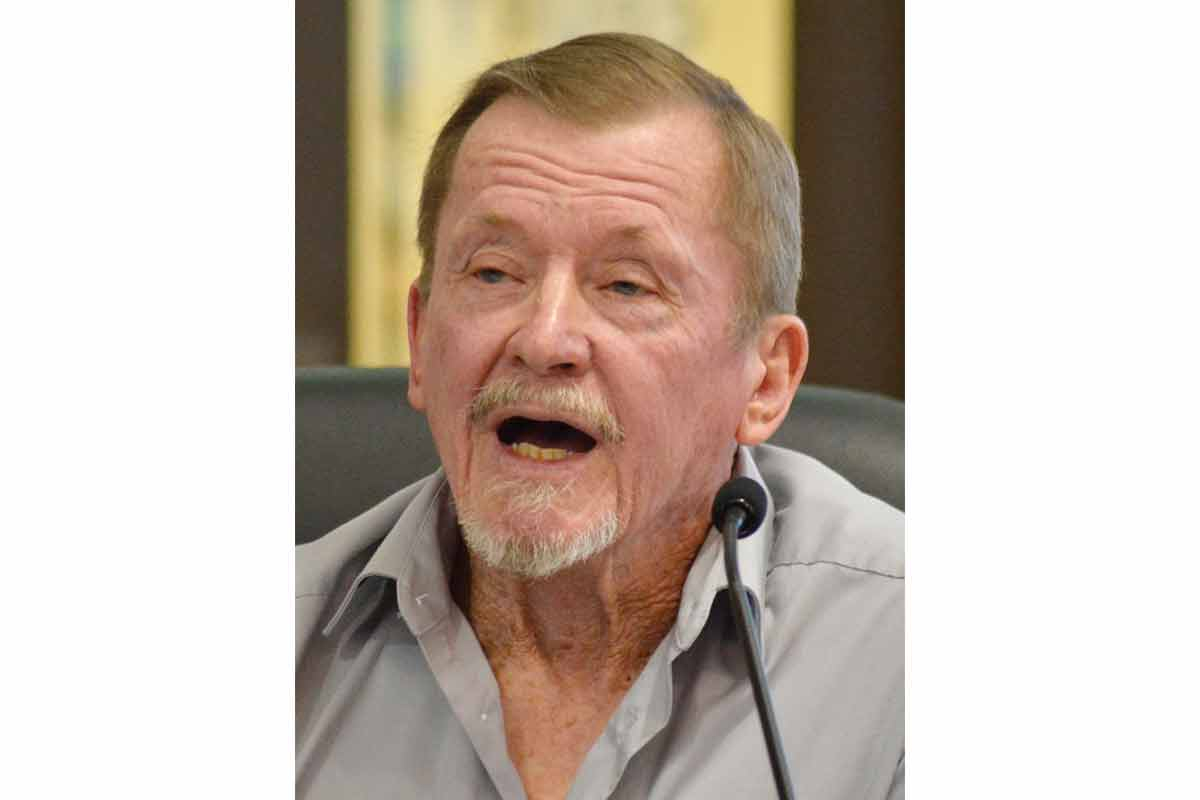 Haywood Commissioner Terry Ramey has voted to spend millions in taxpayer money despite being delinquent on his own taxes.
Cory Vaillancourt photo
New details from the Haywood County Tax Collector's office show that Haywood Republican Commissioner Terry Ramey, who until recently hadn't paid his property taxes since 2012, also failed to pay property taxes for at least five years before that, resulting in nearly $1,600 in taxes being deemed uncollectible.
Back in 2022, Ramey, who'd lost in three prior bids for a Haywood County Commission seat, mounted yet another campaign. The Smoky Mountain News reported in September that Ramey, along with his company, Ram Dog Enterprises LLC, owed $2,906 in taxes dating back to 2012.
When confronted with the information, Ramey threatened The Smoky Mountain News multiple times for reporting on his delinquencies but also said he'd pay the bills if they were valid.
After a review by the tax collector and tax assessor, the bills were deemed valid.
In a Jan. 17, 2023, meeting of the Haywood County Board of Commissioners, Ramey made false claims to commissioners and to the public, saying he had set up a payment plan back in September.
Tax Collector Sebastian Cothran said no such payment plan existed, but Cothran did provide a payment plan signed by Ramey more than a week after he won the last spot on the commission on Nov. 8.
Ramey refused to answer questions from The Smoky Mountain News about his delinquent taxes, including why he'd never paid them and whether he would have set up a payment plan if he'd lost his race for a fourth time.
Around that time and at the request of The Smoky Mountain News, the other four Haywood commissioners — all Republicans — weighed in on the situation with a joint statement, saying that Ramey should pay his taxes and stop threatening the media.
During that same Jan. 17 meeting, Ramey said that all of his taxes were "paid up to zero," but that wasn't true. At that very moment, Ramey still owed $2,122.84.
Because of the November payment plan signed by Ramey, Cothran said that Ramey was in "good standing" with the tax collector's office and that garnishment action wouldn't be pursued, but Cothran also said that per statute, Ramey was still considered delinquent.
Ramey remains delinquent and still owes more than $1,240. If he continues to make timely payments, he should truly be "paid up to zero" by July or August and will no longer be considered delinquent once that happens.
While it appears that the county will likely recoup all of Ramey's past-due taxes dating back to 2013, an investigation by The Smoky Mountain News determined that the county may not be as fortunate with Ramey's prior delinquencies.
In North Carolina, counties or municipalities cannot maintain an "action or procedure" to collect back taxes "unless the action or procedure is instituted within 10 years from the date the taxes become due," according to the governing statute.
According to documents provided by Cothran, between 2019 and 2023 Ramey ran out the clock on nearly $1,600 in taxes he failed to pay from 2008 through 2012 — money owed to the county that now can never be subject to collection action.
"The county's gonna get their money. I'm not trying to beat the county out of their money," Ramey said in the Jan. 17 commission meeting.
Two days later, the county wrote off Ramey's 2012 tax bill, in the amount of $451.01, even though he'd signed a payment agreement stating he would pay it.
That was the last of Ramey's 10-year delinquencies to be written off, but in 2022, three bills from 2011 totaling $470.28 were dismissed. In 2021, the county wrote off one bill for $393.76. In 2020, it was one bill from 2009 for $222.62. In 2019, it was two bills from 2008 totaling $60.97.
All told, Ramey stiffed the county on nearly $1,598.64 in taxes, dating back to 2008.
The county's accounting system only goes back to 2005 in most cases, according to Cothran, who said that he couldn't find evidence that Ramey owed anything prior to 2008.
Even though Ramey dodged nearly $1,600 in tax payments, Cothran did say that the county can still accept his payments towards the debt.
"While it is written off, we can still accept payment for it, we just take it off of our system as there is no enforcement we can do, since the statute of limitations has expired," he said.
Ramey did not respond to a request for comment on this story, including whether he'd begin making payments towards the $1,600 in write-offs.
Leave a comment
4

comments
Subject: Special Noticed County Commission Meeting at the Buttered Biscuit.
Amy Stevens, Haywood County Commissioner Clerk, will be noticing a special county commissioner
meeting at the Buttered Biscuit, to be held on May 11, 2023. The notice is expected to be released next
week. This doesn't happen too often, in fact I don't remember it ever happening. This meeting will out of
the norm, as the meeting will be run by the Concerned Citizens of Haywood County, not Kevin
"Adjudication" Ensley. What's going on?

http://www.haywoodtp.net/pubII/230430SpecialNoticedCommissionerMeeting.pdf

Monday, 05/01/2023

This article doesn't mention what actions the county took to try to collect the delinquent taxes prior to them becoming uncollectible. It looks to me as if the county is also at fault here and they should be held accountable with an explanation.

Friday, 04/28/2023