Archived News
Waynesville ups affordable housing incentives for nonprofit developer
Wednesday, April 05, 2023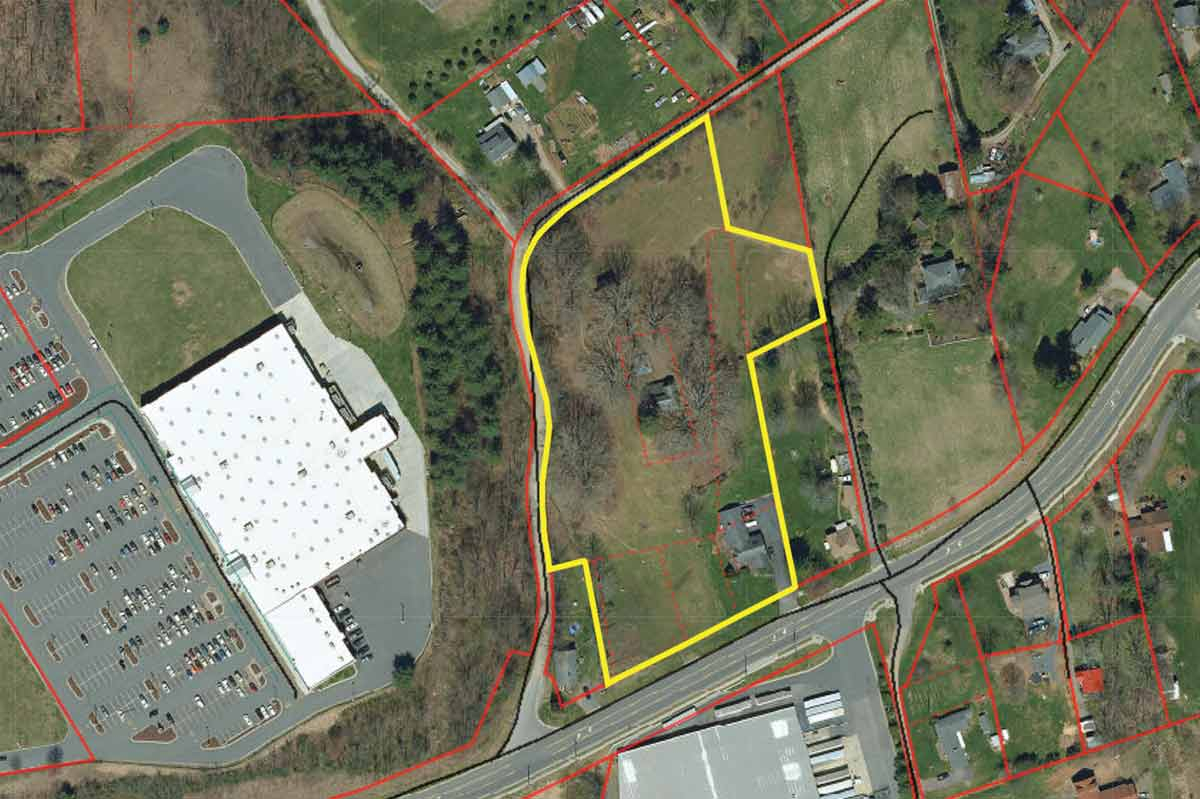 Balsam Edge will be located directly behind the Ingles on Russ Avenue in Waynesville.
Haywood County GIS photo
Continuing to make bold steps in addressing Haywood County's affordable housing crisis, the Town of Waynesville Board of Aldermen voted March 26 to increase the amount of incentives it will provide for an 84-unit development off Howell Mill Road.
In April 2021, right in the midst of the Coronavirus Pandemic, Mountain Housing Opportunities requested just over $306,000 in incentives for a proposed 5.3-acre development called Balsam Edge.
Aldermen agreed, to the tune of $167,000, after taking into consideration the amount of in-kind services the town would provide.
For 35 years, the private nonprofit MHO has been a major player in regional affordable housing, with more than 1,100 units under its control in four western counties, including Haywood.
The $14 million Balsam Edge development will consist of one-, two- and three-bedroom energy-efficient units, some ADA compliant. Rents will be based on tenant income.
In accordance with the town's affordable housing policy, incentives were approved at that time with leasing projected to begin by summer 2023. But of course, a lot's happened since then.
Inflation, especially in the construction industry, has made a mess of capital project, and tax credits applied for by MHO in 2021 didn't materialize as expected.
Now that they have, MHO still must contend with higher pricing for materials, some on the order of 20% or more.
The parcel was annexed into town limits on Feb. 14, but still needs sewer and water service.
On Jan. 27, MHO asked the town of Waynesville to reconsider the original $167,000 incentive, and requested $306,750 during a Feb. 14 meeting.
The town called for a public hearing on March 28, where it approved $284,000.
Per an agreement reached with MHO, the town will connect an 8-inch sewer line to the existing main, extending that to the North Carolina Department of Transportation right-of-way on Howell Mill Road.
MHO will be responsible for boring under Howell Mill Road, where the town will then extend the 8-inch line to the edge of MHO's parcel. There, MHO will extend the line through the development.
The $284,000 isn't exactly a cash handout to developers. For the in-kind sewer connection services, the town's general fund will reimburse the sewer fund $184,000. The other $100,000 in incentives, which will cover system development fees, will come from the general fund and be split between the water fund and the sewer fund, according to Finance Director Misty Hagood.
Only one person, John Nowakowski, spoke during public comment and during the public hearing.
"I think the town is out of control in giving our money to developers," Nowakowski said, adding that Waynesville's taxes are some of the highest in the state.
Nowakowski's assertion is false. According to the North Carolina Department of Revenue, Waynesville's current ad valorem tax rate isn't even in the top half of municipal tax rates.
At 43.92 cents per $100 assessed property value, Waynesville ranks 305th out of 710 North Carolina municipalities.
Enfield, the oldest incorporated municipality in Halifax County, has the state's highest rate at 92.7 cents, while Wesley Chapel, a village in Union County, has a rate of just 1.29 cents. A full 57.04% of North Carolina municipalities have tax rates higher than Waynesville does.
Leave a comment
1

comment
We desperately need more affordable housing in this town and in this county. Having this particular site so close to grocery and other stores is a plus particularly for those who don't have cars. The tax incentives make sense. I am a retired bank lender to builders and developers in Florida and tax credits were common as were other incentives. Some municipalities even donated or greatly reduced land for low income housing. Not everyone has the income for the ridiculously high rental rates in the current environment. This project will serve a great need for many of our citizens.

Saturday, 04/08/2023