Archived News
Without tuition reimbursement amendment, Pless won't vote for Senate's Medicaid expansion bill
Wednesday, March 22, 2023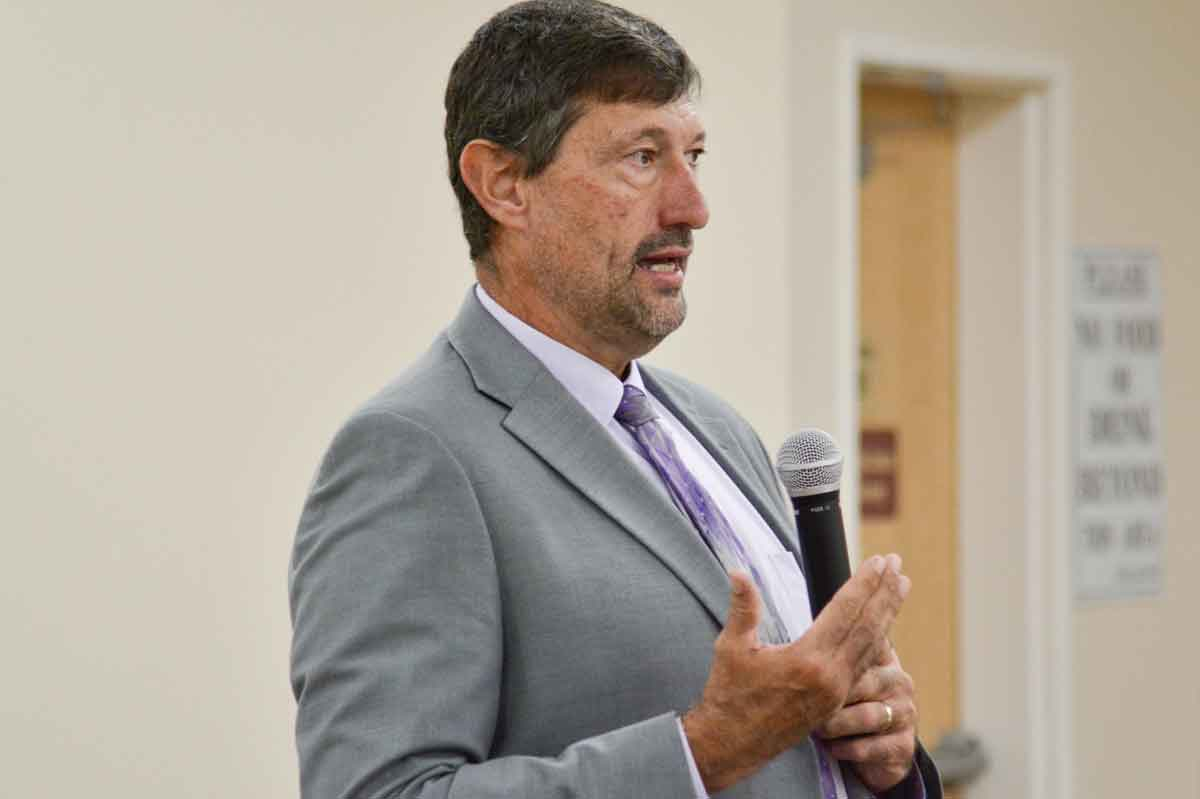 Rep. Mark Pless (R-Haywood) remains adamant that rural areas need more medical care providers. Cory Vaillancourt photo
The North Carolina General Assembly is one step closer to approving Medicaid expansion after the bill passed out of the Senate on March 15, but a popular amendment seen as a necessary addition by a Haywood County legislator — and every other member of the House — didn't make the cut in the Senate.
"I'm not sure why they did that, but it puts me in a place of not voting for it," said Mark Pless (R-Haywood), author of the tuition reimbursement amendment.
In 2010, Medicaid expansion became mandatory for states upon enactment of President Barack Obama's Affordable Care Act, but the "mandatory" provision was struck down in 2012. Two years later, nearly half of all U.S. states had opted in, but North Carolina wasn't one of them.
At the time, the reasoning was that since the federal government had offered to pay for the expansion population indefinitely, changes to that offer could leave states on the hook for the tab. But that hasn't happened over the last decade, during both Democratic and Republican presidencies, and Democratic and Republican control of the U.S. House and Senate.
In 2022, the North Carolina Senate passed its expansion bill but encountered stiff resistance on the House side. This year, things worked out in reverse; the House took the lead on the bill, and passed it by a vote of 92-22.
The version that the House passed would allow for Medicaid coverage to begin on Jan. 1, 2024 for people aged 18-64 earning 133% or less of the federal poverty level, which means that individuals making up to $18,553.50 would be eligible for enrollment starting Dec. 1.
The bill also has a quit clause, whereby the expansion will be discontinued if the federal funding drops.
Pless has repeatedly stated that he's concerned about a shortage of medical care providers in the state, especially in rural areas. If patients can't get in to see physicians, he explained, then Medicaid expansion isn't really much of an expansion.
"There's a lot of places that we need physicians, we need nurses, in these," Pless said on the House floor on Feb. 15 in support of his tuition reimbursement amendment.
As proposed, Pless' amendment would have appropriated $14 million in one-time funding towards loan repayment for doctors and nurses who commit to working in rural counties across the state.
A preliminary study estimated the $14 million would probably help around 200 people, with those earning doctorates in medicine or nursing eligible for $28,000 each year and nursing students eligible for $20,000 with a master's degree, $14,000 with a bachelor's degree and $6,000 with an associate's degree.
Pless' amendment passed by a measure of 119-0.
When the bill came back from the Senate on March 15 — it ultimately passed 44-2 — Pless' amendment had been stripped from the bill. Now, it's been sent back to the House, but Pless isn't done fighting.
"We have two options," Pless said. "It can go into rules committee and we can try to change it there and send it back to the Senate, or it can go into a conference committee."
That bicameral committee would meet and try to hammer out changes acceptable to both chambers. Pless said he'd request to be part of the committee.
Sen. Kevin Corbin (R-Franklin) said that Pless' amendment was taken out of the Senate version so it wouldn't become an appropriations bill.
"An appropriations bill would have to go through the appropriations process, which is a lot more cumbersome and takes more time," Corbin said, noting that there was no real opposition to Pless' amendment.
Instead, Corbin said, the provisions of Pless' amendment should end up in the House budget, meaning the money would still be appropriated and the tuition reimbursement program could move forward. Corbin also said he'd advocate for just such an inclusion.
Pless, alluding to the sometimes-transient nature of budget requests, isn't satisfied. He said that if the budget comes before the Medicaid vote and he can confirm that the budget includes tuition reimbursement, he'd be happy with that.
Until then, he's still a no, because if it's not in the bill that ends up getting passed and then it's revealed that it's also not in the budget, he's out of luck.
Other western legislators who supported Pless' amendment aren't quite ready to put the brakes on Medicaid expansion just because the tuition reimbursement amendment didn't make the cut.
"I did vote for the amendment, but it's not a deal-breaker for me for Medicaid expansion," said Lindsey Prather (D-Buncombe). "I think there's enough of an appetite for supporting healthcare services in rural areas to accomplish that separately. We need to expand Medicaid ASAP."
Prather's fellow Buncombe Democrat, Rep. Caleb Rudow, said he wasn't willing to throw the baby out with the bathwater.
"Even though that $14 million would be great to have, this is what we have to do all the time — balance the needs of the community and see the greater good," Rudow said. "Medicaid expansion will help a lot of people and save a lot of lives."
Rep. Eric Ager, who represents the eastern part of Buncombe County, said he's willing to pursue standalone legislation that might revive the idea of tuition reimbursement.
"I'm planning to vote for HB76 despite the fact that Rep. Pless' amendment was stripped in the Senate," Ager said. "It's important that we get this done. I am hopeful that we can pass separate legislation that will allow for a program to forgive loans for doctors and nurses that practice in rural areas."
Leave a comment
2

comments
Passing the expansion will go a long way toward attracting medical professionals because they will have a greater chance of earning a decent living in the rural communities. Holding up this legislation to add an item that, because it requires appropriation (more political wrangling wit no guarantees), is to me, a sneaky way of making sure NC citizens get nothing.

Wednesday, 03/22/2023

I am curious about the math cited in the article. ".. $14 million would probably help around 200 people." A real quick pass at the math comes to $70,00 per person. However, the eligibility information does not support that valuation. It states "... doctorates in medicine or nursing eligible for $28,000 each year and nursing students eligible for $20,000 with a master's degree, $14,000 with a bachelor's degree and $6,000 with an associate's degree." A huge disparity between the average of 200 people served at $70,000 and the numbers cited for doctors and nurses.

Can someone please fill in the blanks?

Wednesday, 03/22/2023