Archived News
Waynesville cemetery committee 
will address parking issues
Wednesday, February 01, 2023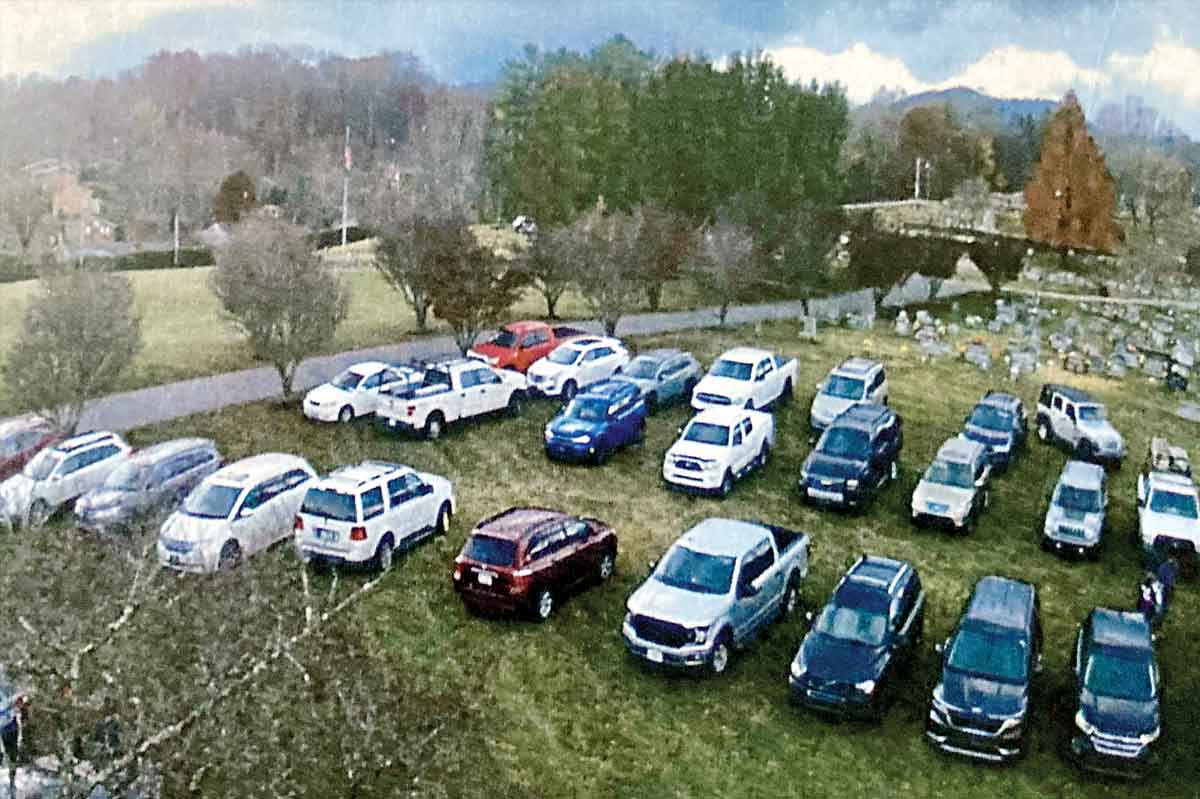 Dozens of cars sit on the grass at Green Hill Cemetery last Halloween. Town of Waynesville photo
Haywood County residents have always been very protective — and particular — about Waynesville's historic Green Hill Cemetery, but at least one member of the Waynesville Cemetery Committee is looking to head off disaster before it becomes another public relations nightmare.
"Personally, I just think it's disgraceful to be parking on the cemetery grass," said Lisa Kay Cook, a member of the Cemetery Committee since last August.
The cemetery committee was established as an advisory board in February, 2020 after a 2018 Board of Aldermen meeting during which relatives of those buried in the cemetery offered extensive and emotional criticism of a routine cleanup.
Although the cleanup was scheduled and announced as normal, some said they were taken by surprise when flowers, lights and other mementoes were cleared from graves and unceremoniously heaped in a pile on cemetery grounds.
Others complained about visitors acting disrespectfully during cemetery tours.
A policy revamp followed in 2020, and little criticism of cemetery operations has surfaced since then.
During the last meeting of the cemetery committee, on Jan. 17, Asset Services Manager Julie Grasty presented the committee with security camera footage from last Halloween showing dozens of cars parked in the grass off Shelton Street. There are no burial plots there now, but it's still part of the cemetery and only yards from some gravesites.
Cook calls herself a "tombstone tourist," and said she loves the history of old cemeteries.
In the National Register-listed Green Hill, there's much to love, including the final resting places of Revolutionary War hero James Robert Love, Cherokee Chief William Holland Thomas, former Marine Corps Commandant Carl Mundy, JFK assassination chauffer William Greer, Hollywood actor Gig Young, Pulitzer Prize winner Caroline Miller and generations upon generations of Haywood County residents.
Cook, who is a death doula and has worked in the funerary industry, said she thinks she knows why people park there on Halloween.
"It's just a great, fantastic neighborhood to trick-or-treat," she said. "They're parking and walking their kids to trick or treat. They treat it like driveways and just park all the way down, like a festival."
Workers told Cook there was no damage but added that, if it was rainy or muddy, that might not have been the case.
Cook also said she's aware of reports that people park in the same spot on Thanksgiving, possibly to visit the Haywood Lodge & Retirement Center across the street.
An email sent to the facility by The Smoky Mountain News garnered no response.
The cemetery committee meets quarterly, with the next meeting coming on March 21. In the meantime, Cook said, she's looking for input from the public that would lead to a solution that might balance the desire for parking with the respect the cemetery grounds deserve.
"I think we need to be open to whatever and see what the public thinks about it, what the community thinks, how it can be solved," she said.
Ultimately, it would be up to aldermen to make decisions on the issue, after the Cemetery Committee makes a non-binding recommendation to the board. Cook said the Cemetery Committee is on the town's agenda for a forthcoming July meeting.
"I think we have a couple of options," Cook said. "One would be dealing with public works, so that would be maybe roping it off. Then, we'd have to go talk with the police and we would have to pay somebody off duty, probably need two officers in there. I don't think anybody wants that."
Alderman Jon Feichter was one of the most vocal board members during the 2018 dust-up over cemetery conditions and policies. When reached for comment, he said he wasn't aware of the parking issue, but he did say it was concerning.
"Before I could make any kind of informed comment it would be helpful to know more, but just at first blush, I don't think parking on the grass at the cemetery is a good idea or acceptable," he told SMN on Jan. 28.
Cook says she'd encourage people to reach out to members of the cemetery committee with their thoughts on the issue.
"At this time, we're just looking for input on how to solve this issue in the best interest of the community," she said.
Comments can be directed to Grasty, the town staff member assigned to the board. Email Grasty at This email address is being protected from spambots. You need JavaScript enabled to view it. or call 828.456.3706.
Leave a comment
1

comment
It is a shame what has happened to "our" cemetery and what is being allowed. This property was donated for the burring of loved ones. It was not donated for a tourist attraction or for a place to be disrespected. This property has been abused by many and is shameful. The "dust-up" was more than that, it was raped by the Town of Waynesville by removing loved one's property. Items were tossed behind a small building like trash.
Many items had been placed there by loved ones no longer with us. The town lied about the "clean-up" to begin with and was caught, that is what truthfully happened. A Green Hill Cemetery Committee was formed by property/Deeded owners and loved ones. The town wishes to once again take control and use a hitler tactic against those that hold deeds to this property. Even when the town formed it's own committee and an ordinances were presented to the Board member's of the committee changed it to suit the town. One December loved ones placed small solar light throughout the cemetery. The solar lights were placed close to the headstones not to be in the way of maintenance. The town and ones wishing to rule over the cemetery changed the ordinance and now these small lights are not allowed unless you have written permission by the deeded owner.....hello it is hard to get permission from those that have passed on. The cemetery during Christmas was a beautiful sight to see by most. It was once again an act by those wishing to control this donated property. Another example of the town looking down on the deeded owners and their loved ones. I understand that there needs to be a ordinance by to restrict in the manner they continue to display is nothing but shameful. Under chapter 13, Code of Ordinances they only one enforced is what you can place on loved one's graves, with the exceptions of some allowed to do as they wish. There are violations in which have been pointed out to those wanting control but allowed for the chosen ones. It is sad that they can not allow our loved ones rest in peace.

Wednesday, 02/08/2023