Latest
Mainspring signs agreement in dam removal effort
Wednesday, November 23, 2022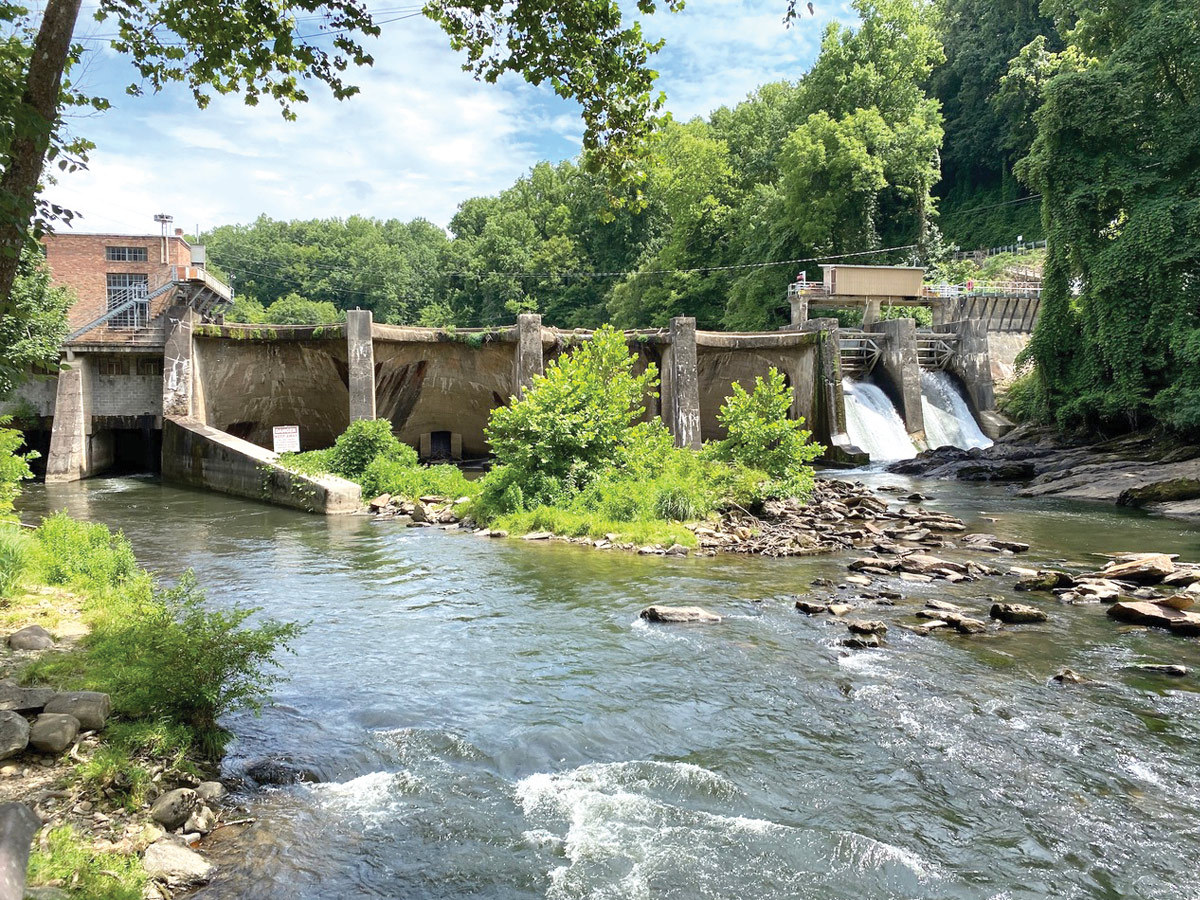 Put into service in 1925, Ela Dam is now the subject of a dam removal effort led by the Eastern Band of Cherokee Indians. Erin Singer McCombs photo
After months of discussion and deliberation, Mainspring Conservation Trust and Northbrook Carolina Hydro II have signed an agreement allowing Mainspring to purchase the aging Ela Dam in Swain County — paving the way for dam removal efforts to progress.
In use since 1925, the dam is small, old and produces very little energy. Discussions about removing it began last year when Northbrook Power Management inadvertently released a massive amount of sediment that blanketed the downstream river, severely impacting aquatic communities living there. Afterward, Eastern Band of Cherokee Indians Secretary of Agriculture and Natural Resources Joey Owle approached Northbrook Carolina Hydro II about removing the dam. Northbrook proved willing to explore that option.
Owle spearheaded creation of a coalition to pursue dam removal, with Tribal Council unanimously approving a resolution to have the tribe lead removal efforts. The coalition had envisioned the EBCI as the end owner for the dam property, but when legislation seeking approval for that role came before the body in June, five of the 12 members voted against it and one walked out prior to the vote. The vote failed, and the entire project was in jeopardy. If removal efforts were to continue, Northbrook needed to start the process of transferring the property to a third party, and soon.
Now, Mainspring will be that third party. The agreement it signed with Northbrook provides Mainspring or its assign the option to buy the entire dam structure, lands and property for a nominal value — if available funding makes removal feasible and if regulatory agencies like the Federal Energy Regulatory Commission approve the action. The option expires in April.
Mainspring Executive Director Jordan Smith said that each of the partners in the EBCI-led coalition have been critical to success. Coalition members also include American Rivers, the N.C. Wildlife Resources Commission, U.S. Fish and Wildlife Service, Southern Environmental Law Center and others.
"As a land trust, we are used to owning assets," Smith said. "American Rivers brings their expertise in managing dam removals while the N.C. Wildlife Resources Commission and U.S. Fish and Wildlife Service have supported the initiative from day one, identifying and providing funding and prioritizing this project within their offices. And without the leadership from the EBCI and Northbrook's willingness to essentially contribute the property to the effort, we absolutely could not move forward. This is truly a team effort."
Removing Ela Dam was one of the first ideas Owle pitched to his team when he was named secretary in 2017. Doing so would open 549 river miles of the Oconaluftee River and its tributaries, connecting streams across the Qualla Boundary and parts of the Great Smoky Mountains National Park to the lower Oconaluftee and Tuckasegee Rivers. Culturally important fish species will now have access to spawning areas in upstream tribal waters after nearly a century of disconnection.
"The accidental sediment release coincided with an unprecedented funding opportunity from the Bipartisan Infrastructure Law," Owle said. "That, coupled with determined parties all around ready to pursue the idea of reconnecting 188 square miles of the watershed through a social and environmental justice lens, was perfect timing. I am grateful that Chuck Ahlrichs (of Northbrook) took my call in December 2021, and with a team of exceptional partners, we were able to come together to create an opportunity from the ground up."
The dam was initially constructed to support rural electrification. But now, the social, economic and environmental values of reestablishing a free-flowing Oconaluftee River vastly outweigh the one megawatt of output it generates, the coalition believes. Northbrook also wanted to improve relations with organizations and agencies that work to protect and improve the nation's rivers.
"Removing a dam is the fastest way to bring a river back to life," said Erin McCombs, Southeast Conservation Director with American Rivers. "This project is one of the most exciting river restoration efforts in the U.S., with tremendous benefits including improved water quality, habitat for imperiled fish and wildlife and cultural reconnection."
According to American Rivers, 56 dams have been removed in North Carolina to restore river health. If this project is successful, it may serve as a template for how dam owners can work cooperatively with American Rivers and other partners to decommission dams when the value of a free-flowing river outweighs a dam's power generation.
Now that the purchase agreement is signed, the coalition can work on the next phase of project planning. With funding from the North Carolina Wildlife Resources Commission, American Rivers is leading the design and engineering studies for dam removal while the coalition moves forward with planning and regulatory approval processes.
Leave a comment
5

comments
OK. So what will be done about the invasive species below the dam. Does the tribe want them in tribal waters? Remove the dam, and that's what you will get.

Saturday, 11/26/2022

The success (or failure) of the project will also depend on stopping the dirty polluters on both sides of the river. That includes landowners , farmers, etc who destroy vegetation down to dirt level, livestock pollution, allowing sediment to wash into ditches, streams, etc that flow into the river. Arrest & fine the dirty polluters!

Friday, 11/25/2022

The success (or failure) of the project will also depend on stopping the dirty polluters on both sides of the river. That includes landowners , farmers, etc who destroy vegetation down to dirt level, livestock pollution, allowing sediment to wash into ditches, streams, etc that flow into the river. Arrest & fine the dirty polluters!

Friday, 11/25/2022

The success (or failure) of this project will not be measured by the removal of the dam….but by the removal of the decades-old sediment that has accumulated behind the dam. I'm hoping with the proper oversight, this will be a successful endeavor.

Friday, 11/25/2022

The success (or failure) of this project will not be measured by the removal of the dam….but by the removal of the decades-old sediment that has accumulated behind the dam. I'm hoping with the proper oversight, this will be a successful endeavor.

Friday, 11/25/2022