Archived News
Performance vs. Promise: West, Cothran seek Haywood tax collector position
Wednesday, September 28, 2022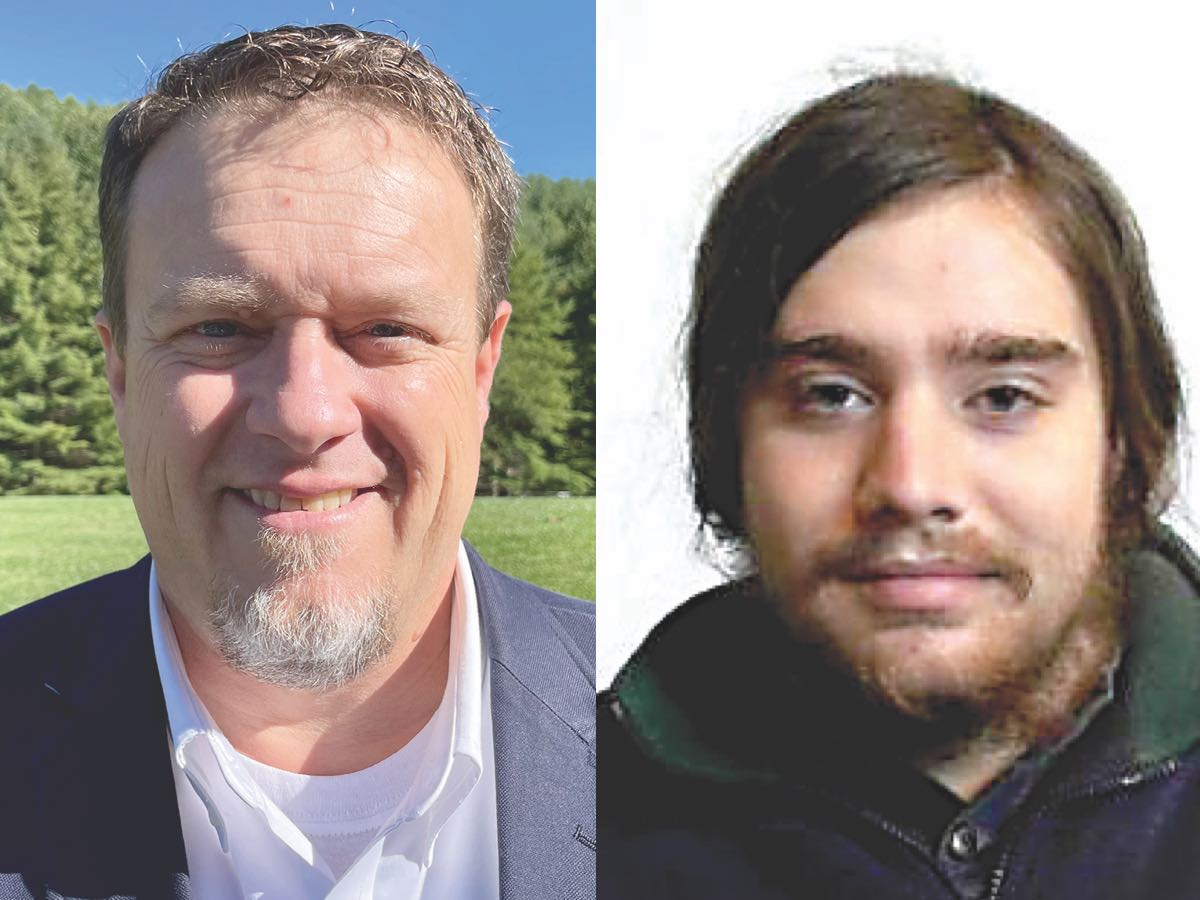 Greg West (left) and Sebastian Cothran.
This is probably the only election story you'll read about a county tax collector's race in North Carolina, because Haywood is the only county in North Carolina that elects a tax collector.
In the state's other 99 counties, the tax collector is appointed — i.e., hired — and serves at the pleasure of county commissioners. But not in Haywood.
Six years ago, the nature of Haywood's tax collector position was the subject of great debate when contention over then-collector Mike Matthews' job performance became politicized. Matthews, a Republican, was excoriated for job performance issues by a Democrat-majority commission, but most especially so by Republican Commissioner Kevin Ensley. For a brief time, Matthews was probably the most controversial figure in Haywood County politics, with a number of partisans from both sides of the aisle coming out for and against him.
On Feb. 20, 2017, commissioners passed a resolution unanimously asking Haywood County's legislative delegation to give Haywood County voters a choice via ballot referendum — elect, or appoint.
The resolution went nowhere, largely due to the opposition of then-Rep. Michele Presnell, a Republican from Burnsville.
During the 2018 election cycle, Matthews was primaried by fellow Republican Andrew "Tubby" Ferguson, but survived the challenge; Matthews wasn't so lucky against Democrat Greg West, who at the time served as assistant tax assessor. West only prevailed against Matthews by 4.4 points, but saw strong early voting totals as well as a small win in the Ivy Hill precinct — Haywood's largest, and Matthews' base.
Since then, West has pushed his collection rate higher than any rate from his two immediate predecessors, Matthews and David Francis, topping out at 98.35% in 2021.
Collection rate is critical. By law, commissioners have to construct their budgets not based on the total amount of tax that's levied, but rather based on the levy multiplied by the collection percentage. Right now, West estimates that 1% in collections is worth around $460,000.
"I believe it is an important job, because the livelihood of the county is derived from the collection of taxes," West said. "We support, obviously, the sheriff's office, EMS, Haywood County Schools, our local fire departments; they all receive tax dollars and our citizens depend on those services. The better the collection rate means that the tax rate can remain lower."
It also means commissioners don't have to dip into the county's healthy fund balance to make up for shortfalls. Fund balance is always important, but especially so as the county looks for a bond rating upgrade that could save taxpayers thousands when it attempts to secure funding for the forthcoming multimillion-dollar jail expansion project.
West thinks the job is as much about people as it is about numbers.
"I mean, people want to pay their taxes, and I think you notice that sometimes they fall on hard times. It's important for my office to listen to these people, and do our best to work out something that is win-win for both," he said. "Our staff is very friendly, customer-oriented. That's something that I ran on in 2018, on the premise that we could do better as a collection agency, and we have."
Enter Sebastian Cothran, a 21-year-old Republican from Canton. A 2019 Pisgah grad, Cothran earned an associate's degree at Haywood Community College and is currently a double major in accounting and political science at UNC-Asheville, where he serves as treasurer for the college Republicans.
"I've always been into politics and I like tax accounting, and I've been an active poll worker for Haywood County. I've been doing that since I was 18," Cothran said. "I'd give the voters another choice for tax collector, because I think voters should have choices instead of people always running opposed."
Currently, Cothran's not working full-time and has yet to gain any sort of practical experience in the field, even as an intern. However, he's remarkably educated on the position and its recent history — even calling back to events that occurred when he was still in high school.
"This isn't necessarily a political job. The tax collector is one of the most important people in the county. They collect revenue for the schools, the EMS, all kinds of other things," said Cothran. "There's always room for improvement until you get to 100% [collection rate] so even a one-hundredth of a percent means thousands of dollars for the county."
Well aware of the differences between him and West, who was running some of the largest ColorTyme rent-to-own stores in the United States before Cothran was even born, Cothran thinks he has a future in government.
"Not necessarily anything against my opponent, but a lot of people in government have been there for a long time, and you can see how the country is today," Cothran said. "We need new faces in politics and me being 21 years old, I think I can be a new face in politics."
Collecting for Canton
Haywood Tax Collector Greg West isn't the only one setting records with his tax collection percentage.
In Canton, Town Manager Nick Scheuer may technically be the town's appointed tax collector, but he said longtime staffer Wanda Lurvey runs the show, and for that he's grateful.
"We're counting on these numbers when we're budgeting and planning, not just for the next fiscal year, but for longer term plans. We're banking on receiving 98-100% of revenue. Without that revenue, we're sunk," Scheuer said. "Obviously we would not be able to provide the services we do without Wanda going out and getting those revenues."
Back in 2011, Canton reached an all-time high in delinquent taxes, at $187,273. As Lurvey took over in 2017, and by the end of the 2020 tax year, had reached an all-time collection rate of 99.27%, with an outstanding balance of just under $22,000.
Canton's collection rate would be even higher if it weren't for some tiny troublesome parcels that don't have readily apparent owners or heirs but aren't big enough to be worth foreclosing upon by the town.
Currently, Canton's tax collection rate for the last four years is at least 99.45% for all four years, mostly because of Lurvey's willingness to work with taxpayers.
"They realize I'm here to help them," Lurvey said. "The worst thing I can do is let them build up a debt they can't get out of."
Leave a comment
2

comments
I am with the Haywood County GOP. I am organizing a phone campaign targeting unaffiliated voters in Haywood County. We will be accomplishing this via a phone application which can be used at home or at the office. Instructions, app user access, and passwords will be provided at the GOP Executive meeting on October 11th at 6:30 PM at the GOP Hqs located in Waynesville. Please call me with any questions 251-979-3803

Saturday, 10/01/2022

This young fella is a smart accounting student who has nt been corrupted by politics. Let's give him a chance. Also consider what Democrat leadership has done to our beloved Republic. It all starts at home.

Friday, 09/30/2022