Archived News
A new sculpture for downtown Sylva
Wednesday, September 28, 2022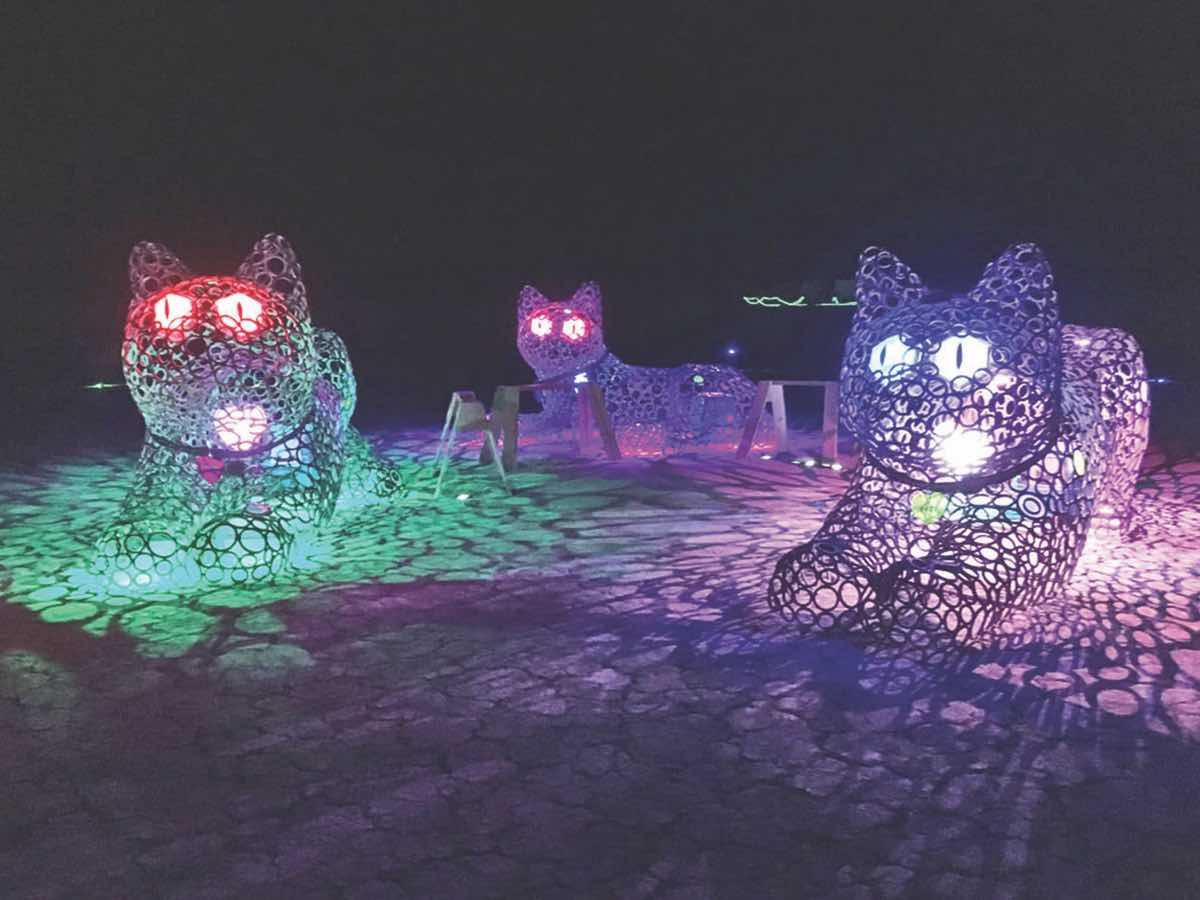 Purr Pods was made up of three large, steel house cats with LED lights glowing from the eyes and hearts of felines. Paige Tashner photo
As part of its public art initiative, Sylva will host a large, interactive cat sculpture in Bridge Park this fall and winter, after which the Sylva Art + Design Committee will find a more permanent home for the feline.
"It is highly interactive and very clever and cute so I think that anyone coming to Sylva would love to check this thing out," said Commissioner Greg McPherson.
The sculpture by Paige Tashner is named Scooby Doo and was part of the artist's Purr Pods installation at Burning Man in 2019, an annual arts and culture festival in northern Nevada. Purr Pods was made up of three large, metal cat sculptures, each one named after one of Tashner's cats who have passed. Tashner is a native of Oregon who currently lives in California.
Harold Sims, curator of The American Museum of the House Cat, acquired one of these massive, forged felines and has offered it to the Town of Sylva on permanent loan. The town is currently planning to install the artwork at Bridge Park during the cooler months, until Sylva Art + Design Committee can decide on a permanent home. Last winter, Sylva welcomed a statue of Harriet Tubman to Bridge Park. McPherson has been a regular advocate for public art during time on the board.
Purr Pods debuted at Burning Man in 2019. Paige Tashner photo
Scooby Doo is made of concentric steel rings fashioned together to make the body of a cat. The interactive sculpture makes purring sounds and vibrations and is equipped with LED lights in the eyes and heart of the cat that glow through the skeleton of the sculpture at night. Tashner said the sculpture is intended to envelop participants in sonic vibrations that will leave them feeling revived.
"Laser eyes of love," as Tashner describes it. "You've seen it. Photos of cats seemingly shooting laser beams back at you."
"The reason that she made this was, when you sit in it, when you interact with it, it's sort of meditative," said Commissioner Greg McPherson. "It's supposed to give you this sense of calm for the viewer, the person who interacts with it. It's interesting because the campus theme of Western this year is mental health and wellness and this kind of ties right into that."
According to Tashner, the intention behind the Purr Pods installation was to help people find a calm place in the midst of a chaotic world, and hopefully to instill the importance of rescuing, adopting, fostering and trap, neuter and return programs for cats and kittens.
The statue is 15 feet long, 6 feet tall, and 5 feet wide; over 500 pounds; and requires at least four people to move. Lights and films on the exoskeleton can project color-changing lights for a variety of themes and seasons which will allow the cat to be festive during the upcoming holiday season.
The frame of the sculpture was constructed by forging together steel rings. Paige Tashner photo
"Not only is it very cool conceptually, but it's very impressive," said McPherson.
According to Town Manager Paige Dowling, town staff will install the sculpture on the existing asphalt between the bridge and the electricity station used for food trucks. The cost for insuring the artwork is $73 annually and the sculpture itself is valued at $14,000.
When choosing where to locate Scooby Doo for now, Economic Development Director Bernadette Peters said "we were considering the visual appearance of it, as well as kids getting on it and moving around it."
At the Sept. 22 Sylva Town Board meeting, Commissioner Ben Guiney made a motion to accept the sculpture on permanent loan.
"It's a big deal to have something that's been at Burning Man, on top of the intrinsic value of the art," said Guiney.
The board passed the motion accepting the artwork by unanimous decision.
Leave a comment
1

comment
Just what nobody wants, more Burners in Sylva. Why not a sculpture by a local artist, or something on a theme more relevant to the outdoor character of Jackson County?

Friday, 09/30/2022