Archived News
Sylva extends take-home vehicle policy for police
Wednesday, September 28, 2022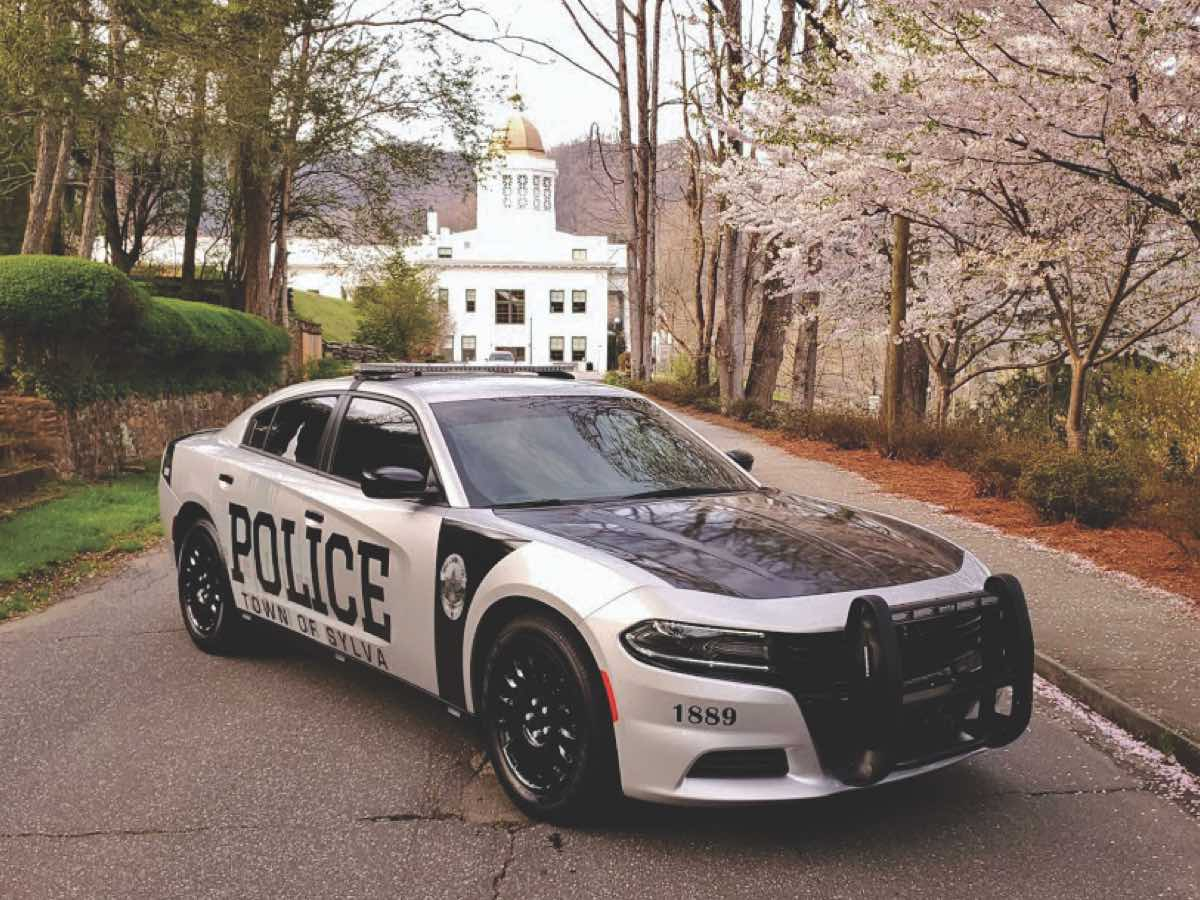 Sylva has updated its policy that allows for take-home police vehicles.
In the face of a housing shortage and increased competition for employees, the Town of Sylva has updated its policy that allows police officers a take-home vehicle. The board also decided that in the future, updates to this policy would not have to come before the board but would be an administrative decision made within the police department.
"Usually police policies are administrative, but this one is coming before the board because the board adopted it initially and because there is a budget impact of driving farther, fuel costs, wear and tear on the vehicles," said Town Manager Paige Dowling at the Sept. 22 meeting of the Sylva Board of Commissioners. "But it is a recruitment and retention tool that is an employee benefit."
While much of the workforce was able to stay remote following changes brought on by COVID-19, police and other emergency service workers have had to be on the job in person. This means daily commuting. Depending on the department, some police officers can use patrol cars to commute to and from work without restriction, while others can only use them if they live within a certain distance of the department.
In 2016, the Town of Sylva adopted a policy that permitted take-home vehicles for officers who lived within 10 miles of city limits. The updated policy now allows take-home vehicles for officers who reside in Jackson County or an adjacent county and are able to regularly arrive at work within a 30-minute travel time. The distance may be extended by 10 minutes in individual cases upon written approval from the Chief of Police and the Town Manager.
"The take-home car is crucial as far as retaining people and attracting people," said Chief of Police Chris Hatton. "A lot of our local agencies in this area don't even have a policy for it and they'll let you drive your car far. I see an Asheville patrol car here regularly."
Hatton said that he believed the Sylva Police Department could stay within its operating budget even with the updated policy extending the allowable distance for take-home vehicles.
Until recently, the department was fully staffed, a feat in a sector that has seen vast employee shortages in recent years. Mayor Linda Sossamon noted that everyone is having trouble finding employees, and that it had taken the whole time Hatton has been with the Town of Sylva to get a full staff.
"If the town can find officers from surrounding areas that are willing to work here, we need to do everything we can to snag them," said Sossamon.
Commissioner David Nestler raised a concern that this might result in the town hiring officers from out of town over those that are local.
"Chief, the emphasis you're placing on policing is community policing and we want our officers to live in our communities not only because it makes take-home cars cheaper but also that's a better method of community policing," said Nestler. "Keeping the policy as is, or at least amending it to not so far a distance, encourages us to hire local people and have local people apply for the job, but also to move to the area if they get the job. I don't think we want to give that up."
Hatton explained that while he agrees with the appeal of local officers, take-home cars are commonplace among other departments in the region. He said that if Sylva could not offer them, they might lose applicants to other local police departments.
"That's one of the sacrifices that towns are making in order to get quality applicants in, making changes to these policies to try to get more people in" said Hatton "I totally agree with what [Nestler] said, especially for a community like Sylva, if I can find somebody from Sylva, that's a way better hire than somebody moving here from somewhere else."
One of the reasons it is difficult to recruit employees to the Sylva Police Department is the housing situation in Jackson County.
"Housing is not good here; it's a problem," said Hatton. "I've got two or three officers hired in the last year, one is trying to rent, one is trying to buy. It's been months and they're finding zero, they're just struggling to try to find a place. It affects everybody."
Hatton said the new policy would be more equitable to officers regardless of where they live. With the previous policy, an officer that lives in Jackson County might drive 35 minutes to work in their take-home vehicle, while another employee who lives 20 minutes away in a different county must drive their own car. Many of the department's most experienced officers live in surrounding counties.
Police officers in Sylva work an average of 15 shifts per month. Public works director Jake Scott said that the town's police cars travel an average of 10-12,000 miles per year. In addition to miles traveled, police cars withstand a lot of idling hours throughout the year. Most of the problems in the older police vehicles occur from idling and moving slowly through town for most of the car's lifespan, rarely going over 45 miles per hour.
"Right now, we average two oil changes a year on these cars," said Scott. "You're talking about a round trip to Asheville every day, that's like 4,000 miles a month. There will be costs there, I can't comment on whether the retention will offset those costs, I haven't had time to review that."
"I think if this is something that you need as a retention tool, then we should modify this policy," said McPherson.
With Nestler dissenting, the board passed the policy update, 4-1. during its Sept. 22 meeting. After the policy update passed, commissioners discussed whether or not such policy updates should have to come before the board in the future, or be an administrative decision made within the police department.
Commissioner Guiney argued that because the town board approves the police department budget, a decision like take-home vehicle policy updates could be made within the department.
"But this is really a budgeting issue," said Nestler. "This is a cost. Thirty minutes with an additional 10 minutes allowed as well, this means taxpayer vehicles can travel 40 minutes twice a day to and from Sylva at taxpayer expense and I think that's why it's a board decision and it probably should remain that way. That's a big increase."
Commissioner Mary Gelbaugh said that while this board vote on the policy update was taken for the sake of transparency, moving forward policy updates could be an administrative decision within the department.
"It comes down to if you all want to review this in the future because of the budget ramifications, or if you're alright with it being an administrative policy and budget amendments still coming before you," said Dowling. "I think it is standard for it to be in a police department policy and procedures manual."
Commissioner Guiney made a motion to make future take-home vehicle policy updates an administrative decision rather than a board decision. The motion passed, 4-1, with Nestler dissenting.
Leave a comment
1

comment
My name is Suzanne Oastler Allison,
I would like to help in some ways
If I could?! I was thinking if there were a
Female that is looking to stay somewhere,
She could stay with me and she can do her
Job and with out cost, but on her days off
If she could; would be able to help me around
My house some, I really need some help and
Would like to help all of you as well.
If you all have a better plan, then I would like
To help if I can.
Thank you,
Miss Suzanne Oastler Allison

Wednesday, 09/28/2022