Archived News
Swain runner advocates for sports equality
Wednesday, September 28, 2022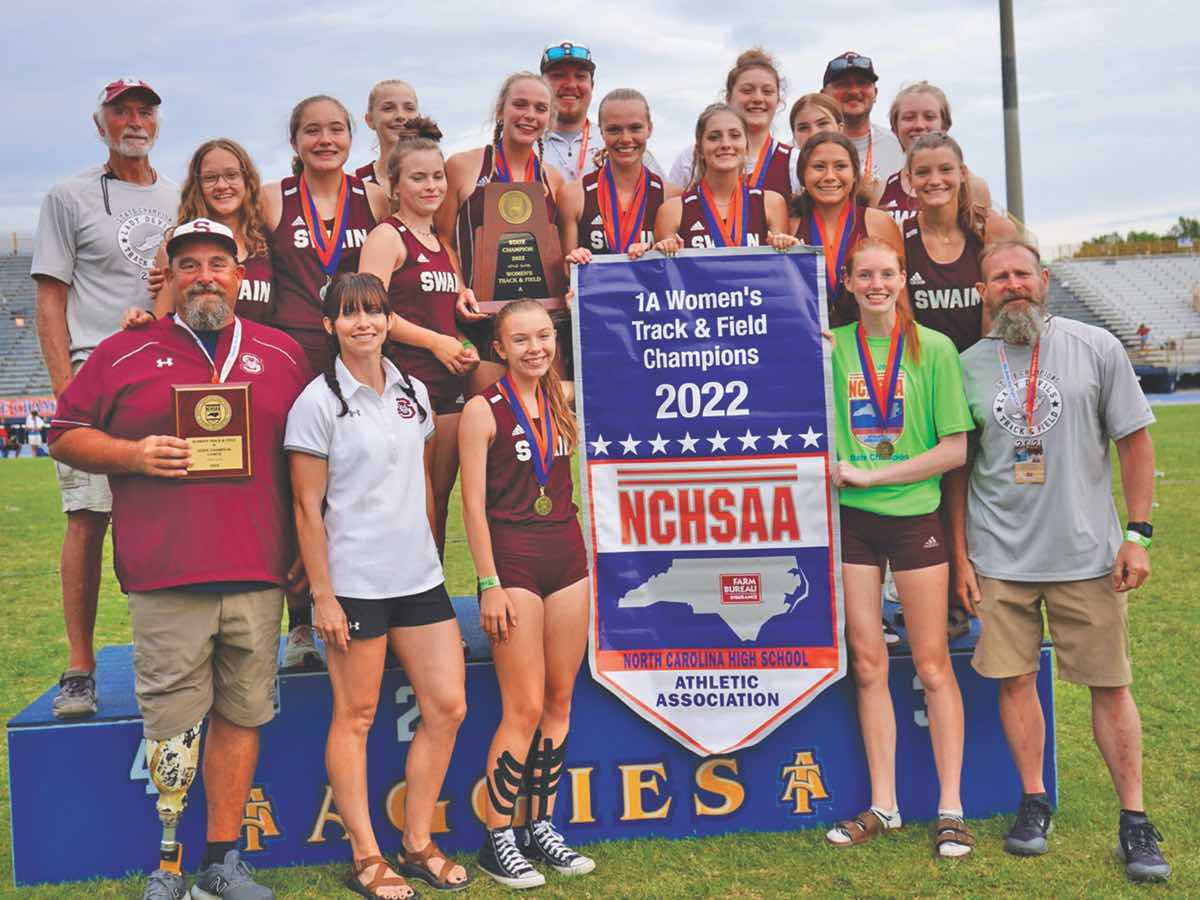 Swain County women's track and field team wins 1A State Championship. Marsha Hicks photo
Amaya Hicks, Swain County High School senior and captain of the women's cross country, basketball, indoor and outdoor track teams, came before the Swain County Board of Education on Sept. 12 with a unique, albeit impressive problem. She and her peers had won so many state championships over the last several seasons that the teams were having trouble raising enough money for the state championship rings.
"I would like to briefly talk about our successes in the running programs," said Hicks in her address to the board.
In June of 2021, Swain County's women's track team won the 1A Track and Field State Championship. That fall, the women's cross country team won the 1A Cross Country State Championship. In February of 2022, the women's indoor track team won the Indoor Track and Field Championship in the 1A, 2A division, marking the first time a 1A school has ever won this division. This May, the women's track and field team again won the 1A Track and Field State Championship. Consecutive state titles by the cross country, indoor track and outdoor track teams is known as the "triple crown." This is the first time a 1A school in North Carolina has accomplished this feat.
In addition to overall team championships, Monica Riordon, Jessica Lohman, Arizona Blankenship, Matthew Gray, Amelia Rogers, Gracie Monteith, Mazie Helpman, Lily Bjerkness and Amaya Hicks all won individual or relay state championships.
All these wins mean that just for the outdoor championships, there are 47 individuals eligible to receive state rings at a cost of $250 per ring, totaling $11,750. For all the championships brought to the school by those programs, the athletic department is looking at a bill of $16,750 to purchase rings. That price does not include banners for the gym or any apparel.
"My understanding is that we have a remaining balance of $5,000 for our indoor track and field rings," said Hicks. "The rings for spring 2022 track and field have not been ordered yet due to lack of funding."
When Hicks spoke to the school board, runners had not received rings from 2022 indoor and outdoor track championships. While the indoor track title rings had been ordered and received by the school system, they had not yet been given to the runners. The team had also been unable to undertake some fundraising requests that seemed to conflict with other sports in the school system.
According to Swain County High School Athletic Director Neil Blankenship, the outdoor championship rings have been ordered and will arrive in November. While the rings have been paid for, the $16,000 has to be recovered back into the athletic fund account. Revenue for that fund comes from sources such as gate receipts and is available for all athletic organizations.
"That's a substantial amount of money," said Superintendent Mark Sale. "We need to recover that. Therefore, fundraising opportunities are being undertaken to replenish that."
"Numerous unsuccessful attempts have been made by our team to fundraise," said Hicks. "I do not feel that the fundraising structure that is in place is fair to all sports teams. For example, we have been told not to ask certain businesses for donations because if they contribute money to our rings, they won't contribute money to the football program."
Additionally, Hicks said, the teams have asked to sell fifty-fifty tickets during football games and have been unsuccessful.
"I am in no way coming after any individual program or coach, I just think that the systems that are set in place need to be fixed and are broken," said Hicks. "I strongly believe that as athletes that represent Swain County Schools and are successful at the state level, we should not have to fully fund our state rings."
Hicks recognizes that this is a good problem to have; in fact, the athletes have been told so by school board members and administration. Be that as it may, it is still a legitimate problem for Hicks and her teammates, and they are seeking resolution.
"Any fundraiser has to be approved, but we are fine there," Blankenship told the Smoky Mountain News a few days after Hicks' presentation.
"We are talking about three state championships in a row, cross country, winter track and spring track," Sale told SMN. "The impact of the cost of that has been substantial because those are consecutive. I don't recall us having the opportunity to help provide rings at this pace in the past. We have multiple state championships in our football, but even in that, there were only three in consecutive years, all the others were spaced."
While Hicks was pleased that the spring women's track and field championship rings have been ordered and some fundraising requests were permitted after word got out that she would be speaking to the board of education, she still hopes to see movement on other issues.
"We need to work harder to become proactive instead of reactive," said Hicks. "I am asking for your help in preparing accordingly so that when Swain County students are successful at the state level they are rewarded in a timely manner."
"I'm just impressed that we have a student coming forward to present something," said Board Chairman Gerald Mckinney. "That's good team leadership. First of all, we've never had this problem before because we've never had this many championships at one time. That's great. And you're going to win some more, so we've got to have something in place."
Board member Travis Hyatt also commended Hicks for her leadership.
Sale suggested to the board that he meet with Hicks and her teammates to come up with possible solutions for fundraising.
"Amaya, we will have this problem solved, somehow, if we have to take it out of Mr. McKinney's salary," Sale joked.
Other board members inquired about charging admission into track and cross country events. While it is difficult to charge admission at outdoor track meets, usually an open field where people are coming and going from several entrances, indoor track meets can charge admission. The Eastern Band of Cherokee Indians allows Swain County cross country to host meets at Kituwah on the terms that the team does not charge for admission or make revenue through any concession sales.
"As a senior, as I reflect on my time as a student at Swain, I am filled with mixed emotions," said Hicks. "As a captain, I am obligated to my teammates and to future athletes to help improve the recognition of success. I know we can do better when it comes to equal treatment of all sports teams."