Archived News
Book reading, film screening to commemorate Popcorn Sutton
Wednesday, September 14, 2022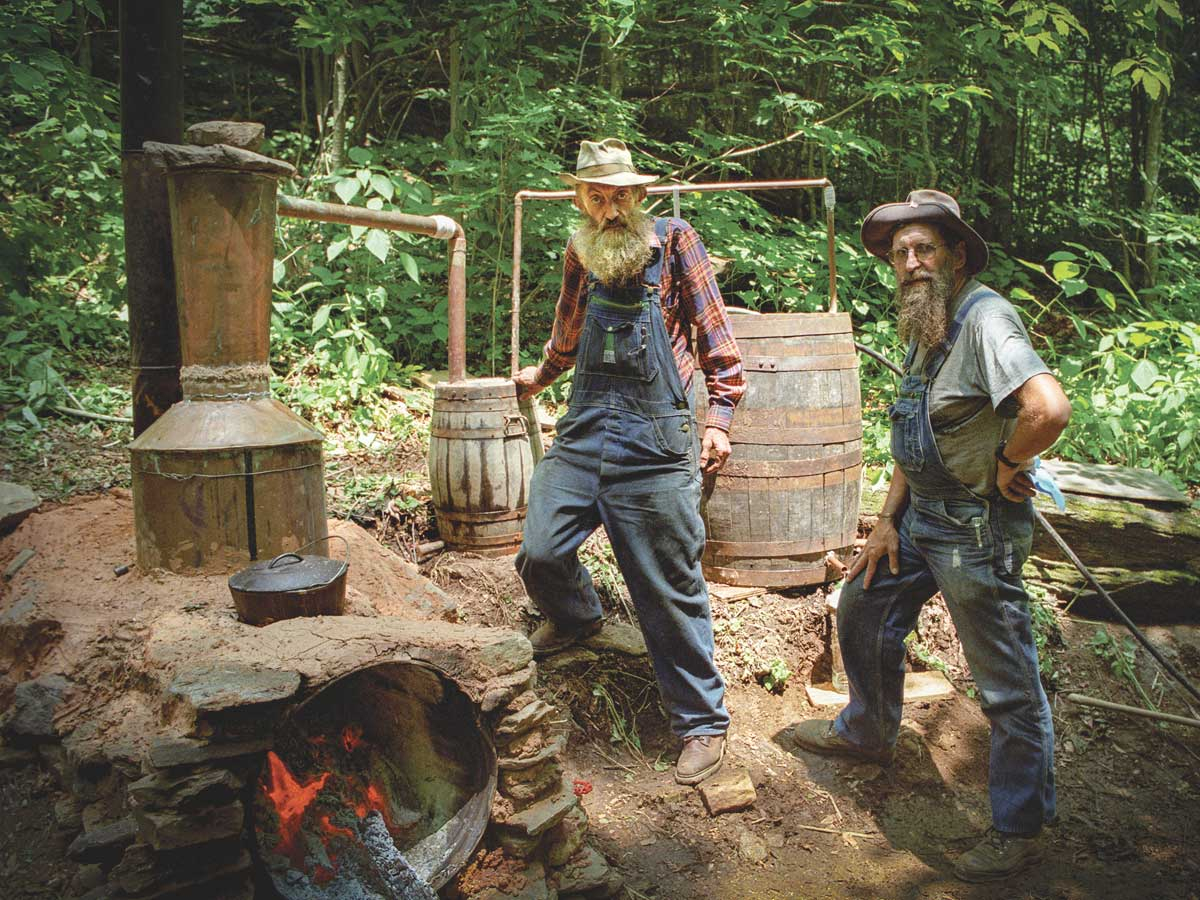 Popcorn Sutton (center) remains a folk hero to some, and an outlaw to others. Neal Hutcheson photo.
Filmed in one week in June, 2002, less than seven years before infamous moonshiner Marvin "Popcorn" Sutton committed suicide to avoid another prison term, Neal Hutcheson's documentary The Last Dam Run of Likker I'll Ever Make has proven both an enduring insight into the world of the iconic outlaw bootlegger and a time capsule of a culture that's quickly vanishing.
"Maggie Valley has been a tourist destination for a long time now, but my perception is in the last 20 years, the last inflections of authenticity have kind of vanished," Hutcheson said. "For instance, Raymond Fairchild's Opry House. He passed away and I don't know if they're doing anything in that spot, but that kind of thing would provide people coming from the outside with real mountain culture. There was performativeness to all of it, but I just don't see those things there anymore."
Originally, Hutcheson's film was distributed by Sutton himself on VHS cassettes that he copied and sold to curious tourists eager for more of the mountain lore he and his ilk offered, but it wasn't long before bootlegged copies — ironic, no? — began making their way into the hands of people who'd yet to have the chance to meet him in person or sample his fabled "likker."
The availability of the picture on YouTube, uploaded by Emmy Award-winning filmmaker Hutcheson's Sucker Punch Pictures, elevated Sutton's profile to unforeseen levels.
"It was never even a thought that it would be shown in a theater or in a group setting or something like that," Hutcheson said. "It's really cool for me to kind of close the loop, 20 years of preoccupation with Popcorn as a subject, by coming back to this film where it started."
Straightforward and relatively unadorned, Hutcheson's film captures Sutton doing what he did best — tooling around Maggie Valley in his Model T Ford, tromping through isolated mountain woodlands and stoking the fires that cooked the mash that would eventually precipitate into a clear, potent liquid known for its artisanal quality.
Sutton, however, was not universally beloved in Western North Carolina. His decades-long rap sheet included not only convictions for felony possession of a controlled substance — producing untaxed liquor is a serious crime — but also for violent assaults.
He could also be abrasive on a personal level, but knew when to "lean in" to the typecast role of jolly old mountaineer when he sensed there was a buck to be made on jars of white lightning, moonshine-soaked cherries, his videos or the antiques he peddled from his Maggie Valley junk shop.
"It's fascinating to look back to this film, which is kind of where it all began, and to reflect on his story and the way that was received, because if you look there's a certain naivety maybe to it," Hutcheson said.
To that end, Hutcheson produced another substantial work on Sutton's life, released early last year.
The Moonshiner Popcorn Sutton (Reliable Archetype, Raleigh, 2021) presents itself as a hybrid of a gorgeous coffee table book laced with stunning photography and a thorough biography bolstered by some of Sutton's own handwritten notes.
"The movie contributes to an image of Popcorn that's a bit simple. The book was written because over the years, his story took on life of its own and I wanted to preserve a memory of what I had seen, the person that I had known and the person Popcorn Sutton really was," Hutcheson said.
Although not strictly a companion piece to the film, the book presents a more sober accounting of Sutton in the context of where, and how, he was raised.
Within the book's 240 pages Hutcheson, a Chapel Hill-based cultural explorer with an eye for traditions in transition, deftly lays out the contradictions inherent in an Appalachia that simultaneously reveres and reviles the stereotypes of the folk-hero noble outlaw/felonious backwards backwoodsman.
"I had to come to terms with the folklore Popcorn that has become prevalent and has in fact taken the place of the memory of who he really was in most quarters," Hutcheson said. "Not really come to terms with it, but I find it interesting and fascinating and I wanted to kind of unpack that and what that meant."
Want to go?
A pair of events in Sylva on Sept. 18 will commemorate legendary Haywood County moonshiner Popcorn Sutton. First, award-winning photographer, author and documentarian Neal Hutcheson will read from his recent National Indie Award-winning book, "The Moonshiner Popcorn Sutton." The event, which takes place at City Lights Bookstore at 1 p.m., will also feature celebrated Appalachian author David Joy, who wrote the forward to the book. Then, at 6 p.m., Hutcheson will present the cult classic 2002 film featuring Sutton, "This is the Last Dam Run of Likker I'll Ever Make," at The Lazy Hiker in Sylva. Sponsored by City Lights and The Smoky Mountain News, Hutcheson's 20th anniversary screening will be only the second time the movie has ever been shown in a theatrical context. Both events are free and open to the public on a first-come, first-serve basis, but space is limited and expected to fill up quickly. For more information, contact Karen Kast-Hutcheson, This email address is being protected from spambots. You need JavaScript enabled to view it. or at 919.815.2722.