Archived News
Tribal Council approves $15 million more for golf course hotel project
Wednesday, August 10, 2022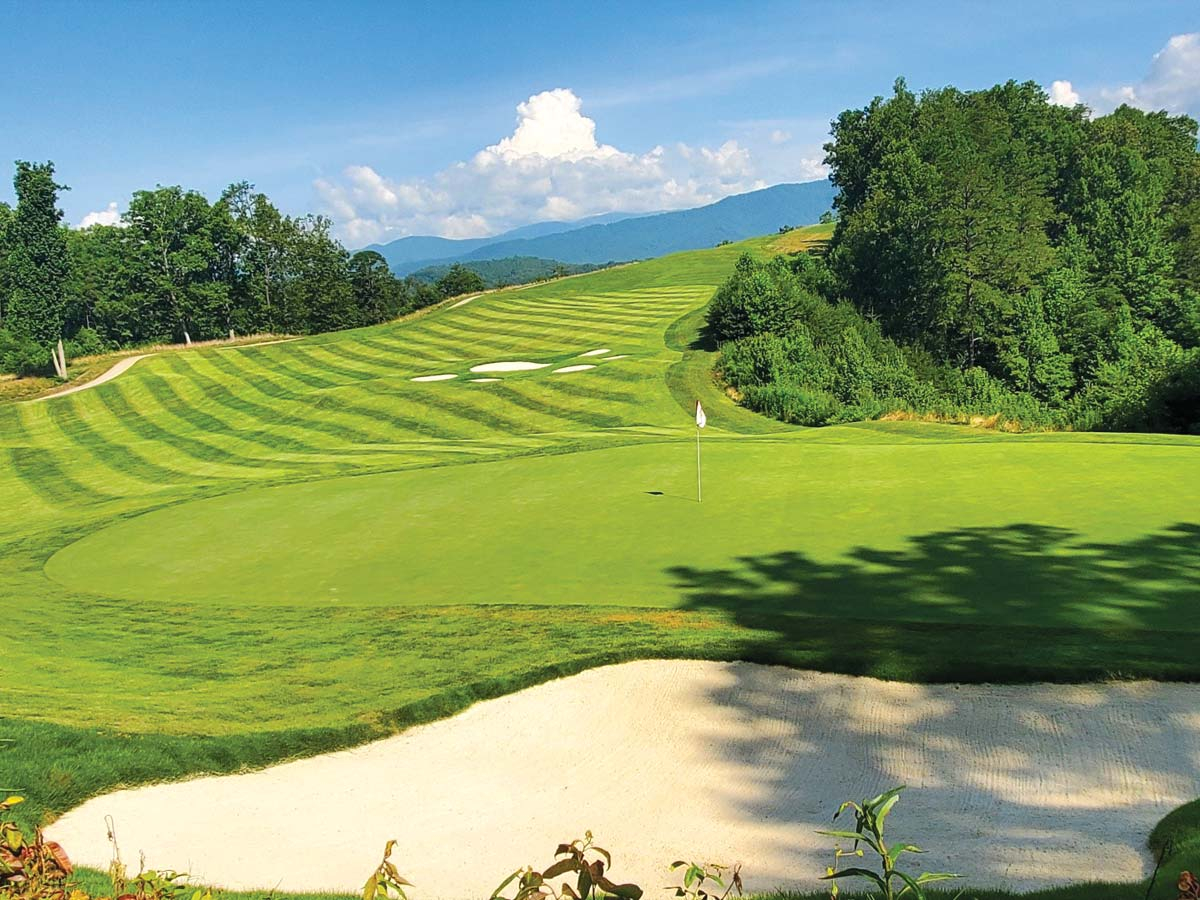 The 18-hole course at Sequoyah National Golf Club in Cherokee completed a bunker renovation and regrassing project in 2020. File photo
The Cherokee Tribal Council voted 9-3 Aug. 4 to increase the $23.5 million budget for a new hotel on the Sequoyah National Golf Course to $39 million— despite a request from Secretary of Treasury Cory Blankenship that they table the vote for next month.
"We need to look at timing, we need to look at all the other capital commitments — land purchases, things that we've contributed to — and to determine the best way to move forward with the project," Blankenship said. "It's not to necessarily hold up the project, but to say, 'Where does it fall in line with the other capital commitments?'"
The tribe has committed large amounts of money to a range of projects over the last year or two, Blankenship said, and his office is having discussions with banking partners about the tribe's remaining investment capacity.
However, the majority of Tribal Council was adamant that the project had been delayed long enough and that it was vital to give the Sequoyah National Golf Club Board the green light now.
"We can spend in Indiana; Danville, Virginia; Kentucky; Tennessee, but we don't want to invest in our own town, our own community," said Wolfetown Rep. Bill Taylor. "We've got a project right here that's going to make money right in Cherokee. We'll invest millions elsewhere, but we're going to question this project. I don't understand it."
"Council says where the money goes, not a chief, not a vice chief, not a director of finance," agreed Big Cove Rep. Teresa McCoy. "The 12 of us at this table need to get control of that."
Tribal Council first approved the project in 2018, and the Golf Board chose DreamCatcher Hotels as its developer, approving a $25.3 million budget to complete a 125-room facility. However, three years later no ground had yet broken and DreamCatcher Vice President Zeke Cooper told the tribe the hotel would now include only 103 rooms — unless Tribal Council provided $2.5 million to expand to 120 rooms — and that the budget did not include site work. Bids for the project came in higher than expected, Cooper told Tribal Council at the time, and the pandemic had delayed the project securing necessary zoning approvals from Jackson County.
In September 2021, Tribal Council voted unanimously to withdraw a resolution requesting $3.5 million for Tribal Construction to complete the site work, stalling the project.
The Golf Board and DreamCatcher ultimately parted ways, and now the Golf Board is pursuing the project without a developer. The tribe has its own project manager, Golf Board President Curtis Wildcatt said, and the Golf Board has hired the other necessary professionals, including a general contractor and architect. With those people in place, the project doesn't necessarily need a developer too, Wildcatt said.
"The initial plan was not budgeted adequately," Wildcatt told Tribal Council. "The budget that was received, we started discovering that there were minimal amounts of rooms, not what had initially been promised or should be built on this property. When you undertake a facility of this magnitude, of course you want to do it right."
The new $39 million budget is "not far from what should have originally been sent in," Wildcatt said. Ultimately, the hotel is a "low risk, high return venture" of a magnitude the tribe is unlikely to see outside of its casino and gaming interests, Wildcatt said. The sweeping views from the rooms will make it a destination, and it will offer a valuable complement to the golf course's existing offerings.
Nobody around the horseshoe argued against the project as a concept, but several members said they wanted to see more numbers and ask more questions before approving the funding.
"I really want to see the bottom line, so I want to have this work session so that finance can explain how much debt load that we can continue to carry on that's based against our reserves and how much borrowing power we have," said Snowbird/Cherokee County Rep. Adam Wachacha.
"I think we really need to heed what Cory (Blankenship) is telling us here," agreed Birdtown Rep. Boyd Owle. "I'm certainly all for the golf course. I don't want to overfill our cup with debt to where we can't find the money to pay for that. Curt, can you stand one more month on this?"
"Just get authorization," Wildcatt replied. "We'll allow finance to explore what they need to explore, strategize. If everything aligns correctly, we'll proceed with the project in the near future hopefully. Right now, we're just seeking authorization to expand the budget, get finance to do their creativity and research necessary, come back and give us some options on how we can increase this budget."
Principal Chief Richard Sneed reminded Tribal Council that part of the delay and the cost increase was due to the body's 2021 decision not to approve the funding for sitework.
"It's true that the cost increase on construction right now is mind-blowing," he said. "I think it's just good stewardship to pump the brakes here and see where we are, our overall financial picture as a tribe, and what our priorities are as well."
Ultimately, the body voted to move ahead with the project. Nine members voted to pass the resolution, with Painttown Rep. Tommye Saunooke, Yellowhill Rep. David Wolfe and Wachacha opposed. After a 10-day waiting period, Sneed will have the opportunity to sign it or veto it.