Archived News
JCPS more than doubles preschool capacity
Wednesday, August 10, 2022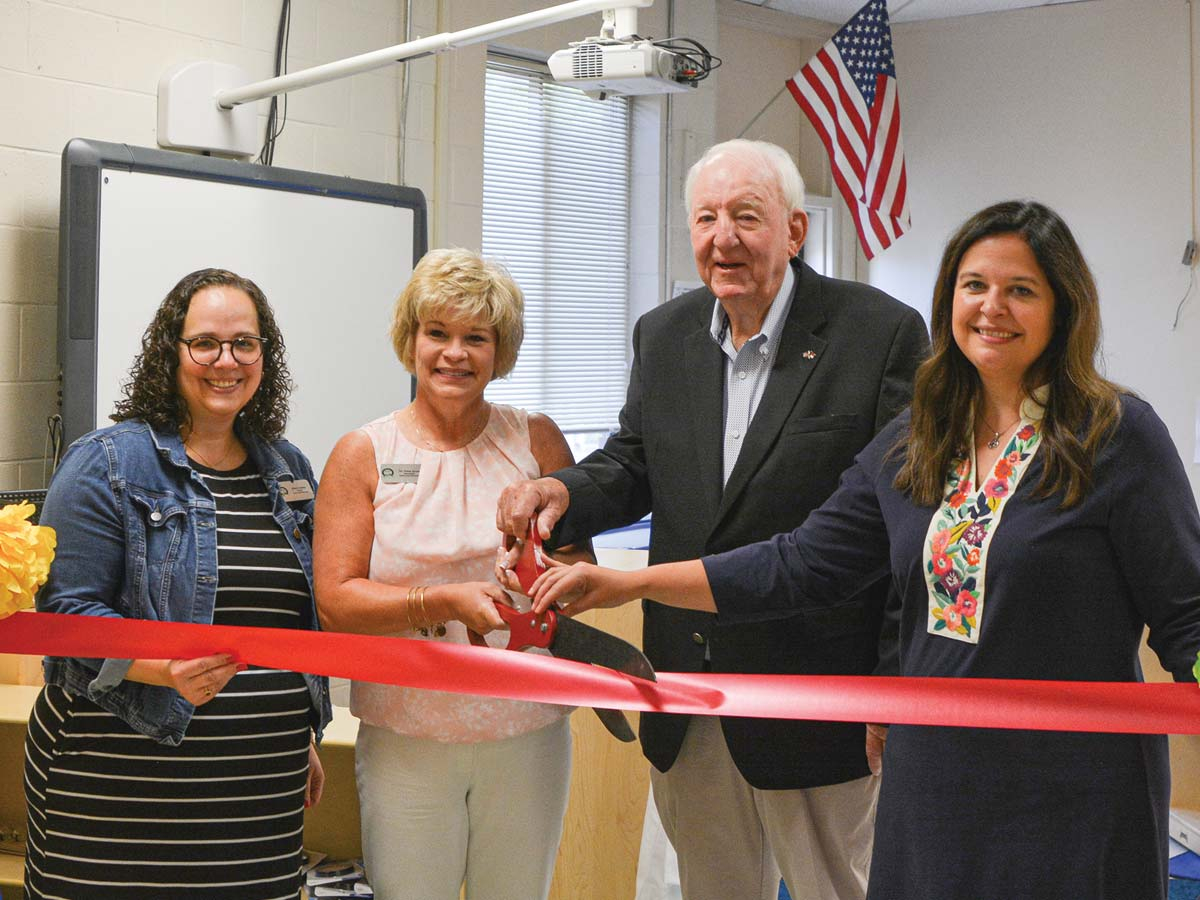 From left: Principal Kheri Cowan, Superintendent Dana Ayers, Blue Ridge Education Foundation President Carl Hyde, and Director of Elementary Education Laura Dills at the ribbon cutting ceremony for a new pre-K classroom at Blue Ridge School. Hannah McLeod photo
Jackson County Public Schools has more than doubled its preschool capacity prior to the start of the new school year thanks to donations from the Dogwood Health Trust and the Blue Ridge School Education Foundation.
"I believe, and I think you all do too, that pre-K lays that foundation for a good, successful academic career all the way through," Superintendent Dr. Dana Ayers told members of the Blue Ridge School Education Foundation at a ribbon-cutting ceremony for the new preschool classroom at Blue Ridge School Wednesday, Aug. 3.
This is the beginning of Ayers' second school year as superintendent of Jackson County Schools; she began working to expand preschool opportunities in the county early in her tenure .
"I voted to approve this $115,00 because you and your staff impressed on all of us that the best investment you can make is in preschool, if you want to improve education. It makes an impact from three years old that they carry for the rest of their lives. It really makes an impact. If we have money to spend, that's the best place to put it," said Blue Ridge Education Foundation board member Duncan Wheale.
The Blue Ridge School Education Foundation donated $115,000 to Jackson County Schools for the new preschool classroom at Blue Ridge School. The money will cover all supplies and materials in the classroom, capital and maintenance needs, as well as the teacher's first year salary.
The classroom will serve three-year-olds, a first in Jackson County Public Schools. Twelve children have already been selected for the year, and two more are on a waiting list. The other preschool classroom that already existed at Blue Ridge School with service 17 four-year-olds and one three-year-old. When public schools get a classroom licensed for preschool, it can serve three-, four- and five-year-olds.
Three other preschool classrooms were added at Cullowhee Valley, Scotts Creek and Fairview schools. Each classroom will serve 18 students. These four classes will increase Jackson County Public Schools preschool capacity from 54 spots to 120.
Entry into pre-K programs is determined by a ranking system that measures children according to learning, developmental, social, emotional and language skills, among others. Children are scored according to a formula and granted entrance depending on that score.
"Our intention, if families would like to bring their kids here, we welcome that, but we also don't want to recruit away from other programs; we want as many kids as possible who come to school to have a good pre-K experience," said Laura Dills, executive director of federal programs and elementary education.
"It was a real eye-opener when Dr. Ayers came to us last year and said we have an opportunity to really expand the pre-K program in the Jackson County school system and if we could get a little support from the foundation, we would like to put a second pre-K classroom here at blue ridge," said President of the Blue Ridge School Foundation, Carl Hyde.
With the additional capacity for preschool students in Jackson County Schools, the school system is planning to begin collecting data in order to understand how students do in the school system after being a part of public preschool programs.
"We want to have longitudinal data to say, 'this is why pre-K was important and this is why we do this,'" said Ayers.
This data will not only allow the system to better understand how preschool affects the education of its students, non-profits like Dogwood Health Trust, which donated money to help fund the three new classes at other elementary schools in the district, are also interested in understanding the connection. JCPS will be able to work backward a few years in collecting data with rosters it has for previous preschool classes.
"I think we all understand how important pre-k education is," said Hyde. "Of course, we think it's particularly advantageous to this school. As families enroll their kids in pre-K, more than likely, if we provide the proper academic achievement opportunities all the way through, they'll stay here through the 12th, and maybe even go through the 13th grade."
Ribbon cutting ceremonies for new preschool classrooms at Cullowhee Valley and Scotts Creek will take place Wednesday morning, Aug. 10. Dogwood Health Trust announced its $236,000 donation late last year, which is funding the renovations, classroom supplies, playground upgrades, screening tools and salaries for a teacher at each new site for one year.
Dogwood Health Trust is based in Asheville and seeks to improve the health and wellbeing of individuals in Western North Carolina's 18 counties and the Qualla Boundary.
"They have several strategic priorities," Ayers said. "Specifically, they believe in educating early. I wholeheartedly agree, and it does mimic one of my goals for Jackson Public County Schools."