Archived News
Songs of Freedom: Local churches 
celebrate Juneteenth through gospel music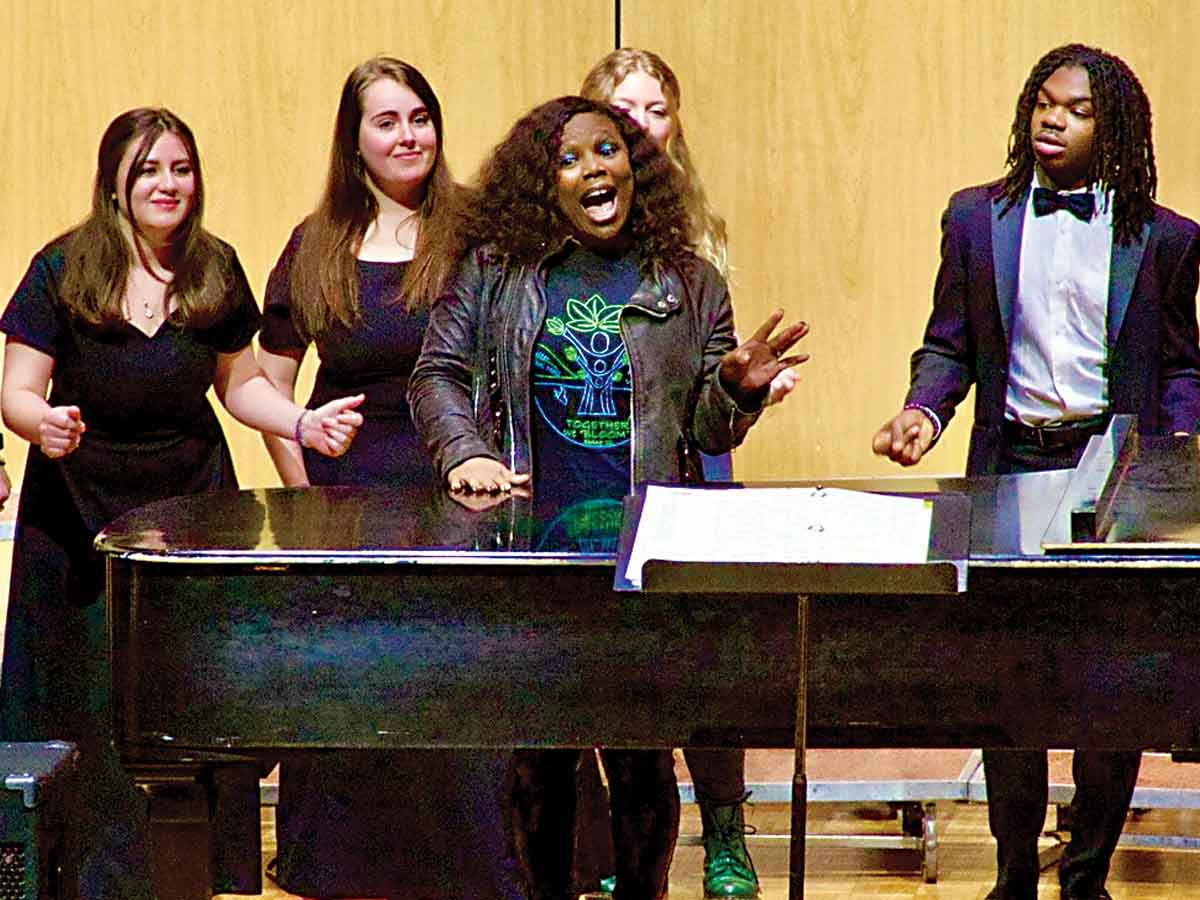 Dr. Tiffany Jackson performs with the Catamount Singers. Donated photo
On June 19, 1865, slaves in Galveston, Texas were told of their freedom — two months after Robert E. Lee surrendered at Appomattox, Virginia, and over two and a half years after the Emancipation Proclamation had been signed.
While many Black communities around the country have celebrated Juneteenth every year since, it officially became a national holiday on June 17, 2021. This year at Lake Junaluska, the Smoky Mountain District of the Western North Carolina Conference of the United Methodist Church will host its second annual Juneteenth celebration with gospel music by Dr. Tiffany Jackson, the Catamount Singers and the Community Gospel Choir, as well as food trucks and family activities.
"Our mission for the celebration is to worship inclusively, educate our communities on its racial history, initiate critical conversations towards reconciliation, and celebrate African American freedom and culture," said D'Andre Ash and Dr. Keith Turman, co-chairs of the Smoky Mountain District Justice and Reconciliation Team.
Dr. Tiffany Jackson discovered her gift for singing and her love for music growing up in Connecticut, where she attended a Black church, sang gospel music and learned the hymns of praise and worship.
"That's where it began for me, when I started to understand the beauty of music and the power of music in the church essentially," said Jackson.
Early on, Jackson's mother recognized a talent in her daughter that exceeded the norm for a Sunday singer and enrolled her in voice lessons. It was there that Jackson was introduced to music outside of her own cultural experience, where she learned the styles of music that would take her around the world, and eventually, to the mountains of Western North Carolina.
"By the time I was a junior in high school, I started to sound like a young, budding opera singer," said Jackson. "It was really not a plan. It was just sort of like, wow, my voice sounds different than everybody else's. It had this sort of more Eurocentric, operatic sound, and that was how things started to shape up for me in terms of that classical path."
After getting a bachelor's degree at the University of Michigan and completing graduate studies at Yale, Jackson went on to have an extensive, lauded singing career that spans both the classical and jazz genres. She honed her craft in the classical arena with the Houston Grand Opera Studio and then sang with orchestras and symphonies in Norway, Slovenia and Germany, among other countries. She has been a featured soloist with numerous symphony orchestras and has performed in premier festivals. In 2005, she was the soprano soloist in Joseph Hadyn's Paukenmesse at Carnegie Hall.
In the jazz world, Jackson is known for her interpretations of the music of Billy Strayhorn and Duke Ellington. She can be heard on recordings with Emmy Award winning pianist, composer and educator, Dr. Rex Cadwallader in "A Balm in Gilead" and "Sweet Perfume in an Alabaster Jar."
In addition to her singing credits, Jackson is a fitness competitor and sports nutrition specialist. She appeared on "America's Got Talent" as the "Necessary Diva," the opera-singing bodybuilder in 2011.
At the Juneteenth celebration, Jackson will perform pieces from her one-woman show "From the Hood to the Ivy League," an autobiographical, multimedia mix of story and song based on three key pillars in her life — gift, passion and purpose.
"This is the story of a girl who was born and raised in the inner city, in what they call the projects, who elevated from a lowly space in life to a powerful position where now she's inspiring other young people who may not have all the amenities that some kids do," said Jackson.
Now, Jackson teaches at Western Carolina University, where a full performance of "From the Hood to the Ivy League" will hit the stage at the Bardo Arts Center beginning in January of 2023.
"When I got my professional studies degree at Manhattan School of Music, I arrived at a full circle moment where I came back around to focusing on American genres of music," said Jackson. "I grew up singing gospel and jazz, and I came back around to that. Now I sing all the genres and my position at the university is a dual role of focusing, not just on Eurocentrism, but on American music and on a lot of music that has been influenced by African American composers and African American influence in the evolution of American music genres."
When Jackson came to the area, she was excited to learn that Lake Junaluska was hosting a Juneteenth celebration and it wasn't long before Keith Turman, pastor at First United Methodist Church in Waynesville reached out to Jackson to see if she'd be willing to perform.
"I didn't just want to make Juneteenth a singular experience for myself; I thought the students at WCU should also be a part of it," said Jackson. "Because Juneteenth is a newly formed national holiday in the country, I just thought that my students should be a part of it in some way."
Dr. Jackson just finished her first year teaching at Western Carolina University. Donated photo
The Catamount Singers are a small ensemble of singers that Jackson directs at WCU. She has been working with the group on singing soulfully.
"To sing with soul means to sing with feeling, sing with truth, any of their own personal struggles that they've had themselves, to find a way to filter the trauma through the music," said Jackson. "That's been my sole purpose in this ideal of soulful singing. The audience can expect a group of white kids singing soulfully, and honestly, with power and with truth, and an understanding of what Juneteenth is."
The ensemble will be performing songs as a group, as well as solo performances, with music spanning genres from soul and blues to bluegrass. There will be some Aretha Franklin pieces, as well as songs from major motion picture "Harriet Tubman."
Though Jackson has only been teaching at WCU for one year, she already feels a valuable connection with the area, and her students.
"That's the strength of being at Western Carolina is these kids weren't born with a silver spoon in their mouths," said Jackson. "Most of the white kids that I've taught in Connecticut, they're very wealthy. Teaching these kids at WCU has been a joy for me because I can relate to them, and they can relate to me. We both have this one thing in common — we did not grow up with lots of money and resources. We still have our talents, our gifts, and our passions to find purpose in our lives."
A large crowd gathered for the first annual Juneteenth Celebration at Lake Junaluska last year. Donated photo
The idea for a Juneteenth celebration at Lake Junaluska grew from the efforts of the Smoky Mountain District Justice and Reconciliation Team that was formed in the local Methodist organization to take on the work of understanding and healing discrimination in Western North Carolina.
"The mission for the Justice and Reconciliation Team is to celebrate, educate, worship and initiate," said Ash. "We hope to celebrate diversity with this Juneteenth event being kind of a visual manifestation of what our mission is. We hope to celebrate diversity and to educate folks on racial history and disparities that exist between races. We hope to worship together with folks of different denominations, different religions and for it to be a movement that springs from our Methodist tradition, but that invites and includes others. We hope to initiate conversations."
Jackson admits that it wasn't long ago when she learned about Juneteenth. In recent years, a study of The 1619 Project led her to a fuller understanding of enslaved people in American history, how Juneteenth was born and what it means today.
"Slavery did not only affect Black people. Of course, it hurt us directly, but I feel like it also has hurt the entire world, the entire country," said Jackson. "It has made a lot of people rich, and it has given lots of people generations of wealth and security, for sure. But when I'm talking about hurt, I'm talking about the ugliness of racism and caste systems. I'm talking about how people have pre-dispositions for hatred that has been passed down from generation to generation, the intergenerational racism, how that has harmed all of us."
While Juneteenth has its roots in freedom from chattel slavery, Jackson sees the holiday as an opportunity for everyone to celebrate this country's freedom from the institution of slavery and to continue to fight for freedom from racism and hatred.
"Racism is not something that only hurts black people, it hurts all of us," said Jackson. "It puts all of us in a position where we are tribalized, where we feel like we have to choose a side and where we're conflicted because of how our parents felt or how our grandparents felt. For me, Juneteenth is more than just about celebrating freedom for Black people. It should be about all of our freedoms and understanding how we're all linked together. The freedom of one group of people also means the freedom of another as well, whether people were physically or emotionally or psychologically in bondage, I think that Juneteenth should be about everybody celebrating freedoms and healing."
Leave a comment
1

comment
Looking forward to being a part of this! Blessings!

Wednesday, 06/15/2022